Big Corn, Big Lies
Big Corn releases new study full of labelling and cost exaggerations
 GMO labelling will allegedly cost American families $1,050 annually, but one proactive company proves this to be wrong
The DARK Act is back! Do your part to stop it!
Dear Reader,
Big Corn is back at it…
But this time they aren't just filling our food supply with garbage food — they are now filling our news streams with garbage science.
What's even more frightening…
The Dark Act is back in the Senate. If Big Corn gets their way and the act passes, our food supply will continue to be an endless stream of unlabeled GMO products.
But this doesn't have to be the case. You have the power to stand up to Big Corn's agenda.
Below I explain the lies… and what you can do about it.

A Garbage Study
A new study funded by Big Corn — the same folks who call high fructose corn syrup natural — claims labelling food containing GMO ingredients will cost the foods industry a shocking $81.9 billion.1
In fact, Big Corn goes on to report that when Vermont's new GMO labelling law goes into effect on July 1, it will cost each American family an additional $1,050 annually and increase average national food prices by 1.76 percent in the first year.1
But what Big Corn doesn't tout as loudly is the flaws in their study.
Let me explain…
This "study" makes grandiose assumptions about how the food industry will react to the new GMO labelling law.
Instead of calculating the minute costs of adding new text to food packaging, Big Corn hypothesizes that all food makers, regardless of their sales territories or location, will instead reformulate their products using non-GMO ingredients so they can sell them as non-GMO foods in Vermont.
These reformulation costs are how the corn industry came to the inflated conclusion that American families will lose $1,050 from their budgets in coming years.
One American food giant has already debunked this bloated figure. We will explore how they did this in a bit.
First, let's take a closer look at the inflated claims Big Corn is making about GMO labelling.

The Big Corn Way: Labelling Lies as Facts
The authors of the study claim this reformulation is due to consumers being less likely to purchase a product containing GMO ingredients.
However, there is research to combat Big Corn's ridiculous claim.
A recent study by two U.S. Department of Agriculture economists shows that food choices at the grocery store are just as impulsive in countries requiring food labelling. It went on to report factors like price and calorie content were of more importance.2
Another study done by two agricultural economists found that the presence of GMO labels didn't increase consumer apprehension toward GMO products. In fact, one of the key findings of the study was, "There was no consistent statistically significant difference in the average level of concern for GMOs expressed by people shown different labels. That is, the mere presence of the GMO label did not lead to a greater level of concern about GMOs.3
In addition to these American findings, Brazil's GMO labelling policy provides interesting information. The "transgenic" symbol was added to Brazil's GMO food packaging 15 years ago (2001), yet studies find that consumers are more apt to buy foods in packaging containing this label than those that do not contain the label, particularly if they make nutritional claims. 4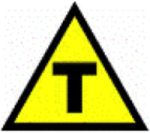 Brazil's transgenic symbol Photo credit: www.loc.gov
Big Corn goes on to claim that many food producers will opt to make two versions of their products — one that contains GMO ingredients and a non-GMO ingredient version. This two-version production model is also a factor in their outrageous $81.9 billion estimate.
However, Vermont's law only requires GMO products to have a label, not to make changes to ingredients.
And as we have recently seen with Campbell's Soup, multiple products are a very unlikely reality.
Campbell's has not reformulated all of their products. Instead, they now indicate which products contain GMO ingredients.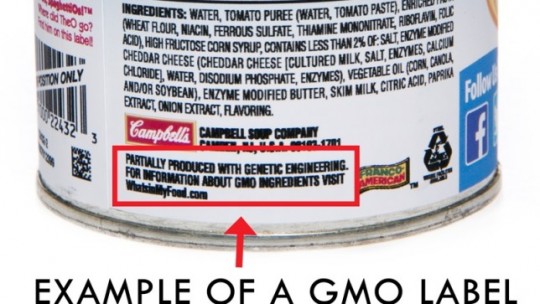 Campbell's Soup GMO labelling
Photo Credit: abcnews.go.com
And according to company spokesman Tom Hushen, Campbell's decision to label has made no difference in cost to the consumer. He explains:
"To be clear, there will be no price increase as a result of Vermont or national GMO labeling for Campbell products."5
So there you have it. Campbell's has proven there is no $81.9 billion problem. They are proactively labelling GMO products, and yet there is no price increase for the consumer.
While Campbell's is certainly a trailblazer in the food industry, unfortunately, they still don't see GMO products as harmful. Hushen went on to report, "We still believe GMOs are safe and we continue to believe that they play an important role in feeding the world."
While Campbell's opinions about GMOs may differ from those of the Living Well team, we can still applaud them for their transparency about their ingredients and consumer costs, even if these actions are the result of consumer demand.
If food ingredients are of importance to you, oppose the Senate version of the "DARK" (Deny Americans the Right to Know Act) Act NOW!
The DARK Act will:
Pre-empt states from requiring GMO labelling
Make voluntary labelling of GMO products more difficult for companies like Campbell's
Remove the FDA's jurisdiction over GMO disclosures.
If you would like to oppose the Dark Act, you can call your senators at the U.S. Capitol switchboard (202) 224-3121. Let them know you oppose the DARK Act and support GMO labelling!
You can also use the form at Environmental Working Group. They are a non-profit, non-partisan organization dedicated to protecting human health and the environment. Click here to access the form.
If you have any comments about GMO labelling or the DARK Act, drop me a line! Nmoore@lfb.org
Live well,

Natalie Moore
Managing editor, Living Well Daily
---
Sources
[1] Cost Impact of Vermont's GMO Labeling Law on Consumers Nationwide
[2] Corn Lobby's GMO Labeling Study "Preposterous"
[3] Chapter 11 The Effect of GM Labeling Regime on Market Outcomes
[4] Brazilians Don't Turn Up Their Noses At GE Food
[5] Campbell's Decision to Label GMOs Destroys Monsanto's Main Argument Against Labeling

Written By Natalie Moore
Natalie Moore is a dedicated health researcher with a passion for finding healthy, natural, and science-based solutions. After a decade of direct healthcare experience in western and natural medicine, she was involved in public health research before joining Living Well Daily.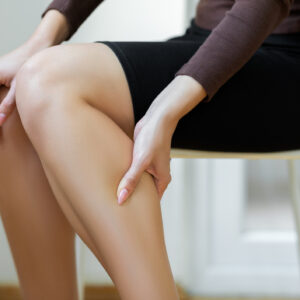 Venous thromboembolism is what I call an "orphan condition." The chances are high that you've never even heard of it before. But we should discuss it more often because it's underdiagnosed, SERIOUS, and preventable. A (VTE) happens when a blood clot forms in a vein. When that clot is in a DEEP vein (usually in...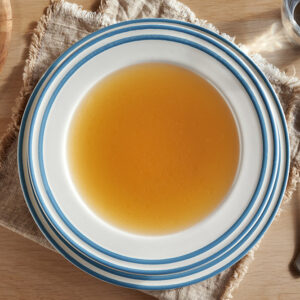 Bone broth has popped up on grocery store shelves nationwide in the last few years. And I couldn't be happier about it! I love to drink bone broth. But I used to have to make my own "liquid gold." And to be honest… it's time-consuming. Now, you can pop down to your local supermarket and...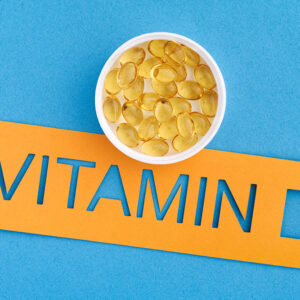 I've got to be honest with you. When it comes to health, the future is looking a bit grim. If you're no spring chicken, a tsunami of poor health could be headed your way. Recent research has found that 25 percent of people over 65 ALREADY have diabetes. But it gets worse. Over 50 percent...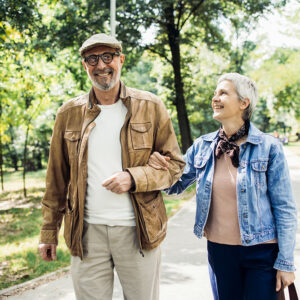 "My wife had a heart attack a few months ago. She's sitting around and doing even less than she did before. I'm a regular reader and know you've mentioned moving is important for heart attack patients. What are some safe things she can do to keep moving? How much should she move?" – Rob from...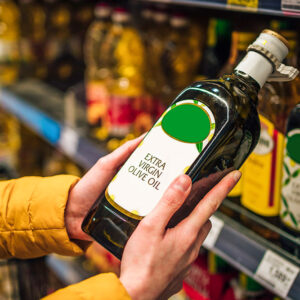 Olive oil has been getting some well-deserved attention the last few years. So it would be easy to assume that the golden oil's status as a health food was recently earned. But the truth is, olive oil has been considered a healthy staple in the human diet since it was first developed 600 years ago....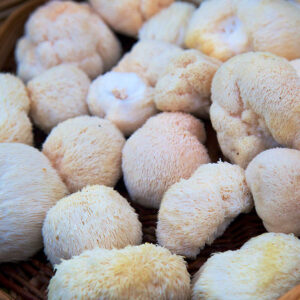 I'm a big fan of medicinal mushrooms. Almost everyone has eaten a standard mushroom on a pizza or in a spaghetti sauce, of course. But most folks have yet to experience medical mushrooms' power to improve our health. Medicinal mushrooms are already used to treat heart, liver, and brain conditions. They can boost the immune...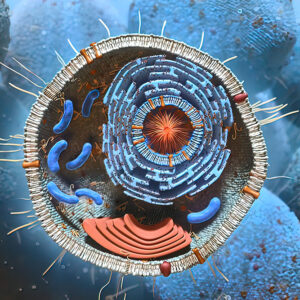 Aging isn't for sissies, that's for sure. But hey, I always remind myself the alternative is FAR worse! Besides, when you sit back and take stock, you'll realize that a life well lived – like your own – is something to be proud of. But those accomplishments, unfortunately, don't reduce your risk of suffering the...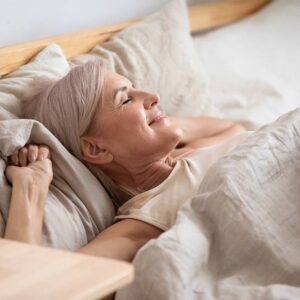 If you're concerned about diabetes, you've probably done your research. You likely focused on all the common problem areas to ward off rising blood sugar: the grocery store… the gym… and the bathroom scale. And those ARE all great places to start! Eating better, exercising, and losing weight can go a long way toward bringing your...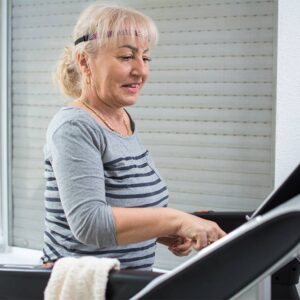 This time of year, I start to feel a little stir-crazy. Cabin fever sets in as I tire of the cold and snow. And I start thinking about the warmer weather that's right around the corner (but still feels SO far away). You see, I enjoy walking, hiking, and running outside. It's good for both...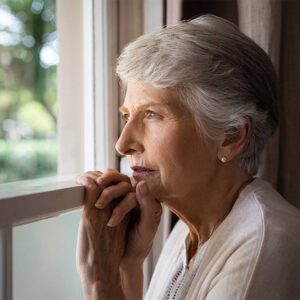 Before the pandemic, we didn't talk much about being lonely. But when the virus locked us down in our homes, the issue of isolation could no longer be ignored. Some of us were experiencing that kind of loneliness for the first time. But the truth is social isolation has ALWAYS been a common problem for...