CAUTION: Your Produce Is Covered in Poison
2016 brings a new top toxic winner
The USDA washes its fruit — but not well enough…
The FDA's laid-back approach could kill you.
Dear Reader,
It's that time of year again. And I'm not referring to the weather.
No, this time I am talking about the annual release of Environmental Working Group's (EWG) list of the top 12 conventionally raised fruits and vegetables covered in high levels of pesticides — referred to as the Dirty Dozen.
The report is backed by an analysis of samples taken by both the Food and Drug Administration (FDA) and the U.S. Department of Agriculture (USDA) on over more than 35,200 pieces of fruits and vegetables.
What's most alarming about their results — most of these samples were washed and/or peeled by USDA employees in order to copy shopper practices as closely as possible. This means unwashed produce likely contains higher levels of pesticide.
Per their website, the EWG uses the following six measures of pesticide exposure to compare foods:
Percent of samples tested with detectable pesticides
Percent of samples with two or more detectable pesticides
Average number of pesticides found on a single sample
Average amount of pesticides found, measured in parts per million
Maximum number of pesticides found on a single sample
Total number of pesticides found on the commodity.
The different produces are then ranked based on their test results, which are then converted to a 1–100 scale, with higher scores representing more pesticide contamination.
Here is what they came up with, highest to lowest:
Strawberries
Apples
Nectarines
Peaches
Celery
Grapes
Cherries
Spinach
Tomatoes
Sweet bell peppers
Cherry tomatoes
Cucumbers
This year, apples lost their five-year streak of toxic terror at the top of the list to strawberries — 98 percent of the strawberry samples tested positive for pesticide residues.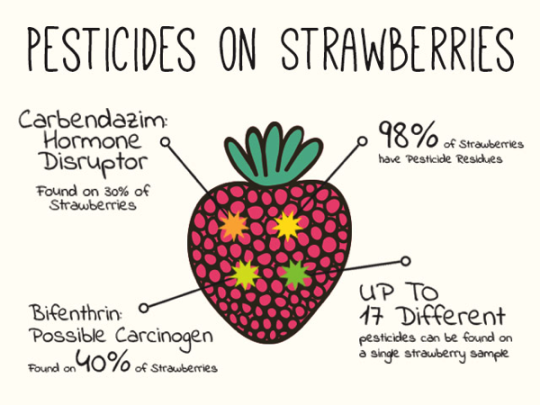 Photo credit: EWG.org
One reason for this could be the result of the European ban on diphenylamine, which also may have affected American apple supplies, according to EWG senior analyst Sonya Lunder.
And the truly frightening part? Forty percent of strawberries had the residues of between 10–17 pesticides on them. One source of pesticide could be a nerve gas, methyl bromide, used to treat fields before planting even begins.
Lunder went on to explain:
It is startling to see how heavily strawberries are contaminated with residues of hazardous pesticides, but even more shocking is that these residues don't violate the weak U.S. laws and regulations on pesticides in food. The EPA's levels of residues allowed on produce are too lax to protect Americans' health. They should be updated to reflect new research that shows even very small doses of toxic chemicals can be harmful, particularly for young children.2
If organic isn't an option for you when it comes to the Dirty Dozen, you might consider a substitute or, at the very least, do a triple wash and thorough scrub.
Live well,

Natalie Moore
Managing editor, Living Well Daily
---
Sources
[1] EWG's 2016 Dirty Dozen™ List Of Pesticides On Produce: Strawberries Most Contaminated, Apples Drop To Second

Written By Natalie Moore
Natalie Moore is a dedicated health researcher with a passion for finding healthy, natural, and science-based solutions. After a decade of direct healthcare experience in western and natural medicine, she was involved in public health research before joining Living Well Daily.
I've sung the praises of omega-3 fatty acids many times here in Living Well Daily. I've encouraged you to be sure you're getting enough of the omega-3s eicosapentaenoic acid (EPA) and docosahexaenoic acid (DHA) by eating plenty of cold-water fatty fish and taking supplements when needed. And there's a good reason for that. EPA and...
I'm sure you know that getting enough sleep is good for you. But what does that mean, exactly? It's always been hard to get a straight answer. Until now, that is. Thanks to new research we have an answer to that question. The newly published 25-year study compares the sleep habits of over 7,000 men...
Dear Living Well Daily Reader, "Along with COVID, I'm worried about getting the flu this year. What do you recommend for avoiding the flu? The flu shot?" – Mike from Park City, UT Hi Mike, I'll be honest. The flu vaccine COULD have a better long-term track record. According to the Centers for Disease Control...
If you've been a loyal reader for a while now you're probably already taking steps to ensure your health is in tip-top shape. You do your best to eat well… You stay hydrated… You, hopefully, get in some regular exercise… And maybe you even take a multivitamin… While I would certainly give you an A...
Healthy aging boils down to one surprising thing: your muscles. I know that may sound strange at first. But hear me out. Maintaining strong and healthy muscles is the first step to keeping a healthy body and sharp mind well into your golden years. After all, sturdy muscles are required to fight off frailty and...
They say cleanliness is next to godliness. Now, I don't know about that. But, I DO know that when it comes to your kitchen, cleanliness is absolutely VITAL. The trouble is, even the cleanest of kitchens can harbor some sickening hidden secrets. And new research just revealed one of the most surprising culprits. Trust me,...
Does developing a sniffle, sneeze, or cough practically cause you to panic these days? If so, you're not alone. Many of us feel the same way. Gone are the "good old days" when you only had to worry if you were coming down with a cold or the flu. And, let's be honest, we didn't...
Dear Living Well Daily Reader, Make a cup of tea. Read a couple of pages in a book. Watch a silly cat video. There are a bunch of things you can do in three minutes. And now scientists say defeating diabetes could be one of them. If you're struggling with blood sugar control, your doctor...
Dear Living Well Daily Reader, "I hate that I can no longer just eat whatever I want. I either seem to have indigestion, bloating, or gas. I'm always taking antacids. It's miserable and frustrating — what else can I do besides only eating potatoes?" –– Carl, from Lincoln, NE Hi Carl, Let's start with the...
Remember when they said we'd just need to hunker down at home for a few weeks, and this whole COVID-19 thing would blow over? It's safe to say they got that one wrong. In fact, it's looking like COVID-19 is less of a visitor and more of a permanent house guest these days. That means...