Deadly Health Danger Found in Frozen Foods
DNA evidence has a new meaning. Find out more…
Could a "resident"of a Washington factory be threatening your life? 
Two ways to avoid this slow-motion attack. 
Dear Reader,
Buying frozen foods is a standard practice for most folks.
In fact, 99 percent of U.S. households consume frozen foods, making the frozen food industry $31 billion annually.
And while it has seen a bit of a decline in sales lately, chances are you have at least a few frozen food items in your freezer right now.
Which is exactly why you need to keep reading this.
Even though frozen foods are of endless variety, one item in particular might come to mind for you — produce.
Frozen vegetables and fruits are a convenient and often inexpensive way to add a few extra vitamins, minerals, and flavors to any meal. Plus, with frozen fruits and veggies, you don't have to stick to what's in season — you can eat what you want when you want it.
And you don't have to worry about the dangers of BPA like you do with canned veggies.
However, this doesn't mean you're out of the danger zone.
Last week, the CDC and FDA ordered a voluntary recall of over 350 frozen produce products due to an outbreak of a deadly food-borne disease. We will share more specific brand information later on.
You might be thinking, How on Earth can bacteria survive in the freezer?
Well, prepare yourself — this microbe doesn't die easily.

An Outbreak in Slow Motion
Thanks to a new tracking tool, the CDC found that the current outbreak is caused by the same strain of Listeria responsible for outbreaks in 2013, 2015, and the one in February of this year. The CDC confirmed this through the bacteria's DNA.
Meaning this outbreak has been unfolding in spurts over the last three years.
Frozen produce manufactured in Pasco, Washington, by CRF Frozen Foods is the "likely source" of this outbreak, according to the CDC.
The CDC explains a little more about Listeria:
Listeria monocytogenes is commonly found in soil and water. Animals can carry the bacterium without appearing ill and can contaminate foods of animal origin, such as meats and dairy products… When Listeria bacteria get into a food processing factory, they can live there for years, sometimes contaminating food products.2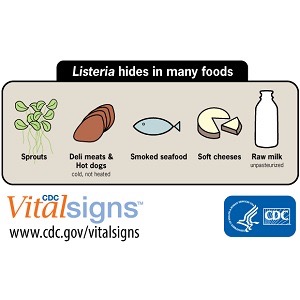 Source: New CDC Vital Signs: Listeria Food Poisoning Striking Hard at Nation's Most Vulnerable
The University of Georgia's Center for Food Safety director, Michael Doyle, thinks one reason for this prolonged outbreak is "resident" Listeria. Unlike their "transient" counterparts that contaminate food as they move through the processing plant, resident bacteria are able to establish themselves in the processing plant and survive for many years.
He went on to say, "The organism's quite hardy."3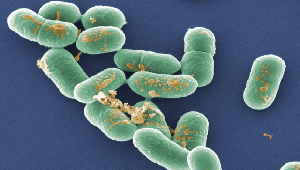 Magnified Listeria bacteria photo credit: study.com
So far, this hardy strain has taken the lives of two people, one in Maryland and one in Washington state, and hospitalized six others.
However, since the infection caused by Listeria (listeriosis) kills one in five victims, making it more deadly than E. coli and salmonella, it's likely there will be more deaths and illnesses reported in the days to come.4
Older adults, pregnant women, newborns, and those with weakened immune systems are more susceptible to infection.
If you're an older adult, your risk of infection greatly increases. In fact, anyone over 65 is four times more likely to contract illness from Listeria than the general population.

Icy Precautions
The best way you can protect yourself from this outbreak is to discard any contaminated products from your freezer.
Check all items in your freezer against the FDA's recall list. It provides detailed brand and SKU number information. If any of your items match up, you can return them for a refund or simply pitch them. Click here for the FDA recall list.
But that may not protect you from the long reach of this slow-motion outbreak.
So here's an extra tip for added protection…
Buy a thermometer.
As we mentioned before, these bacteria can live in cold temperatures. However, experts suggest keeping your freezer at 0 F (-18 C) in order to halt Listeria growth.5
And the best news, you can purchase a commercial-grade appliance thermometer for around $6 on Amazon. Click here to check it out.
While you're there, you might want to pick up one up for the fridge too. 40 F (4 C) or below is the optimal temperature for your fridge to halt Listeria growth on fresh foods.
If you would like some additional tips on how to reduce Listeria exposures from fresh produce, click here to read a previous article from Living Well Daily.
Live well,

Natalie Moore
Managing editor, Living Well Daily
Ed. Note: Please send your feedback: nmoore@lfb.org – and click here to like us on Facebook.
---
Sources
[1] Cold Facts About Frozen Foods
[2]  Multistate Outbreak of Listeriosis Linked to Frozen Vegetables
[3] 4 things to remember about your frozen greens and the Listeria recall
[4] Older Americans, pregnant women face highest risk from Listeria food poisoning
[5] Special Handling for Ready-to-Eat, Refrigerated Foods

Written By Natalie Moore
Natalie Moore is a dedicated health researcher with a passion for finding healthy, natural, and science-based solutions. After a decade of direct healthcare experience in western and natural medicine, she was involved in public health research before joining Living Well Daily.
I have arthritis in my spine. What would you suggest to help manage it? –George from Cedar Rapids, IA George, Believe it or not, many people learn that they have spinal arthritis as they age. It's very common. There's a lot you can do to help keep it from advancing or even reverse some of...
Dear Living Well Daily Reader, There is a plague of anxiety sweeping the nation. And who could blame us? Anyone with half a brain SHOULD feel anxious about the state of the world. But like any other epidemic, just because something is going around doesn't mean you should accept it. More importantly, having anxiety does...
Dear Living Well Daily Reader, If you or someone you love suffers from multiple sclerosis (MS), you already know how the disease can turn your life upside down. The stiffness and mobility problems slowly strip away your independence… and leave you in pain. Talk to your mainstream doc and he'll just shrug their shoulders –...
Dear Living Well Daily Reader, If you're a woman, chances are you have heard about the BRCA gene (BReast CAncer gene). Scientists have known for a long time that a mutation in one of two breast cancer genes, BRCA1 or BRCA2, increases the risk of getting breast cancer. But, men, listen up – just because...
Dear Living Well Daily Reader, Some people might shrug when you tell them you have knee pain… but that's only if they haven't experienced firsthand. Chronic pain from osteoarthritis is no joke— it can destroy your life. Joint pain makes moving incredibly difficult and can keep you from doing the things you love. Before you know it,...
Dear Living Well Daily Reader, Inflammation is supposed to be a normal response for your body. It's one of the key defenses protecting you. Inflammation can sometimes be our friend… when it helps fight off infections and clears away debris, that is. The problems start when inflammation blazes out of control or lasts longer than...
I have psoriasis, and I was wondering what supplements or natural treatments there are out there. –Bill from Riverside, CA Bill, As you probably know, psoriasis is a chronic autoimmune disease where the body attacks the skin as if it were a foreign invader. Psoriasis affects about two percent of the U.S. population. Normal, healthy...
Dear Living Well Daily Reader, I'm on a personal mission to rescue coffee from the hands of the nutritional puritans who think that anything fun is not good for you. Despite what the mainstream would have you believe, the news on coffee has improved in recent years. Researchers have pinpointed many powerful plant nutrients, like...
Dear Living Well Daily Reader, Some suggest pretty complicated ways to keep your brain healthy as you age. Going back to college… doing complicated puzzles… taking what feels like 30 bottles of pills a day… It can make you feel like giving up before you've even started! But what if there was something MUCH easier...
Dear Living Well Daily Reader, If you're tired constantly refilling pain prescriptions, you're not alone. And if you're even MORE tired of the side effects that come with them, who could blame you? For far too long, Big Pharma has held arthritis patients hostage… promising relief while they rob you blind. It's time for something...