GMOs in Your Soup? Now You'll Know
Dear Reader,
Cheers of victory from GMO-labeling proponents were heard across the nation earlier this month when Campbell Soup Co. announced it would begin to label its products that contain genetically modified ingredients.
By the end of the year (if all goes as planned), all of the products made by the company, including the Campbell's brand of soup, Prego, Pepperidge Farm, Progresso, and V8, will now have a disclosure statement on the back label if that product contains any GMOs.
Here's a mock-up of what the labels will look like, with the statement about genetically modified ingredients at the very bottom: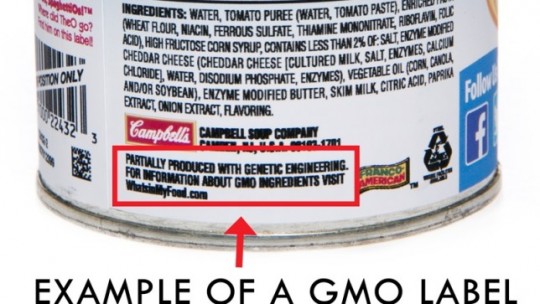 Campbell Soup Co. is the first major food company to make this bold move, taking the risk that customers averse to GMOs will abandon their products.
They decided to take that risk rather than having to print different labels for their GMO products sold in Vermont, which would be required when Vermont's labeling law goes into effect in July.
In a press release, Denise Morrison, CEO of Campbell Soup Co., explains:
There is currently no federal regulation requiring labeling that informs consumers about the presence of GMOs in their food. In the absence of federal action, many states — from California to Maine — have attempted to address this issue. Campbell has opposed this state-by-state patchwork approach, and has worked with Grocery Manufacturers Association to defeat several state ballot initiatives. Put simply, although we believe that consumers have the right to know what's in their food, we also believe that a state-by-state piecemeal approach is incomplete, impractical, and costly to implement for food makers. More importantly, it's confusing to consumers.
Campbell now supports a federal mandatory GMO labeling law.
The problem with the Vermont GM labeling law is that it only involves products that are overseen by the FDA. Products that contain meat are overseen by the USDA, so they would not be required to be labeled if they had GM ingredients.
That means a can of regular Campbell's SpaghettiOs would need a GM label, but SpaghettiOs with meatballs would not be required to have one, even though it contains GM ingredients.
Campbell hasn't always been pro-GM labeling, though. Prior to this announcement, they had spent over $1 million to fight GM labeling bills in California and Washington.
They are also a member of the Grocery Manufacturers Association (GMA), a trade group that has spent millions in opposition to GM labeling.
"We will continue to be a member of GMA and will participate in food industry initiatives that align with our purpose and business goals," Morrison stated. "However, as a result of the change in our position on GMO labeling, Campbell is withdrawing from all efforts led by groups opposing mandatory GMO labeling legislation, including those led by GMA."
What's most interesting is that the GMA and Monsanto have long argued that labeling foods would be costly for manufacturers and that those costs would be passed on to consumers.
However, studies suggest that GMO labeling actually wouldn't increase food prices. Food labels are frequently updated without an increase in product cost.
In fact, when the Organic Consumers Association asked Campbell's if food prices would increase as a result of the new GM labeling, they replied with a confident NO.
"To be clear, there will be no price increase as a result of Vermont or national GMO labeling for Campbell products," Campbell spokesman Tom Hushen wrote.
Take that, GMA.
This is a definite step in the right direction for Campbell and the food industry as a whole. It is living proof that consumer demand drives market change.
Granted, part of it is due to the fact Campbell doesn't want to print different versions of labels for states that have mandatory labeling laws, so there is some regulatory influence there. But rather than continue in the fight against labeling, Campbell is listening to what consumers really want.
Now all they need to do is clean up the rest of the junk ingredients in their products. Campbell still has many products made with high fructose corn syrup, artificial flavors and colors, MSG, and excess sodium.
And while they are "working on" phasing out BPA in their packaging, many of their cans still contain it.
The Campbell's Organic line, however, is a good option. It comes in BPA-free packaging, contains no preservatives, and is certified organic.
Between label claims, sketchy ingredients, and chemical-lined packaging, navigating the supermarket and finding brands you can trust can be an arduous task.
But we're about to make it so much easier.
We're putting the finishing touches on our comprehensive guide How to Survive the Supermarket, and you'll have to opportunity to get your hands on it very soon.
How to Survive the Supermarket is going to give you the information you need to confront your biggest concerns at the supermarket, so you can be sure you're choosing the very best food for you and your family.
But we've got one last request for you.
We want to make absolutely sure it covers all of your biggest concerns when you go shopping.
So if you don't mind, could please take this very brief survey and let us know what they are?
It's a simple three-question survey to let us know what your top health concerns are when you're trying to pick out items at the supermarket. Just let us know and we'll make sure it's covered in the guide.
To living well,

Jasmine LeMaster
Health Researcher
Tomorrow is the first official day of fall. But depending on where you live, you may have already been feeling a nip in the air for weeks. I love the change of seasons. But for many folks, fall brings more than falling leaves, cooler weather, and pumpkin pies. The cold, dry air signals the start...
It's pumpkin season. This humble squash is virtually ignored from December through to the following September. But when fall rolls around it takes center stage again. For most of us, pumpkins show up as festive décor and baked into delicious pies in October and November. But there are plenty of reasons you ought to start...
Okay, I'll admit I may have been accused of being a fathead a few times in my life. But I've got a secret. It doesn't bother me one little bit. In fact, I take it as a compliment. After all, having a bigger brain is a GOOD thing, especially as we age. And now scientists...
I've sung the praises of omega-3 fatty acids many times here in Living Well Daily. I've encouraged you to be sure you're getting enough of the omega-3s eicosapentaenoic acid (EPA) and docosahexaenoic acid (DHA) by eating plenty of cold-water fatty fish and taking supplements when needed. And there's a good reason for that. EPA and...
I'm sure you know that getting enough sleep is good for you. But what does that mean, exactly? It's always been hard to get a straight answer. Until now, that is. Thanks to new research we have an answer to that question. The newly published 25-year study compares the sleep habits of over 7,000 men...
Dear Living Well Daily Reader, "Along with COVID, I'm worried about getting the flu this year. What do you recommend for avoiding the flu? The flu shot?" – Mike from Park City, UT Hi Mike, I'll be honest. The flu vaccine COULD have a better long-term track record. According to the Centers for Disease Control...
If you've been a loyal reader for a while now you're probably already taking steps to ensure your health is in tip-top shape. You do your best to eat well… You stay hydrated… You, hopefully, get in some regular exercise… And maybe you even take a multivitamin… While I would certainly give you an A...
Healthy aging boils down to one surprising thing: your muscles. I know that may sound strange at first. But hear me out. Maintaining strong and healthy muscles is the first step to keeping a healthy body and sharp mind well into your golden years. After all, sturdy muscles are required to fight off frailty and...
They say cleanliness is next to godliness. Now, I don't know about that. But, I DO know that when it comes to your kitchen, cleanliness is absolutely VITAL. The trouble is, even the cleanest of kitchens can harbor some sickening hidden secrets. And new research just revealed one of the most surprising culprits. Trust me,...
Does developing a sniffle, sneeze, or cough practically cause you to panic these days? If so, you're not alone. Many of us feel the same way. Gone are the "good old days" when you only had to worry if you were coming down with a cold or the flu. And, let's be honest, we didn't...