GMOs in Your Soup? Now You'll Know
Dear Reader,
Cheers of victory from GMO-labeling proponents were heard across the nation earlier this month when Campbell Soup Co. announced it would begin to label its products that contain genetically modified ingredients.
By the end of the year (if all goes as planned), all of the products made by the company, including the Campbell's brand of soup, Prego, Pepperidge Farm, Progresso, and V8, will now have a disclosure statement on the back label if that product contains any GMOs.
Here's a mock-up of what the labels will look like, with the statement about genetically modified ingredients at the very bottom: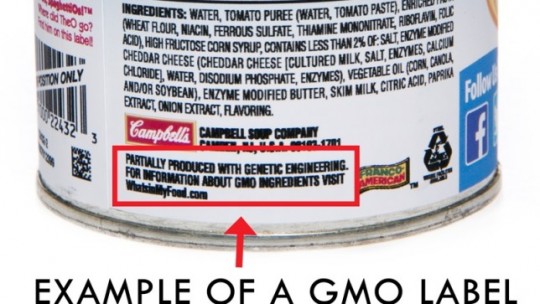 Campbell Soup Co. is the first major food company to make this bold move, taking the risk that customers averse to GMOs will abandon their products.
They decided to take that risk rather than having to print different labels for their GMO products sold in Vermont, which would be required when Vermont's labeling law goes into effect in July.
In a press release, Denise Morrison, CEO of Campbell Soup Co., explains:
There is currently no federal regulation requiring labeling that informs consumers about the presence of GMOs in their food. In the absence of federal action, many states — from California to Maine — have attempted to address this issue. Campbell has opposed this state-by-state patchwork approach, and has worked with Grocery Manufacturers Association to defeat several state ballot initiatives. Put simply, although we believe that consumers have the right to know what's in their food, we also believe that a state-by-state piecemeal approach is incomplete, impractical, and costly to implement for food makers. More importantly, it's confusing to consumers.
Campbell now supports a federal mandatory GMO labeling law.
The problem with the Vermont GM labeling law is that it only involves products that are overseen by the FDA. Products that contain meat are overseen by the USDA, so they would not be required to be labeled if they had GM ingredients.
That means a can of regular Campbell's SpaghettiOs would need a GM label, but SpaghettiOs with meatballs would not be required to have one, even though it contains GM ingredients.
Campbell hasn't always been pro-GM labeling, though. Prior to this announcement, they had spent over $1 million to fight GM labeling bills in California and Washington.
They are also a member of the Grocery Manufacturers Association (GMA), a trade group that has spent millions in opposition to GM labeling.
"We will continue to be a member of GMA and will participate in food industry initiatives that align with our purpose and business goals," Morrison stated. "However, as a result of the change in our position on GMO labeling, Campbell is withdrawing from all efforts led by groups opposing mandatory GMO labeling legislation, including those led by GMA."
What's most interesting is that the GMA and Monsanto have long argued that labeling foods would be costly for manufacturers and that those costs would be passed on to consumers.
However, studies suggest that GMO labeling actually wouldn't increase food prices. Food labels are frequently updated without an increase in product cost.
In fact, when the Organic Consumers Association asked Campbell's if food prices would increase as a result of the new GM labeling, they replied with a confident NO.
"To be clear, there will be no price increase as a result of Vermont or national GMO labeling for Campbell products," Campbell spokesman Tom Hushen wrote.
Take that, GMA.
This is a definite step in the right direction for Campbell and the food industry as a whole. It is living proof that consumer demand drives market change.
Granted, part of it is due to the fact Campbell doesn't want to print different versions of labels for states that have mandatory labeling laws, so there is some regulatory influence there. But rather than continue in the fight against labeling, Campbell is listening to what consumers really want.
Now all they need to do is clean up the rest of the junk ingredients in their products. Campbell still has many products made with high fructose corn syrup, artificial flavors and colors, MSG, and excess sodium.
And while they are "working on" phasing out BPA in their packaging, many of their cans still contain it.
The Campbell's Organic line, however, is a good option. It comes in BPA-free packaging, contains no preservatives, and is certified organic.
Between label claims, sketchy ingredients, and chemical-lined packaging, navigating the supermarket and finding brands you can trust can be an arduous task.
But we're about to make it so much easier.
We're putting the finishing touches on our comprehensive guide How to Survive the Supermarket, and you'll have to opportunity to get your hands on it very soon.
How to Survive the Supermarket is going to give you the information you need to confront your biggest concerns at the supermarket, so you can be sure you're choosing the very best food for you and your family.
But we've got one last request for you.
We want to make absolutely sure it covers all of your biggest concerns when you go shopping.
So if you don't mind, could please take this very brief survey and let us know what they are?
It's a simple three-question survey to let us know what your top health concerns are when you're trying to pick out items at the supermarket. Just let us know and we'll make sure it's covered in the guide.
To living well,

Jasmine LeMaster
Health Researcher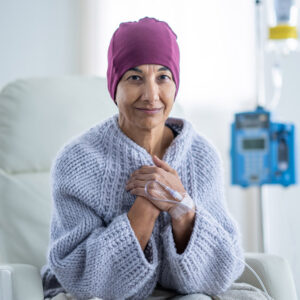 "Why does chemo also destroy good cells?" Martha from Kansas City, MO Hi Martha, We tend to think of "chemotherapy" as a single treatment. But the truth is, there are various types of chemotherapies. And they work in different ways. In general, chemotherapy destroys healthy cells, not just the cancerous ones, because it's a non-specific or...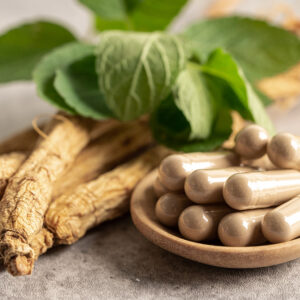 Ginseng is the very definition of an "ancient cure." In fact, you can find the potent herb mentioned in 2,000-year-old Chinese books as a treatment for a wide range of illnesses. But what's made ginseng stand the test of time… remaining nearly as popular TODAY as it was hundreds of years ago… is its apparent...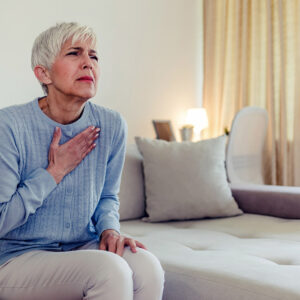 After every meal, millions of Americans pop a pill. Folks are convinced that proton pump inhibitors (PPIs) such as Prilosec or Nexium are necessary to head off heartburn. But what these drugs REALLY do is liable to shock you. To begin with, they block your body from properly digesting your food. But that's just the...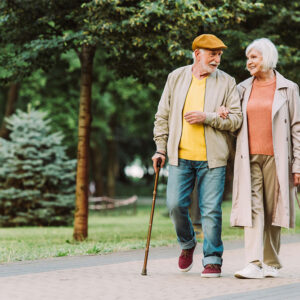 Once you pass a certain age, the medical ads start haunting you. You find them shoved into your mailbox. Then they show up in your email. And you even start spotting them hovering in the corner of every website you visit. It seems EVERYONE is trying to sell you a drug to relieve your arthritis...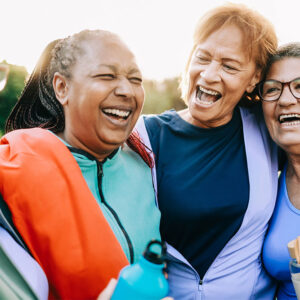 Our healthcare system has a fatal flaw. It's set up to react to illness, NOT prevent it. So, doctors are stuck in a losing game of whack-a-mole. They spend all their energy and time scrambling to knock down symptoms. That means prescriptions for preventative care are virtually nonexistent. And that's certainly the case with memory...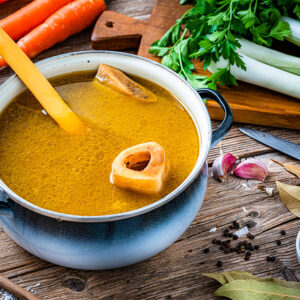 I was in a small grocery store in the mountains recently, and noticed that they had bone broth for sale. I thought, "Wow, we've come a long way!" And that's a good thing. Here's why… Bone broth used to be nearly impossible to find in modern-day grocery stores. But to eke out as much nutritional...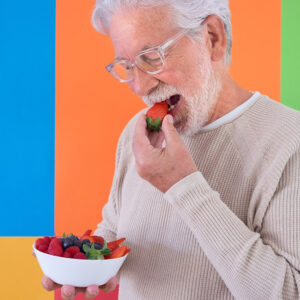 You can't turn on the T.V. or flip through a newspaper anymore without seeing a new drug breakthrough they claim will FINALLY rid humanity of our aging brain issues. These medicines hit the market promising miracles. But it typically isn't long before we start seeing their dark side. Meanwhile, a safe, natural remedy to boost...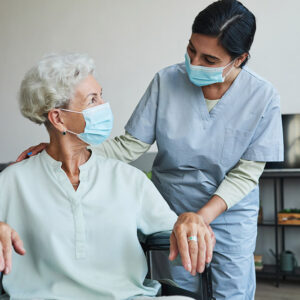 "We've unfortunately had to put my 90-year-old mother in a home. I'm so worried she's going to get sick (especially with COVID still around). Is there anything I can do to help protect her?" Sam from Prattville, AL Hi Sam, Your situation sounds familiar. My father is in a senior living center with about 300...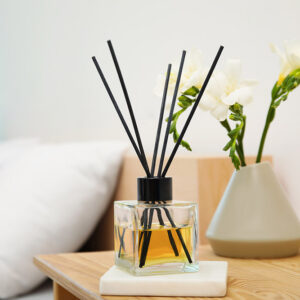 You have five primary senses: sight, hearing, taste, touch, and smell. (The sixth one doesn't count. Only your Aunt Mable claims that one.) But you've likely noticed that only your sight and hearing get tested when you visit the doctor. Your senses of taste, touch, and smell are almost entirely ignored. And ignoring one of...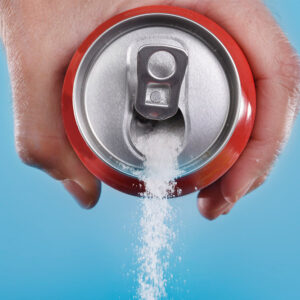 People often ask me what's the WORST thing for their health. Cigarettes, alcohol, and illegal drugs often pop to mind. But everyone KNOWS those things are bad. But there's in fact, a popular "harmless" daily habit that has HUGE health consequences. And it can be every bit as bad as a cigarette or booze habit....