GMOs in Your Soup? Now You'll Know
Dear Reader,
Cheers of victory from GMO-labeling proponents were heard across the nation earlier this month when Campbell Soup Co. announced it would begin to label its products that contain genetically modified ingredients.
By the end of the year (if all goes as planned), all of the products made by the company, including the Campbell's brand of soup, Prego, Pepperidge Farm, Progresso, and V8, will now have a disclosure statement on the back label if that product contains any GMOs.
Here's a mock-up of what the labels will look like, with the statement about genetically modified ingredients at the very bottom: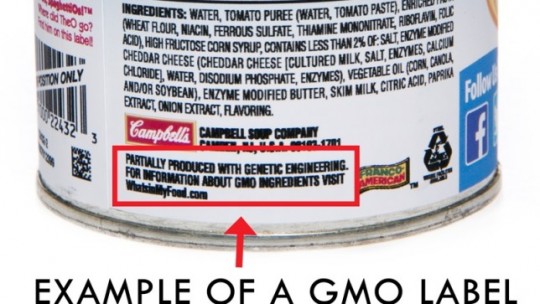 Campbell Soup Co. is the first major food company to make this bold move, taking the risk that customers averse to GMOs will abandon their products.
They decided to take that risk rather than having to print different labels for their GMO products sold in Vermont, which would be required when Vermont's labeling law goes into effect in July.
In a press release, Denise Morrison, CEO of Campbell Soup Co., explains:
There is currently no federal regulation requiring labeling that informs consumers about the presence of GMOs in their food. In the absence of federal action, many states — from California to Maine — have attempted to address this issue. Campbell has opposed this state-by-state patchwork approach, and has worked with Grocery Manufacturers Association to defeat several state ballot initiatives. Put simply, although we believe that consumers have the right to know what's in their food, we also believe that a state-by-state piecemeal approach is incomplete, impractical, and costly to implement for food makers. More importantly, it's confusing to consumers.
Campbell now supports a federal mandatory GMO labeling law.
The problem with the Vermont GM labeling law is that it only involves products that are overseen by the FDA. Products that contain meat are overseen by the USDA, so they would not be required to be labeled if they had GM ingredients.
That means a can of regular Campbell's SpaghettiOs would need a GM label, but SpaghettiOs with meatballs would not be required to have one, even though it contains GM ingredients.
Campbell hasn't always been pro-GM labeling, though. Prior to this announcement, they had spent over $1 million to fight GM labeling bills in California and Washington.
They are also a member of the Grocery Manufacturers Association (GMA), a trade group that has spent millions in opposition to GM labeling.
"We will continue to be a member of GMA and will participate in food industry initiatives that align with our purpose and business goals," Morrison stated. "However, as a result of the change in our position on GMO labeling, Campbell is withdrawing from all efforts led by groups opposing mandatory GMO labeling legislation, including those led by GMA."
What's most interesting is that the GMA and Monsanto have long argued that labeling foods would be costly for manufacturers and that those costs would be passed on to consumers.
However, studies suggest that GMO labeling actually wouldn't increase food prices. Food labels are frequently updated without an increase in product cost.
In fact, when the Organic Consumers Association asked Campbell's if food prices would increase as a result of the new GM labeling, they replied with a confident NO.
"To be clear, there will be no price increase as a result of Vermont or national GMO labeling for Campbell products," Campbell spokesman Tom Hushen wrote.
Take that, GMA.
This is a definite step in the right direction for Campbell and the food industry as a whole. It is living proof that consumer demand drives market change.
Granted, part of it is due to the fact Campbell doesn't want to print different versions of labels for states that have mandatory labeling laws, so there is some regulatory influence there. But rather than continue in the fight against labeling, Campbell is listening to what consumers really want.
Now all they need to do is clean up the rest of the junk ingredients in their products. Campbell still has many products made with high fructose corn syrup, artificial flavors and colors, MSG, and excess sodium.
And while they are "working on" phasing out BPA in their packaging, many of their cans still contain it.
The Campbell's Organic line, however, is a good option. It comes in BPA-free packaging, contains no preservatives, and is certified organic.
Between label claims, sketchy ingredients, and chemical-lined packaging, navigating the supermarket and finding brands you can trust can be an arduous task.
But we're about to make it so much easier.
We're putting the finishing touches on our comprehensive guide How to Survive the Supermarket, and you'll have to opportunity to get your hands on it very soon.
How to Survive the Supermarket is going to give you the information you need to confront your biggest concerns at the supermarket, so you can be sure you're choosing the very best food for you and your family.
But we've got one last request for you.
We want to make absolutely sure it covers all of your biggest concerns when you go shopping.
So if you don't mind, could please take this very brief survey and let us know what they are?
It's a simple three-question survey to let us know what your top health concerns are when you're trying to pick out items at the supermarket. Just let us know and we'll make sure it's covered in the guide.
To living well,

Jasmine LeMaster
Health Researcher

Written By Jasmine Lemaster
Jasmine LeMaster is head of quality assurance for Laissez Faire's Living Well brand and is an integral part of their product research and development team. To hear more from Jasmine, sign up to receive Living Well Daily for free, here.
I have arthritis in my spine. What would you suggest to help manage it? –George from Cedar Rapids, IA George, Believe it or not, many people learn that they have spinal arthritis as they age. It's very common. There's a lot you can do to help keep it from advancing or even reverse some of...
Dear Living Well Daily Reader, There is a plague of anxiety sweeping the nation. And who could blame us? Anyone with half a brain SHOULD feel anxious about the state of the world. But like any other epidemic, just because something is going around doesn't mean you should accept it. More importantly, having anxiety does...
Dear Living Well Daily Reader, If you or someone you love suffers from multiple sclerosis (MS), you already know how the disease can turn your life upside down. The stiffness and mobility problems slowly strip away your independence… and leave you in pain. Talk to your mainstream doc and he'll just shrug their shoulders –...
Dear Living Well Daily Reader, If you're a woman, chances are you have heard about the BRCA gene (BReast CAncer gene). Scientists have known for a long time that a mutation in one of two breast cancer genes, BRCA1 or BRCA2, increases the risk of getting breast cancer. But, men, listen up – just because...
Dear Living Well Daily Reader, Some people might shrug when you tell them you have knee pain… but that's only if they haven't experienced firsthand. Chronic pain from osteoarthritis is no joke— it can destroy your life. Joint pain makes moving incredibly difficult and can keep you from doing the things you love. Before you know it,...
Dear Living Well Daily Reader, Inflammation is supposed to be a normal response for your body. It's one of the key defenses protecting you. Inflammation can sometimes be our friend… when it helps fight off infections and clears away debris, that is. The problems start when inflammation blazes out of control or lasts longer than...
I have psoriasis, and I was wondering what supplements or natural treatments there are out there. –Bill from Riverside, CA Bill, As you probably know, psoriasis is a chronic autoimmune disease where the body attacks the skin as if it were a foreign invader. Psoriasis affects about two percent of the U.S. population. Normal, healthy...
Dear Living Well Daily Reader, I'm on a personal mission to rescue coffee from the hands of the nutritional puritans who think that anything fun is not good for you. Despite what the mainstream would have you believe, the news on coffee has improved in recent years. Researchers have pinpointed many powerful plant nutrients, like...
Dear Living Well Daily Reader, Some suggest pretty complicated ways to keep your brain healthy as you age. Going back to college… doing complicated puzzles… taking what feels like 30 bottles of pills a day… It can make you feel like giving up before you've even started! But what if there was something MUCH easier...
Dear Living Well Daily Reader, If you're tired constantly refilling pain prescriptions, you're not alone. And if you're even MORE tired of the side effects that come with them, who could blame you? For far too long, Big Pharma has held arthritis patients hostage… promising relief while they rob you blind. It's time for something...