Just How Messed up Is Our Medical System?
I woke up around 4 a.m. today and knew exactly what I needed to tell you about.
I always debate what topic I'd like to explore in each issue of Living Well Daily. I was having trouble with this one, as there are so many health topics I want to research and share with you all.
Today I want to tell you about something that's been bugging me for a while: an alarming statistic published The Journal of the American Medical Association back in 1998[1].
The authors of the article wanted to find out how many people were killed by adverse drug reactions that year. Not illegal drugs, either, but FDA-approved prescription and over-the-counter drugs.
After much number crunching, they concluded:
"We estimated that in 1994 in the United States 106,000 hospital patients died from an ADR [adverse drug reaction]."
The shocking part? These adverse reactions were not due to accidental overdoses or medical errors.
Nope. They continue: "Our study on ADRs, which excludes medication errors, had a different objective: to show that there are a large number of serious ADRs even when the drugs are properly prescribed and administered." [All bolded emphases are mine.]
As a Living Well Daily reader, this probably doesn't surprise you too much. You know our medical system is flawed. You know that FDA approves drugs that have disgustingly dangerous side effects.
But the fact that these drugs are killing so many of us when used "properly" is astonishing to me. And this article examined only deaths in hospitals.
So I decided to do a little more digging and found something that shocked me even more.
I found an article published in Life Extension magazine back in 2004 called "Death by Medicine."[2] The authors report on research commissioned by the Nutrition Institute of America who wanted to try and find out the total number of deaths caused by medical intervention. This means adverse drug reactions, medical error, unnecessary procedures, bedsores, etc.
They crunched some numbers and found that in the U.S., the number of deaths caused by medical intervention each year is an estimated 783,936.
That's over three-quarters of a million people. Every single year.
The authors then state: "It is evident that the American medical system is itself the leading cause of death and injury in the U.S."
Curiously, I went to the CDC's website and searched for "leading causes of death." Here's a screen shot of what I found: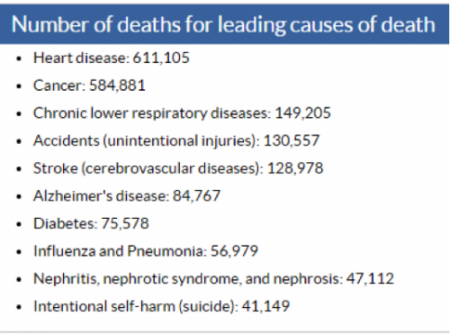 Notice what's missing?
Even if you were to exclude the total number killed by the American medical system, deaths caused by "properly" used drugs in hospitals alone should be sixth on that list.
And it's not.
Deep down, I shouldn't be surprised our government doesn't want to admit that our medical system is so flawed. To address the problem, a massive overhaul would need to take place, starting with how doctors are trained and ending with addressing pharmaceutical company lobbying.
Not going to happen.
Really, I'm just mad.
And I don't tell you all this to scare you or to keep you from ever going to a doctor or hospital. But I do firmly believe that we should not put blind faith into the safety of our medical system, and especially not into FDA-approved drugs. You really must be your own advocate to safely navigate our flawed medical system.
I probably sound a bit paranoid by saying this, but trust no one!
I could write 10 articles about how the drug approval process is disgustingly messed up. But instead of doing that, I'd like to warn you about one drug that's likely in your medicine cabinet right now that you show throw out immediately.
Even though you can buy it without a prescription, it's given to babies, and the commercials for it would make it look like it's one of the gentlest, safest drugs out there, it most definitely is not safe.
In fact, overdoses are estimated to kill over 458 people, send over 56,000 to the emergency room, and lead to 2,600 hospitalizations each year.
What is it?
Tune in on Friday, and I'll tell you exactly what it is and what some safer options are.
To living well,
Jasmine LeMaster
PS: Thanks to all the men who wrote in about their experience or interest in testosterone therapy. We're loving all the reader feedback. Keep it coming! livingwelldaily@lfb.org.
[1] Lazarou et al. Incidence of Adverse Drug Reactions in Hospitalized Patients. JAMA. 1998: 279(15): 1200-1205.
[2] Null, Gary et al. Death by Medicine. Life Extension Magazine. March 2004.
Dear Living Well Daily Reader, My wife has recently begun showing signs of dementia. Her doctor has put her on medicine to try and "slow the progression" but, if anything, she seems like she's just getting worse. Is there anything we can do? –Martin from Durham, North Carolina Hi Martin, Some medications claim to slow...
It always puzzles me how anyone thinks we can spray toxic chemicals on our crops and NOT have them affect our health! Because despite what food manufacturers may claim, chemical residues from pesticides and herbicides show up on (and IN) the conventionally grown food we eat. And research makes it clear that these creepy chemicals...
I think you'll agree that aging should come with some perks. And chief among them is FINALLY having the time to relax and enjoy the retirement you earned. But that's awfully hard to do if you're losing your eyesight due to macular degeneration. Instead, your golden years become tarnished by having to focus on learning...
How does that old saying go? An ounce of prevention is worth a pound of cure. We all know it's easier to STOP something from happening in the first place than to repair the damage after it's happened. And with all of its complications, including shortening your lifespan, type 2 diabetes is well worth preventing!...
I've had patients make some pretty strange claims about their arthritis. Many folks swear they can "feel a storm coming" in their joints. And I've heard this one so often (and had them be spot-on about that storm) that I believe it's true. Other patients claim their joint pain gets worse when eating tomatoes. And...
If you're "of a certain age," I bet you remember that iconic old slogan from the late 70s, "A mind is a terrible thing to waste." It always springs to mind when I see a sharp person's memory start to fade away. They soon become unable to make decisions for themselves. Eventually, they even have...
Dear Living Well Daily Reader, "Most of my family has been hit with COVID. We're thinking it's the latest variant. Are there any extra, new recommendations for protecting yourself against the variant? (Aside from washing your hands?) My husband and I have tested negative so far, but we want to be careful." –Tammy from Lancaster,...
If you have diabetes, it's almost certain that your conventional medical doctor put you on a blood sugar-lowering drug. And there's ALSO a strong possibility that the drug makes you feel terrible. Common side effects include gas, bloating, upset stomach, kidney issues, and fatigue. Even worse, over time, these drugs become less effective. So even...
Okay, I'll admit it. There have been times I've found it tough to maintain an optimistic outlook these last few years. And I'm not alone. Studies show that unhappiness and loneliness are on the rise. That's TERRIBLE news for our health. Because when you combine the two, it can deliver a devastating blow to your...
It's the nuttiest time of year. And I'm not just talking about the decorating, shopping, and holiday chaos… I'm literally talking about NUTS. Sure, we eat these tasty treats all year round. But when the holidays approach our nut consumption goes through the roof. We eat more nuts from October through December than any other...