Latest E. Coli Outbreak Linked to Unusual Source
Toss it if you've got it! You'll want to rid your kitchen of this contaminated food ASAP!
Discover the one way you should never eat this food
Use this website to find out if your household is in danger of this growing outbreak… 
Dear Living Well Daily Reader,
Bloody diarrhea, severe stomach cramps, kidney failure, and potentially even death…
If you want to avoid these health outcomes, then you'll need to check your pantry immediately.
E. coli is back.
And this time, it's in an unsuspecting source.
You see, this outbreak isn't from processed meats or perforated steaks. No, this time, it's in over 10 million pounds of an everyday food.
In fact, this food is so common there's a great chance it's in your kitchen right now.
Don't worry, though, Living Well Daily has got your back… we will share with you the exact recall information in just a bit.
So what's this unlikely yet common source?
Flour.

Widened Recall
General Mills (GM) first initiated a recall back in May. However, the recall was expanded to over 10 million pounds of this potentially toxic wheat powder just last week because of four new related food poisoning cases.
The recall includes brands such as Gold Medal Flour, Signature Kitchens Flour, and Gold Medal Wondra Flour.
The CDC isolated a Shiga toxin-producing strain of E. coli (STEC O121) from samples of General Mills flour collected from the homes of ill folks in Arizona, Colorado, and Oklahoma. This strain can cause serious kidney damage, and even death in some cases.
Forty-two people in 21 states have already fallen ill from the contaminated flour. Of these, 11 people were hospitalized.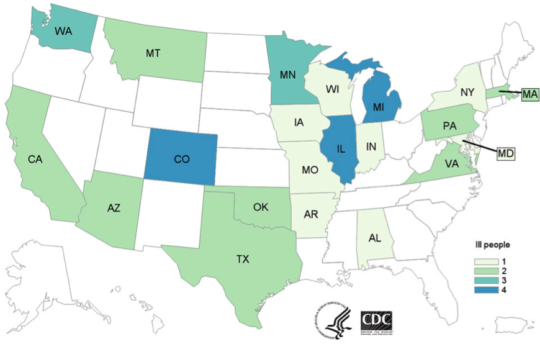 At this point, no cases of kidney failure or deaths associated with the outbreak have been reported. But with such a large quantity of potentially contaminated product, this could change quickly.
Folks with compromised immune systems, seniors, and small children are at greatest risk. Bloody diarrhea and abdominal cramps usually occur a few days after consumption. Anyone experiencing these symptoms should seek emergency medical treatment stat.

Dangerous Dough
According to a statement from GM, health officials linked an illness to raw dough or batter made with products produced last fall. These products are covered in the recall.
CDC officials warn that eating raw doughs and batters can have devastating health results. "Even tasting a small amount could make you sick." This includes any raw flour products, regardless of whether they are on the recall list or not.
E. coli O121 can be destroyed through heat. This means you should always thoroughly cook, bake, fry, or boil any foods made with flour. In addition, be sure to thoroughly clean all cookware, utensils, and surfaces that have made contact with flour.
The CDC reports that if you are storing your flour without its original packaging or are unsure of its origins, you should throw it out immediately. Thoroughly sanitize the container before using it again.
If you have flour in its original packaging, you can click here to see if it is part of the recall. Any flour matching the recall criteria should be tossed instantly.
For questions, you can reach General Mills through this web page or call 1-800-230-8103.
Live well,

Natalie Moore
Managing editor, Living Well Daily
---
Sources
[1] Flour recall
[2] Multistate Outbreak of Shiga toxin-producing Escherichia coli O121 Infections Linked to Flour

Written By Natalie Moore
Natalie Moore is a dedicated health researcher with a passion for finding healthy, natural, and science-based solutions. After a decade of direct healthcare experience in western and natural medicine, she was involved in public health research before joining Living Well Daily.
I have arthritis in my spine. What would you suggest to help manage it? –George from Cedar Rapids, IA George, Believe it or not, many people learn that they have spinal arthritis as they age. It's very common. There's a lot you can do to help keep it from advancing or even reverse some of...
Dear Living Well Daily Reader, There is a plague of anxiety sweeping the nation. And who could blame us? Anyone with half a brain SHOULD feel anxious about the state of the world. But like any other epidemic, just because something is going around doesn't mean you should accept it. More importantly, having anxiety does...
Dear Living Well Daily Reader, If you or someone you love suffers from multiple sclerosis (MS), you already know how the disease can turn your life upside down. The stiffness and mobility problems slowly strip away your independence… and leave you in pain. Talk to your mainstream doc and he'll just shrug their shoulders –...
Dear Living Well Daily Reader, If you're a woman, chances are you have heard about the BRCA gene (BReast CAncer gene). Scientists have known for a long time that a mutation in one of two breast cancer genes, BRCA1 or BRCA2, increases the risk of getting breast cancer. But, men, listen up – just because...
Dear Living Well Daily Reader, Some people might shrug when you tell them you have knee pain… but that's only if they haven't experienced firsthand. Chronic pain from osteoarthritis is no joke— it can destroy your life. Joint pain makes moving incredibly difficult and can keep you from doing the things you love. Before you know it,...
Dear Living Well Daily Reader, Inflammation is supposed to be a normal response for your body. It's one of the key defenses protecting you. Inflammation can sometimes be our friend… when it helps fight off infections and clears away debris, that is. The problems start when inflammation blazes out of control or lasts longer than...
I have psoriasis, and I was wondering what supplements or natural treatments there are out there. –Bill from Riverside, CA Bill, As you probably know, psoriasis is a chronic autoimmune disease where the body attacks the skin as if it were a foreign invader. Psoriasis affects about two percent of the U.S. population. Normal, healthy...
Dear Living Well Daily Reader, I'm on a personal mission to rescue coffee from the hands of the nutritional puritans who think that anything fun is not good for you. Despite what the mainstream would have you believe, the news on coffee has improved in recent years. Researchers have pinpointed many powerful plant nutrients, like...
Dear Living Well Daily Reader, Some suggest pretty complicated ways to keep your brain healthy as you age. Going back to college… doing complicated puzzles… taking what feels like 30 bottles of pills a day… It can make you feel like giving up before you've even started! But what if there was something MUCH easier...
Dear Living Well Daily Reader, If you're tired constantly refilling pain prescriptions, you're not alone. And if you're even MORE tired of the side effects that come with them, who could blame you? For far too long, Big Pharma has held arthritis patients hostage… promising relief while they rob you blind. It's time for something...