Latest E. Coli Outbreak Linked to Unusual Source
Toss it if you've got it! You'll want to rid your kitchen of this contaminated food ASAP!
Discover the one way you should never eat this food
Use this website to find out if your household is in danger of this growing outbreak… 
Dear Living Well Daily Reader,
Bloody diarrhea, severe stomach cramps, kidney failure, and potentially even death…
If you want to avoid these health outcomes, then you'll need to check your pantry immediately.
E. coli is back.
And this time, it's in an unsuspecting source.
You see, this outbreak isn't from processed meats or perforated steaks. No, this time, it's in over 10 million pounds of an everyday food.
In fact, this food is so common there's a great chance it's in your kitchen right now.
Don't worry, though, Living Well Daily has got your back… we will share with you the exact recall information in just a bit.
So what's this unlikely yet common source?
Flour.

Widened Recall
General Mills (GM) first initiated a recall back in May. However, the recall was expanded to over 10 million pounds of this potentially toxic wheat powder just last week because of four new related food poisoning cases.
The recall includes brands such as Gold Medal Flour, Signature Kitchens Flour, and Gold Medal Wondra Flour.
The CDC isolated a Shiga toxin-producing strain of E. coli (STEC O121) from samples of General Mills flour collected from the homes of ill folks in Arizona, Colorado, and Oklahoma. This strain can cause serious kidney damage, and even death in some cases.
Forty-two people in 21 states have already fallen ill from the contaminated flour. Of these, 11 people were hospitalized.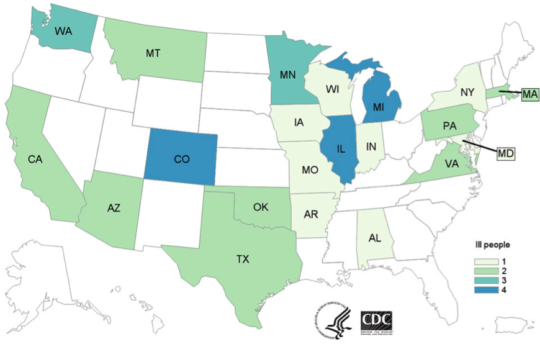 At this point, no cases of kidney failure or deaths associated with the outbreak have been reported. But with such a large quantity of potentially contaminated product, this could change quickly.
Folks with compromised immune systems, seniors, and small children are at greatest risk. Bloody diarrhea and abdominal cramps usually occur a few days after consumption. Anyone experiencing these symptoms should seek emergency medical treatment stat.

Dangerous Dough
According to a statement from GM, health officials linked an illness to raw dough or batter made with products produced last fall. These products are covered in the recall.
CDC officials warn that eating raw doughs and batters can have devastating health results. "Even tasting a small amount could make you sick." This includes any raw flour products, regardless of whether they are on the recall list or not.
E. coli O121 can be destroyed through heat. This means you should always thoroughly cook, bake, fry, or boil any foods made with flour. In addition, be sure to thoroughly clean all cookware, utensils, and surfaces that have made contact with flour.
The CDC reports that if you are storing your flour without its original packaging or are unsure of its origins, you should throw it out immediately. Thoroughly sanitize the container before using it again.
If you have flour in its original packaging, you can click here to see if it is part of the recall. Any flour matching the recall criteria should be tossed instantly.
For questions, you can reach General Mills through this web page or call 1-800-230-8103.
Live well,

Natalie Moore
Managing editor, Living Well Daily
---
Sources
[1] Flour recall
[2] Multistate Outbreak of Shiga toxin-producing Escherichia coli O121 Infections Linked to Flour

Written By Natalie Moore
Natalie Moore is a dedicated health researcher with a passion for finding healthy, natural, and science-based solutions. After a decade of direct healthcare experience in western and natural medicine, she was involved in public health research before joining Living Well Daily.
These days, it seems like you can't leave your doctor's office without hearing you need to eat more fiber. You'll hear the same thing from the government… and any other mainstream health organization. And when you eat the right type of fiber, it IS good for you. Unfortunately, many foods contain a type of fiber...
If you're over 65, you probably can't remember the last time you had a good night's sleep… or spent the day gardening without paying for it in the morning. And with good reason. As you age, good sleep can be hard to get… and REAL relief for your overworked joints is just something you dream...
You know what the world DOESN'T need? A new pill for diabetes. But Big Pharma – and the FDA – don't agree. The FDA just approved a new pill to lower blood sugar in people with type 2 diabetes. But there's a HUGE problem with this new drug… it CAUSES CANCER. Here's how to stay...
As you age, it can seem like your metabolism comes to a screeching halt. And when it does, your energy tanks… and you start packing on the pounds. Even worse? You could find yourself on the fast track to dangerous diseases like diabetes and heart disease. But it doesn't have to be this way. Because...
If you or your loved one has Alzheimer's, you'd probably do just about anything to reverse the disease. That's why it's easy to submit when your mainstream doc suggests taking meds. The only problem? There's not a single Alzheimer's drug on the market that actually WORKS. And if that's bad enough… research now shows that...
If you've got cancer, the only thing on your mind is surviving it. But the mainstream makes that difficult at every turn. The chemo… radiation… and even "safe" immunotherapies all come with a price. Now it looks like a popular class of conventional drugs can sabotage your chances of surviving cancer. And chances are you've...
You know those red lights that pop us on your car's dashboards? They're signs that somethings wrong with your car. Well, your body has the same type of warning system. And if you're a man of 50, you shouldn't be looking for a red light… Instead, you should be calling the doctor if you're having...
If you're like most of my senior patients, you've probably lost count of the number of times you've walked into a room… and totally forgot why you went in there in the first place. Or had to drive BACK to the grocery store for that one forgotten item. But most mainstream brain health solutions are...
If you're anything like my senior patients, your biggest fear is losing your memories… and independence. And why shouldn't it be? No one wants to saddle their family with the cost and stress of taking care of them as they grow older. But it seems like the mainstream is hell bent on seeing this happen...
As you age, keeping your brain in tip-top shape should be your most important health goal. Because without a healthy brain, you will slowly lose your memories… your health… and your independence. But your mainstream doc is NO HELP. He'll just put you on a strict diet and give you a bunch of nasty, worthless...