The One Label to Look for When Buying Meat, Dairy, or Eggs
Are your meat selections ruining the environment? Find out more…
Don't settle for anything less than the "gold standard"!
Discover one easy way to make sure your groceries are healthy, sustainable, and humane. 
Dear Living Well Daily Reader,
"All the arguments to prove man's superiority cannot shatter this hard fact: In suffering, the animals are our equals." — Peter Singer, Animal Liberation
In a time of factory farming, this couldn't be a more relevant thought.
And since the horrors of these crowded and filthy farms often make the evening news, you don't have to look too far to see our food system is in a sad state.
While seeing these distrubing and often gut-wrenching stories makes buying humane meat, dairy, and eggs a desirable option, it's hard to know if your dinner is coming from an animal that enjoyed a life of eating fresh grass in an open pasture or spent its days locked in a manure-filled pen being pumped full of antibiotics and chemicals.
Labels are supposed to help, but sometimes they can just make the decision more confusing…
Grass-fed, grass-finished, antibiotic-free, pasture-raised, free-range, etc.… all these choices can be overwhelming!
At times, you may even find yourself just staring deep into the meat cooler or at the egg section paralyzed by confusion and wondering how to make the best choice for you, your family, farm animals, and the environment.
Sound familiar?
Well, it doesn't have to be this way…
There is one label that you can depend on to ensure your meat and dairy products come from animals raised on farms with the highest animal welfare and environmental standards. We will discuss it in just a bit.
First, let's discuss why purchasing humanely raised meat, dairy, and eggs is so important.

Fractured Farming
Factory farms, also called concentrated animal feeding operations (CAFOs) or industrial farm animal productions (IFAPs), can hold more than 125,000 animals under one roof.1 These humongous animal houses offer the highest outputs at the lowest costs for the operators.
Unfortunately, this comes at a cost to the animals and the environment.
Animals can experience emotions like joy and often have complex social structures. Being forced into a contained area without the ability to interact or engage with each other in an outdoor pasture setting can have negative effects on the animal's health.
Not to mention, the crowded quarters can lead to serious health issues for the animals and sometimes the people eating them.
Some of these public health dangers include E. coli, salmonella, and even antibiotic resistance.
Often, factory farms routinely give animals low levels of antibiotics even if they aren't showing any signs of illness. When this unwarranted dosing happens, it creates ideal conditions for the proliferation of antibiotic-resistant bacteria and can even reduce the efficacy of antibiotics in humans.2
Another serious issue associated with factory farming is water pollution. Many factory farms collect, store, and then spread millions of gallons of animal waste to land adjacent to the farm.
When this happens, nutrients, fertilizers, bacteria, viruses, and antibiotics can be washed into local watersheds or seep into ground water systems. This can result in the contamination of public drinking waters or recreational areas. 3
And while the detriments of factory farming are clear, being sure you aren't buying products that support it isn't.

Make Your Purchases With Peace Of Mind
That's why this label is so important: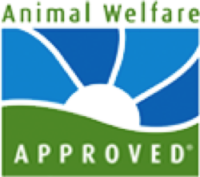 Animal Welfare Approved (AWA), sometimes referred to as the "gold standard" for independent family famers, audits and certifies farming operations for animal welfare, sustainability, and pasture-based farming.
With the help of scientists, researchers, veterinarians, and farmers, the AWA created standards to increase high-welfare farm management.
Through this set of standards, AWA is the only label that ensures eggs, meat, and dairy are produced by animals raised with uninterrupted access to pastures that have the ability to enjoy instinctive behaviors, which encourage health and well-being.
In addition, AWA requires high-welfare slaughter practices.
Plus, they are a third-party certifier, which means their audits are separate from any conducted by the UDSA or FDA.
And to ensure access to farmers, AWA does not charge farmers to join their program. Since they don't rely on certification fees, AWA can conduct impartial audits and provide consumers with humanely raised, quality products.
To find out more about AWA and if their products are in your area, click here.
If AWA products aren't available in your area, be sure to purchase meat, eggs, and dairy products with a third-party auditor's label on them.
If you are a Living Well Daily Insider, you can find out more about food labels in your How to Survive the Supermarket: Your Guide to Buying Safe, Healthy Foods With Confidence report.
If you're not an Insider yet, click here to learn more.
Live well,

Natalie Moore
Managing editor, Living Well Daily
---
Sources
[1] Producer's Compliance Guide for CAFOs
[2] What's Wrong With Factory Farms?

Written By Natalie Moore
Natalie Moore is a dedicated health researcher with a passion for finding healthy, natural, and science-based solutions. After a decade of direct healthcare experience in western and natural medicine, she was involved in public health research before joining Living Well Daily.
I have arthritis in my spine. What would you suggest to help manage it? –George from Cedar Rapids, IA George, Believe it or not, many people learn that they have spinal arthritis as they age. It's very common. There's a lot you can do to help keep it from advancing or even reverse some of...
Dear Living Well Daily Reader, There is a plague of anxiety sweeping the nation. And who could blame us? Anyone with half a brain SHOULD feel anxious about the state of the world. But like any other epidemic, just because something is going around doesn't mean you should accept it. More importantly, having anxiety does...
Dear Living Well Daily Reader, If you or someone you love suffers from multiple sclerosis (MS), you already know how the disease can turn your life upside down. The stiffness and mobility problems slowly strip away your independence… and leave you in pain. Talk to your mainstream doc and he'll just shrug their shoulders –...
Dear Living Well Daily Reader, If you're a woman, chances are you have heard about the BRCA gene (BReast CAncer gene). Scientists have known for a long time that a mutation in one of two breast cancer genes, BRCA1 or BRCA2, increases the risk of getting breast cancer. But, men, listen up – just because...
Dear Living Well Daily Reader, Some people might shrug when you tell them you have knee pain… but that's only if they haven't experienced firsthand. Chronic pain from osteoarthritis is no joke— it can destroy your life. Joint pain makes moving incredibly difficult and can keep you from doing the things you love. Before you know it,...
Dear Living Well Daily Reader, Inflammation is supposed to be a normal response for your body. It's one of the key defenses protecting you. Inflammation can sometimes be our friend… when it helps fight off infections and clears away debris, that is. The problems start when inflammation blazes out of control or lasts longer than...
I have psoriasis, and I was wondering what supplements or natural treatments there are out there. –Bill from Riverside, CA Bill, As you probably know, psoriasis is a chronic autoimmune disease where the body attacks the skin as if it were a foreign invader. Psoriasis affects about two percent of the U.S. population. Normal, healthy...
Dear Living Well Daily Reader, I'm on a personal mission to rescue coffee from the hands of the nutritional puritans who think that anything fun is not good for you. Despite what the mainstream would have you believe, the news on coffee has improved in recent years. Researchers have pinpointed many powerful plant nutrients, like...
Dear Living Well Daily Reader, Some suggest pretty complicated ways to keep your brain healthy as you age. Going back to college… doing complicated puzzles… taking what feels like 30 bottles of pills a day… It can make you feel like giving up before you've even started! But what if there was something MUCH easier...
Dear Living Well Daily Reader, If you're tired constantly refilling pain prescriptions, you're not alone. And if you're even MORE tired of the side effects that come with them, who could blame you? For far too long, Big Pharma has held arthritis patients hostage… promising relief while they rob you blind. It's time for something...