One Sure Way To Beat America's Newest Killer
The only cause of death that isn't on death certificates
Look out cancer and heart disease – there's a new threat in town! And it's NOT a disease.…
The one sure way to beat this new threat. Find out more…
Dear Reader,
Mistakes happen.
They are an unavoidable and often unpleasant fact of life.
Unfortunately, some mistakes have greater consequences than others — and sometimes they are even deadly.
Cases of deadly mistakes come up in the news all the time — a man shot his wife because he mistook her for an intruder or a bus driver didn't have enough time to slam on the brakes to dodge a jaywalker — these things happen all the time.
Typically legal involvement, investigations, and even convictions of manslaughter follow.
And someone is held accountable.
But that's not the case for as many as 400,000 American deaths every year.
And they aren't being recorded on death certificates!
In fact, these errors are so common and dangerous that only cancer and heart disease claim more lives every year — making this the No. 3 killer in the 'States.
There is one sure way you can keep yourself from falling victim — we'll share this helpful tip in a bit.
So what is this preventable killer?
Medical errors.

You Won't Find This on a Death Certificate
This week, Dr. Martin Makary and Michael Daniel of Johns Hopkins University Medical School published a new study in BMJ reporting:
If medical error was a disease, it would rank as the third leading cause of death in the U.S.1
The two experts go on to explain that a meticulous count of total U.S. deaths shows that 200,000–400,000 people die from preventable medical errors every year.
Once they crunched the numbers, they came up with the final estimate of 250,000 deaths specifically caused by substandard care — meaning they were 100% preventable.
Heart disease, the No. 1 killer in America, takes 611 thousand lives every year. Cancer just is behind, at 585 thousand deaths. COPD comes in third, with 149 thousand deaths, according to the CDC.2
If the researchers' estimates are correct, medical mistakes could blow away the current third-most-prominent killer by at over 100,000 deaths — even at the lower end of the estimate.
Makary told this to NBC News about his findings:
We spend a lot of money on cancer and heart disease but we have not even recognized that medical error is the third leading cause of death in the United States. We have not as a country recognized the endemic problem of people dying from the care that they receive rather than the illness or injury for which they seek care.3
Another issue Makary highlights is that deaths due to medical errors aren't typically recorded as so on death certificates.
One reason for may be the use of the International Classification of Diseases code in medical billing, which could be skewing our national health statistics. Makary reports, "The medical coding system was designed to maximize billing for physician services, not to collect national health statistics, as it is currently being used."
These stats are vital to research funding for public health campaigns. If they are incorrect, it could greatly affect the direction our health goes in as a country.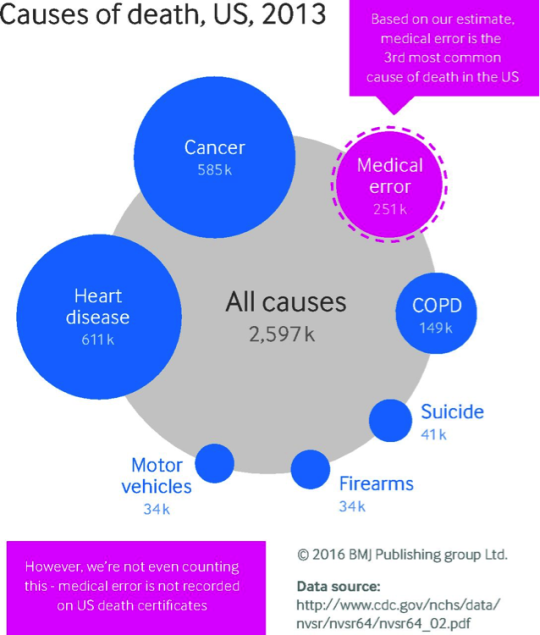 Preventable Deaths
As defined by the study, medical errors are:
An unintended act (either of omission or commission) or one that does not achieve its intended outcome
The failure of a planned action to be completed as intended (an error of execution)
The use of a wrong plan to achieve an aim (an error of planning)
A deviation from the process of care that may or may not cause harm to the patient
Patient harm from medical error that can occur at the individual or system level.
This sounds a bit like the clinical version of manslaughter.
This is not to say that medical workers want to cause harm to their patients, but rather that they should be held accountable when they do — just like you or I would be.
For example, there are times when patients get the wrong medication or don't get any medication at all, or sometimes surgical tools are sewn up in patients and cause lethal infections, and often patients are sent home with the wrong diagnosis and sometimes die.
Unfortunately, I saw all three of these things more than once during my time in the emergency room.
While these examples are preventable, certainly not all errors can be stopped. But at the very least, they should be documented, as Makary points out:
"Human error will always be in medicine, and we will never get rid of human error, but we can design systems to mitigate the impact and reduce the frequency of human error."
Perhaps Makary's work and the work of others like him will get the ball rolling to not only record medical errors but eventually protect patients from them.
For now, there is only one way to avoid losing your life to a medical error – stay out of the hospital.
I am not suggesting you don't go if it's a medical necessity. Rather, maintain your health so you don't have to go there.
Live well,

Natalie Moore
Managing editor, Living Well Daily
---
Sources
[1] Medical error—the third leading cause of death in the US
[3] Could Medical Errors Be No. 3 Cause of Death?

Written By Natalie Moore
Natalie Moore is a dedicated health researcher with a passion for finding healthy, natural, and science-based solutions. After a decade of direct healthcare experience in western and natural medicine, she was involved in public health research before joining Living Well Daily.
I have arthritis in my spine. What would you suggest to help manage it? –George from Cedar Rapids, IA George, Believe it or not, many people learn that they have spinal arthritis as they age. It's very common. There's a lot you can do to help keep it from advancing or even reverse some of...
Dear Living Well Daily Reader, There is a plague of anxiety sweeping the nation. And who could blame us? Anyone with half a brain SHOULD feel anxious about the state of the world. But like any other epidemic, just because something is going around doesn't mean you should accept it. More importantly, having anxiety does...
Dear Living Well Daily Reader, If you or someone you love suffers from multiple sclerosis (MS), you already know how the disease can turn your life upside down. The stiffness and mobility problems slowly strip away your independence… and leave you in pain. Talk to your mainstream doc and he'll just shrug their shoulders –...
Dear Living Well Daily Reader, If you're a woman, chances are you have heard about the BRCA gene (BReast CAncer gene). Scientists have known for a long time that a mutation in one of two breast cancer genes, BRCA1 or BRCA2, increases the risk of getting breast cancer. But, men, listen up – just because...
Dear Living Well Daily Reader, Some people might shrug when you tell them you have knee pain… but that's only if they haven't experienced firsthand. Chronic pain from osteoarthritis is no joke— it can destroy your life. Joint pain makes moving incredibly difficult and can keep you from doing the things you love. Before you know it,...
Dear Living Well Daily Reader, Inflammation is supposed to be a normal response for your body. It's one of the key defenses protecting you. Inflammation can sometimes be our friend… when it helps fight off infections and clears away debris, that is. The problems start when inflammation blazes out of control or lasts longer than...
I have psoriasis, and I was wondering what supplements or natural treatments there are out there. –Bill from Riverside, CA Bill, As you probably know, psoriasis is a chronic autoimmune disease where the body attacks the skin as if it were a foreign invader. Psoriasis affects about two percent of the U.S. population. Normal, healthy...
Dear Living Well Daily Reader, I'm on a personal mission to rescue coffee from the hands of the nutritional puritans who think that anything fun is not good for you. Despite what the mainstream would have you believe, the news on coffee has improved in recent years. Researchers have pinpointed many powerful plant nutrients, like...
Dear Living Well Daily Reader, Some suggest pretty complicated ways to keep your brain healthy as you age. Going back to college… doing complicated puzzles… taking what feels like 30 bottles of pills a day… It can make you feel like giving up before you've even started! But what if there was something MUCH easier...
Dear Living Well Daily Reader, If you're tired constantly refilling pain prescriptions, you're not alone. And if you're even MORE tired of the side effects that come with them, who could blame you? For far too long, Big Pharma has held arthritis patients hostage… promising relief while they rob you blind. It's time for something...