Pill Hawkers, Seaweed Chips, and Mr. Ginseng
"This garbage is nothing but processed carbs and vegetable oil… but at least it's gluten-free, right?"
Living Well Daily co-editor Jasmine cracked a smile, acknowledging my sarcasm. She's gotten used to my rants on nutrition, which helped her put up with me for three straight days in Anaheim, California, for the Natural Products Expo West 2015. Bursting at the seams with over 71,000 attendees, it was the biggest trade show for healthy food products and supplements in the United States.
We were rummaging through the goodie bag we got when we picked up our badges. The fare was pretty disappointing: a protein bar, popcorn bag, granola pouch, and other assorted prepackaged goods that were nothing more than carb delivery systems with a little window dressing.
None of it was healthy. Or as I like to say: It wasn't "fit for human consumption."
But grain-based carb products are addictive and have high profit margins, and the companies behind them sponsored the expo. Fortunately, we didn't have to eat the stuff. Or even buy any kind of meals, for that matter. Because the event featured over 2,700 exhibitors, and roughly 80% offered free samples. More than enough food to feed an army of health-conscious moochers for a long weekend.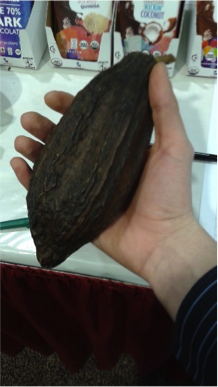 A whole cacao fruit, which chocolate is made of. I didn't take a bite.
But food wasn't the only attraction. Devices, acupressure pads, cosmetics, personal care products, and kitchen items abounded. Jasmine even got to ride a vibrating exercise gizmo: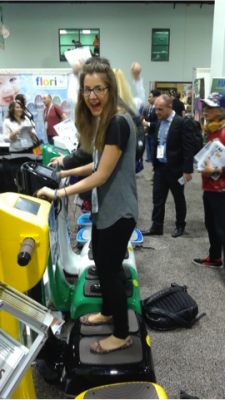 No jokes, please.
The people were a hoot too. I got to meet the esteemed Mr. Ginseng: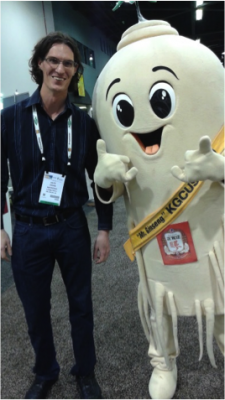 While the food and folks were fun, our real focus was one of the smaller parts of the show: groundbreaking nutritional supplement ingredients and science.
We'll be revealing much more in upcoming issues of Living Well Daily. For instance:
The special kind of ginseng that soothes away your anxiety while simultaneously boosting your energy within 30 seconds of taking a little taste
The natural herb recently proven to increase testosterone levels in men 24% (we bet you can't guess what it is)
The hot new fat-loss ingredient with two placebo-controlled human studies proving its power
A unique sugar your body doesn't store as fat that instantly banishes fatigue
The easiest way to instantly regain a calm, focused mind without ingesting a single pill
The secret visit we made to a laboratory just outside of Anaheim. Just to get inside, we had to don protective gear: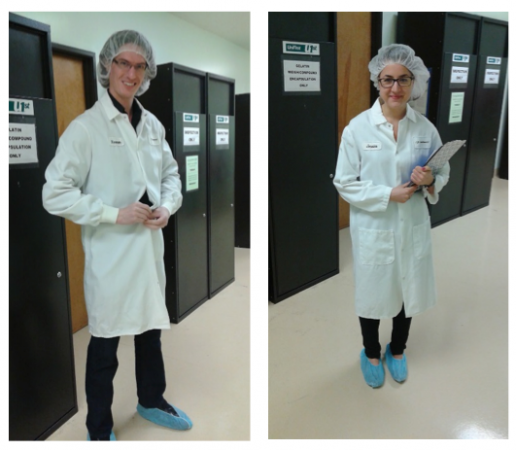 For now, here's a tip you can implement immediately:
When it comes to your food, don't fall for claims on a package like "gluten-free" or "organic." Sure, those are good things… unless they're being used as siren songs to make you feel comfortable stuffing your face with some carbohydrate-filled bar or bag of mush.
Grains are not healthy for your brain, heart, or waistline. Choose foods that don't require a fancy package and you'll be better off.
You can expect more news and actionable tips like this in each issue of Living Well Daily, designed to deliver you better health, fitness, and longevity — in short, "live well."
Until then…
Nate Rifkin

Written By Nate Rifkin
Nate Rifkin is an obsessed health and mind-power researcher and author. To hear more from Nate, sign up to receive Living Well Daily for free, here.
Dear Living Well Daily Reader, I hear people tell me all the time they worry about their heart or their brain… but I've almost never had someone tell me they're worried about their liver. Considering your liver performs more than 500 roles in your body, however, you'd think folks would be more concerned! Clearly you...
Dear Living Well Daily Reader, If you're scratching your head and wondering what to do about chronic fatigue syndrome (CFS), then you're not alone. While there can be a lot of pain associated with CFS, it's the overwhelming exhaustion that people struggle with the most. You've probably tried extra-strength coffee, energy drinks, and all sorts...
Dear Living Well Daily Reader, You've probably heard the legend of King Midas before. He wishes for limitless riches, so the gods grant him the ability turn everything he touches into gold. What if you, too, could have that ability… but with your health? Specifically, your vision. As we age, our bodies begin to fail...
Dear Living Well Daily Reader, If your loved one suffers from dementia, you know how hard their life can be. The daily struggle with depression and anxiety… their fear of losing even MORE of their memory… the sleepless nights… all add up to a heartbreaking experience (for both of you). As their friend or caregiver,...
Dear Living Well Daily Reader, The frightening fact is, one of your body's most important systems could be under siege right now. It's not your heart or your brain (though don't get me wrong—they're important too). It's a system that gets your body almost everything it needs to stay healthy. And it's one YOU NEED...
Dear Living Well Daily Reader, Pain is no joke, especially for people with chronic conditions. No one likes to be in pain, but those convenient over-the-counter remedies often have horrible side effects. And not only that, they can do lasting damage to your liver, kidneys, and stomach. And the drugs that your mainstream doc gives...
Dear Living Well Daily Reader, If you have diabetes, you know firsthand how wretched it can be. The constant finger pricks… painful injections… and the pill popping can drive anyone crazy. But that's just the tip of the iceberg. Diabetes could be setting you up for deadlier conditions, like heart and kidney disease… or even...
Dear Living Well Daily Reader, It's common knowledge that when it comes to a stroke, timing is everything. But this doesn't just apply to WHEN you have a stroke… it applies to prevention as well. You see, the clock starts ticking before you even have a stroke… but if you know what to look for,...
Dear Living Well Daily Reader, Longtime readers know that I'm not a big fan of calcium. In fact, I think it's one of the most overrated and oversold nutrients out there. And I'm in good company… experts from all over are coming around to the fact that weak bones need more than just calcium. Because...
My legs are getting weaker and it's harder to get around. Is there anything that will help heal or further prevent this loss of the use of my legs? –Janet from Wichita, KS ********* Janet, I'm sorry to hear what you're going through. It sounds incredibly frustrating! But don't worry – I have a solution....