Prevent Pet Arthritis With This Natural Solution
Is your pet having trouble walking and getting up and irritable? Find what might be the cause…
Discover how this safe and effective supplement could change your dog's life
Sometimes eggs just aren't enough. Find out what other natural food you should be feeding your best friend.
Dear Reader,
"Wait… what? Is that even a thing? He has arthritis in his… what?"
Vets have been warning me that my French bulldog would end up with arthritis for years.
And it's not that I believed it would never happen. It's just been shocking how long he's lived without getting it — he's 11 years old and still shows no signs of pain or stiffness.
But since he's a senior dog, when he went in for a yearly checkup, the vet did an X-ray just to be sure his hips were in good shape. But what the X-ray revealed was unusual.
It seems that my dog does have arthritis… but not in his hips.
He has arthritis in his tail.
And here's what makes the news even more strange. My dog has one of the tiniest tails I've ever seen.
I mean… look at it.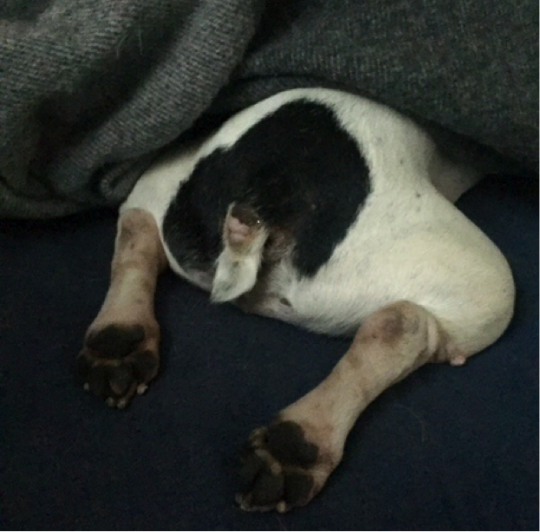 It's so little, he can't even wag it. Instead, his whole backside gyrates wildly when he's happy.
So I was a bit shocked by this news. I always figured he would get it in his hips or his front paws, since his body is such a funny shape — but his tiny tail never even crossed my mind.
As it turns out, though, arthritis of the tail is a thing. And it's kind of common.
In fact, it's possible that your dog could be suffering from it too.
But the threat of arthritis isn't limited your pup's tail (or just your pup, for that matter. Kitties can get it too). It can attack any joint in your best bud's body.

Collagen to the Rescue!
Arthritis in animals, just as in humans, is caused by the breakdown of cartilage. This firm but flexible substance absorbs shock and pressure during movement. When the amount of cartilage in your joints is reduced, it causes this painful and debilitating condition.
If you notice your pet is experiencing trouble getting up, joint stiffness, trouble walking, lameness, depression, lethargy, irritability or aggression when being touched, they may already be suffering from arthritis.
Luckily, research shows there is a supplement that can help support the joint health of dogs suffering from this chronic and painful condition — collagen.
Collagen is a naturally occurring protein that is a key component in the connective tissues in animals. In fact, it's the most abundant protein in mammals. While there are several types of collagen, collagen Type II is a vital building block of cartilage, so it's often used for joint support.
A study in the Journal of Veterinary Pharmacology and Therapeutics shows that undenatured Type II collagen (UC-II) can reduce pain and exercised-induced lameness in dogs.
But what was more impressive — this study was done exclusively on obese, large-breed dogs, which are prone to arthritic problems.
Fifteen dogs participated in the study and were divided into three different groups. Group one received no UC-II, group two received 1 mg of UC-II daily and group 3 took 10 mg per day, for a duration of 90 days.
During the study, pain and lameness were measured on a weekly basis for 120 days. The first 90 days were over the course of the study, and the last 30 days were post-treatment. In addition, blood samples were taken to ensure the collagen didn't cause any adverse effects such as kidney or liver damage during the course of the study.
At the end of the 90 days, dogs taking the 1 mg and 10 mg doses of UC-II showed significant declines in overall pain, pain from being touched and lameness after exercise. However, the dogs getting 10 mg showed the greatest improvements. Those getting no collagen showed little improvement.
During the 30-day period after treatment, all dogs experienced a relapse of overall pain, pain upon touching their limbs and exercise-associated lameness. This means the collagen likely reduced the dog's arthritis-induced pain.
Not to mention, the dogs taking collagen showed no signs of adverse effects.
This study shows that daily doses of collagen may be a safe and effective way to alleviate the painful symptoms of arthritis in dogs.

Better Joints, Better Life
Joint health decline can be devastating for your pet. Without healthy joints, your little pal may suffer from debilitating pain and slowly start to shy away from the things they once loved, like long walks, playing fetch and running in the yard.
There's no doubt I've been lucky with my dog. His joints have held up very well for his age, and he still enjoys walking and playing, regardless of the arthritis in his tiny tail.
One reason may be because I feed him eggs on a weekly basis. Eggs are a natural source of collagen, but may not be enough to support him into his golden years.
So recently, I've been supplementing his diet with collagen powder.
While it's not the undenatured variety used in the study, it seems to be very effective. He's still not showing any signs of stiffness and actually seems a bit more spry than before he started on the collagen.
And it's super easy for me, too. All I have to do is sprinkle a tablespoon over his food and voilà! He gobbles it right down.
This study focused solely on dogs, but it would make sense that collagen is also good for cats.
If you're looking for a collagen supplement for your pet, be sure to use products that contain Type II collagen and are made from either beef or pork products. I recommend Great Lakes. Click here to check it out.
Check with your vet before starting a pet on any supplement.
Live well,

Natalie Moore
Managing editor, Living Well Daily
---
Sources
[1] What is collagen? What does collagen do?
[2] Symptoms and Signs of Arthritis in Dogs
[3] Efficacy and safety of glycosylated undenatured type-II collagen (UC-II) in therapy of arthritic dogs.

Written By Natalie Moore
Natalie Moore is a dedicated health researcher with a passion for finding healthy, natural, and science-based solutions. After a decade of direct healthcare experience in western and natural medicine, she was involved in public health research before joining Living Well Daily.
Dear Living Well Daily Reader, My wife has recently begun showing signs of dementia. Her doctor has put her on medicine to try and "slow the progression" but, if anything, she seems like she's just getting worse. Is there anything we can do? –Martin from Durham, North Carolina Hi Martin, Some medications claim to slow...
It always puzzles me how anyone thinks we can spray toxic chemicals on our crops and NOT have them affect our health! Because despite what food manufacturers may claim, chemical residues from pesticides and herbicides show up on (and IN) the conventionally grown food we eat. And research makes it clear that these creepy chemicals...
I think you'll agree that aging should come with some perks. And chief among them is FINALLY having the time to relax and enjoy the retirement you earned. But that's awfully hard to do if you're losing your eyesight due to macular degeneration. Instead, your golden years become tarnished by having to focus on learning...
How does that old saying go? An ounce of prevention is worth a pound of cure. We all know it's easier to STOP something from happening in the first place than to repair the damage after it's happened. And with all of its complications, including shortening your lifespan, type 2 diabetes is well worth preventing!...
I've had patients make some pretty strange claims about their arthritis. Many folks swear they can "feel a storm coming" in their joints. And I've heard this one so often (and had them be spot-on about that storm) that I believe it's true. Other patients claim their joint pain gets worse when eating tomatoes. And...
If you're "of a certain age," I bet you remember that iconic old slogan from the late 70s, "A mind is a terrible thing to waste." It always springs to mind when I see a sharp person's memory start to fade away. They soon become unable to make decisions for themselves. Eventually, they even have...
Dear Living Well Daily Reader, "Most of my family has been hit with COVID. We're thinking it's the latest variant. Are there any extra, new recommendations for protecting yourself against the variant? (Aside from washing your hands?) My husband and I have tested negative so far, but we want to be careful." –Tammy from Lancaster,...
If you have diabetes, it's almost certain that your conventional medical doctor put you on a blood sugar-lowering drug. And there's ALSO a strong possibility that the drug makes you feel terrible. Common side effects include gas, bloating, upset stomach, kidney issues, and fatigue. Even worse, over time, these drugs become less effective. So even...
Okay, I'll admit it. There have been times I've found it tough to maintain an optimistic outlook these last few years. And I'm not alone. Studies show that unhappiness and loneliness are on the rise. That's TERRIBLE news for our health. Because when you combine the two, it can deliver a devastating blow to your...
It's the nuttiest time of year. And I'm not just talking about the decorating, shopping, and holiday chaos… I'm literally talking about NUTS. Sure, we eat these tasty treats all year round. But when the holidays approach our nut consumption goes through the roof. We eat more nuts from October through December than any other...