Recall Alert: Contaminated Cucumbers
Dear Living Well Daily Reader,
We tend to criticize the FDA a good bit here at Living Well, but not without good reason.
But there is one thing they do that I think deserves to be commended: their Recalls, Market Withdrawals and Safety Alerts.
FDA.gov is almost impossible to navigate without getting a headache. But with the Recalls, Market Withdrawals and Safety Alerts, you can have all the crucial information about food, drug, and supplement recalls delivered directly to your email. You can adjust the timing so you get the updates immediately, daily or weekly.
As I don't watch the news, it's one email I make sure to read to stay in the loop on food recalls.
And for good reason: There is at least one salmonella- or listeria-tainted food being recalled each month. And many times, more than a few.
This month's major outbreak: contaminated cucumbers.
Recently, at least 580 people suffered food poisoning and three people died from cucumbers tainted with salmonella.
These cucumbers were produced in Baja California, Mexico, by Fat Boy produce and distributed in 30 U.S. states.
The biggest problem is that these cucumbers are largely unmarked. They don't have labels on individual cucumbers showing the Fat Boy brand. But they were packed into cartons sporting the brand name: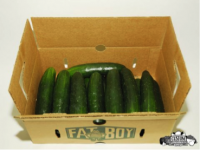 Another brand of cucumbers is being recalled for potential salmonella contamination as well: Limited Edition cucumbers produced by Andrew & Williamson Fresh Produce, of San Diego, California.
These cucumbers also have a wide distribution, to states including Alaska, Arizona, Arkansas, California, Colorado, Florida, Idaho, Illinois, Kansas, Kentucky, Louisiana, Minnesota, Mississippi, Montana, New Jersey, New Mexico, Nevada, Oklahoma, Oregon, South Carolina, Texas, and Utah.
Again, these cucumbers won't be individually marked with the Limited Edition brand, but it will be on the carton they come in.
The recall is still ongoing so you'll have to do your due diligence. Be sure to ask your grocer where they got their cucumbers. Or just avoid cucumbers altogether for a while.
Every year, approximately 42,000 cases of salmonella poisoning are reported. But not all cases are reported, so the actual number of infections may be closer to a million or more, and it is estimated that approximately 400 people die each year from acute salmonella poisoning.
Salmonella is especially harmful and can be fatal in young children, elderly people, pregnant women, or those with weak immune systems. If you or your loved ones fall into any of these categories, take extra caution.
Symptoms of salmonella poisoning include diarrhea, abdominal pain, and fever six-72 hours after eating the contaminated food. Chills, headache, nausea, and vomiting can also occur, and symptoms can last up to seven days.
Long-term side effects from salmonella poisoning include reactive arthritis, which is characterized by joint pain, eye irritation, and painful urination. It can also lead to aortic aneurysm, ulcerative colitis, and small intestinal bacterial overgrowth.
Cooking meats to the proper temperature can reduce the risk of foodborne illness.
For raw vegetables like cucumbers, you definitely want to give them a wash, but that still may not be enough to get rid of all the bacteria on the produce.
Your best bet is to make sure you take care of yourself to keep your immune system in tiptop shape and to stay abreast of food recalls. And whenever I'm worried I may be eating something sketchy, I'm sure to take an oregano oil capsule or two.
Other foods recalled this month for salmonella or listeria contamination include specific cheeses, fresh sliced apples, and Safeway deli sandwiches made with cucumber.
The full recall list also includes foods that have been found to have undeclared food allergens, as well as recalled dietary supplements. If you or a loved one have a severe food allergy, I highly recommend you sign up to get the recall alerts to protect yourself from mislabeled food.
You can sign up for FDA's Recalls, Market Withdrawals and Safety Alerts here.
To living well,

Jasmine LeMaster
Health Researcher
P.S. You can read the full FDA recall notice on the Fat Boy cucumbers here and the Limited Edition® cucumbers here. And all the recalls here.
I've sung the praises of omega-3 fatty acids many times here in Living Well Daily. I've encouraged you to be sure you're getting enough of the omega-3s eicosapentaenoic acid (EPA) and docosahexaenoic acid (DHA) by eating plenty of cold-water fatty fish and taking supplements when needed. And there's a good reason for that. EPA and...
I'm sure you know that getting enough sleep is good for you. But what does that mean, exactly? It's always been hard to get a straight answer. Until now, that is. Thanks to new research we have an answer to that question. The newly published 25-year study compares the sleep habits of over 7,000 men...
Dear Living Well Daily Reader, "Along with COVID, I'm worried about getting the flu this year. What do you recommend for avoiding the flu? The flu shot?" – Mike from Park City, UT Hi Mike, I'll be honest. The flu vaccine COULD have a better long-term track record. According to the Centers for Disease Control...
If you've been a loyal reader for a while now you're probably already taking steps to ensure your health is in tip-top shape. You do your best to eat well… You stay hydrated… You, hopefully, get in some regular exercise… And maybe you even take a multivitamin… While I would certainly give you an A...
Healthy aging boils down to one surprising thing: your muscles. I know that may sound strange at first. But hear me out. Maintaining strong and healthy muscles is the first step to keeping a healthy body and sharp mind well into your golden years. After all, sturdy muscles are required to fight off frailty and...
They say cleanliness is next to godliness. Now, I don't know about that. But, I DO know that when it comes to your kitchen, cleanliness is absolutely VITAL. The trouble is, even the cleanest of kitchens can harbor some sickening hidden secrets. And new research just revealed one of the most surprising culprits. Trust me,...
Does developing a sniffle, sneeze, or cough practically cause you to panic these days? If so, you're not alone. Many of us feel the same way. Gone are the "good old days" when you only had to worry if you were coming down with a cold or the flu. And, let's be honest, we didn't...
Dear Living Well Daily Reader, Make a cup of tea. Read a couple of pages in a book. Watch a silly cat video. There are a bunch of things you can do in three minutes. And now scientists say defeating diabetes could be one of them. If you're struggling with blood sugar control, your doctor...
Dear Living Well Daily Reader, "I hate that I can no longer just eat whatever I want. I either seem to have indigestion, bloating, or gas. I'm always taking antacids. It's miserable and frustrating — what else can I do besides only eating potatoes?" –– Carl, from Lincoln, NE Hi Carl, Let's start with the...
Remember when they said we'd just need to hunker down at home for a few weeks, and this whole COVID-19 thing would blow over? It's safe to say they got that one wrong. In fact, it's looking like COVID-19 is less of a visitor and more of a permanent house guest these days. That means...