Study: Rats, Cheese, and Cancer
Was Pizza Rat on to something?
Scientists reveal a naturally occurring preservative could change the fight against cancer. Find out more…
Add this cancer-crushing and bug-busting food to your grocery list today! 
Dear Living Well Daily Reader,
Remember Pizza Rat?
You know… the adorable rat that dragged a slice of pizza through the subway.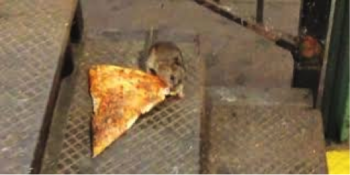 Source: Nationalreport.net
Well, if that pizza had extra cheese on it, Pizza Rat may have been getting more than a free lunch.
You see, according to research from the University of Michigan, nisin — a naturally occurring preservative in cheese and other milk products — is clobbering cancer and drug-resistant bacteria.
We'll talk about its antibacterial properties in just a bit.
First, let's talk about cancer…

More Cheese, Please
The study found that nisin can slow down or stop the growth of head and neck cancer cells. The researchers fed "nisin milkshakes" to rats afflicted with neck and head tumors.
And after just nine weeks, the scientists found that 70–80 percent of the tumors died!
Since oral cancers take the lives of millions every year, this research has the potential to save many. Moreover, oral cancer survival rates haven't improved in decades, which makes this treatment possibly even more significant.
Dr. Yvonne Kapila, DDS, Ph.D., professor of dentistry at the University of Michigan School of Dentistry, had this to say about the findings:
The poor five-year survival rates for oral cancer underscore the need to find new therapies for oral cancer. The use of small antibacterial agents, like nisin, to treat cancer is a new approach that holds great promise. Nisin is a perfect example of this potential because it has been used safely in humans for many years, and now the laboratory studies support its anti-tumor potential.
Per the research, nisin is a nontoxic, tasteless, and colorless powder found in small doses in dairy foods. However, the dose given to the rats in the study was about 22 times the amount found in food sources.
But don't worry, there is still a lot of power in just a slice of cheese.

Squash Superbugs With a Slice of Swiss
You see, nisin is also a powerful antibacterial agent. It can kill off drug-resistant bacteria or superbugs in smaller doses, according to a 1999 study in Science. In addition, Kapila and her team are also testing nisin's antibacterial powers in her lab.
She reports, "To date, nobody has found bacteria from humans or living animals that is resistant to nisin." There are two reasons for this…
Nisin binds to the bacteria and keeps them from mutating into superbugs. And nisin kills biofilms. These colonies of bacteria can join forces against antibiotics and make them useless.
While more research needs to be done on both cancer and superbug treatment, it looks like nisin is off to a promising start. In the meantime, you might want to pick up some cheese this weekend.
Live well,

Natalie Moore
Managing editor, Living Well Daily
---
Sources
[1] Common food preservative may slow, even stop tumor growth
[2] Food preservative kills cancer cells, superbugs
[3] Food Preservative or Powerful Antibiotic? Nisin Z Could Be Both

Written By Natalie Moore
Natalie Moore is a dedicated health researcher with a passion for finding healthy, natural, and science-based solutions. After a decade of direct healthcare experience in western and natural medicine, she was involved in public health research before joining Living Well Daily.
Dear Living Well Daily Reader, About 6.2 million adults in the United States have heart failure. When you visit your mainstream doc's office, he'll tell you that heart failure is the result of clogged arteries, high blood pressure, diabetes, being overweight, lung problems, and heart valve problems. It can make you feel like your health...
I have arthritis in my spine. What would you suggest to help manage it? –George from Cedar Rapids, IA George, Believe it or not, many people learn that they have spinal arthritis as they age. It's very common. There's a lot you can do to help keep it from advancing or even reverse some of...
Dear Living Well Daily Reader, There is a plague of anxiety sweeping the nation. And who could blame us? Anyone with half a brain SHOULD feel anxious about the state of the world. But like any other epidemic, just because something is going around doesn't mean you should accept it. More importantly, having anxiety does...
Dear Living Well Daily Reader, If you or someone you love suffers from multiple sclerosis (MS), you already know how the disease can turn your life upside down. The stiffness and mobility problems slowly strip away your independence… and leave you in pain. Talk to your mainstream doc and he'll just shrug their shoulders –...
Dear Living Well Daily Reader, If you're a woman, chances are you have heard about the BRCA gene (BReast CAncer gene). Scientists have known for a long time that a mutation in one of two breast cancer genes, BRCA1 or BRCA2, increases the risk of getting breast cancer. But, men, listen up – just because...
Dear Living Well Daily Reader, Some people might shrug when you tell them you have knee pain… but that's only if they haven't experienced firsthand. Chronic pain from osteoarthritis is no joke— it can destroy your life. Joint pain makes moving incredibly difficult and can keep you from doing the things you love. Before you know it,...
Dear Living Well Daily Reader, Inflammation is supposed to be a normal response for your body. It's one of the key defenses protecting you. Inflammation can sometimes be our friend… when it helps fight off infections and clears away debris, that is. The problems start when inflammation blazes out of control or lasts longer than...
I have psoriasis, and I was wondering what supplements or natural treatments there are out there. –Bill from Riverside, CA Bill, As you probably know, psoriasis is a chronic autoimmune disease where the body attacks the skin as if it were a foreign invader. Psoriasis affects about two percent of the U.S. population. Normal, healthy...
Dear Living Well Daily Reader, I'm on a personal mission to rescue coffee from the hands of the nutritional puritans who think that anything fun is not good for you. Despite what the mainstream would have you believe, the news on coffee has improved in recent years. Researchers have pinpointed many powerful plant nutrients, like...
Dear Living Well Daily Reader, Some suggest pretty complicated ways to keep your brain healthy as you age. Going back to college… doing complicated puzzles… taking what feels like 30 bottles of pills a day… It can make you feel like giving up before you've even started! But what if there was something MUCH easier...