Study: Rats, Cheese, and Cancer
Was Pizza Rat on to something?
Scientists reveal a naturally occurring preservative could change the fight against cancer. Find out more…
Add this cancer-crushing and bug-busting food to your grocery list today! 
Dear Living Well Daily Reader,
Remember Pizza Rat?
You know… the adorable rat that dragged a slice of pizza through the subway.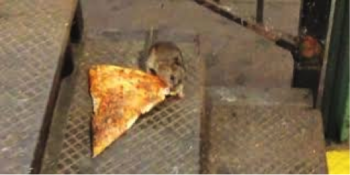 Source: Nationalreport.net
Well, if that pizza had extra cheese on it, Pizza Rat may have been getting more than a free lunch.
You see, according to research from the University of Michigan, nisin — a naturally occurring preservative in cheese and other milk products — is clobbering cancer and drug-resistant bacteria.
We'll talk about its antibacterial properties in just a bit.
First, let's talk about cancer…

More Cheese, Please
The study found that nisin can slow down or stop the growth of head and neck cancer cells. The researchers fed "nisin milkshakes" to rats afflicted with neck and head tumors.
And after just nine weeks, the scientists found that 70–80 percent of the tumors died!
Since oral cancers take the lives of millions every year, this research has the potential to save many. Moreover, oral cancer survival rates haven't improved in decades, which makes this treatment possibly even more significant.
Dr. Yvonne Kapila, DDS, Ph.D., professor of dentistry at the University of Michigan School of Dentistry, had this to say about the findings:
The poor five-year survival rates for oral cancer underscore the need to find new therapies for oral cancer. The use of small antibacterial agents, like nisin, to treat cancer is a new approach that holds great promise. Nisin is a perfect example of this potential because it has been used safely in humans for many years, and now the laboratory studies support its anti-tumor potential.
Per the research, nisin is a nontoxic, tasteless, and colorless powder found in small doses in dairy foods. However, the dose given to the rats in the study was about 22 times the amount found in food sources.
But don't worry, there is still a lot of power in just a slice of cheese.

Squash Superbugs With a Slice of Swiss
You see, nisin is also a powerful antibacterial agent. It can kill off drug-resistant bacteria or superbugs in smaller doses, according to a 1999 study in Science. In addition, Kapila and her team are also testing nisin's antibacterial powers in her lab.
She reports, "To date, nobody has found bacteria from humans or living animals that is resistant to nisin." There are two reasons for this…
Nisin binds to the bacteria and keeps them from mutating into superbugs. And nisin kills biofilms. These colonies of bacteria can join forces against antibiotics and make them useless.
While more research needs to be done on both cancer and superbug treatment, it looks like nisin is off to a promising start. In the meantime, you might want to pick up some cheese this weekend.
Live well,

Natalie Moore
Managing editor, Living Well Daily
---
Sources
[1] Common food preservative may slow, even stop tumor growth
[2] Food preservative kills cancer cells, superbugs
[3] Food Preservative or Powerful Antibiotic? Nisin Z Could Be Both

Written By Natalie Moore
Natalie Moore is a dedicated health researcher with a passion for finding healthy, natural, and science-based solutions. After a decade of direct healthcare experience in western and natural medicine, she was involved in public health research before joining Living Well Daily.
Dear Living Well Daily Reader, I'm sick and tired of hearing about certain health problems that aren't really problems at all. You know, like having high cholesterol and too much stomach acid. But one of the most maddening non-problems is the widespread belief that salt is inherently unhealthy. Warnings about eating too much salt are...
Dear Living Well Daily Reader, If you have problems keeping your blood pressure under control, chances are you're suffering from something called arterial stiffness. Arterial stiffness is just what it sounds like. Your arteries (the blood vessels that carry blood away from your heart) lose their flexibility and stiffen up. When your blood vessels are...
Dear Living Well Daily Reader, You suspect you might be having blood sugar issues. Maybe you've had the classic signs of increased hunger, fatigue, and urination. Or perhaps you've felt shaky and had headaches. But regardless of what symptoms send you to see the doc when you mention blood sugar problems, you know what's going...
Dear Living Well Daily Reader,   Thanks to DECADES of mainstream nutritional misinformation, Americans are terrified of fat. They fear eating fat even though sugar and vegetable oils are the true villains. And I've yet to meet an American that doesn't believe all body fat is bad, too. Of course, you don't want to carryi around...
Dear Living Well Daily Reader, What do you think are the top 3 things one can do to live a long life? –Mary from Milford, CT Hi Mary, Thanks for your excellent question! When you asked for the TOP three, it really stumped me at first. We can do so many things to live longer...
Dear Living Well Daily Reader, A sprinkle of THIS. A dash of THAT. If you like to cook, chances are you love seasoning your dishes to bring out their best flavors. But a study published last year has a lot of folks questioning how they're preparing their food. Because according to the researchers, no matter...
Dear Living Well Daily Reader, Honestly, I thought we'd already put this issue to bed. After all, the evidence is in. We KNOW that taking a daily aspirin is a bad idea. But the headlines just keep coming anyway… "Aspirin Reduces Breast Cancer by 20 percent!" "Aspirin Cuts Heart Attack Risk!" With incredible claims like...
Dear Living Well Daily Reader, I'm going to give it to you straight. Aging is tough on your whole body. Your joints… heart… and even your youthful skin all begin to show the effects of the passage of time. But aging takes the biggest toll on your brain. Because as the years go by, you...
Dear Living Well Daily Reader,  Every 90 seconds. That's how often another woman in the United States has a heart attack. Because the reality is heart attacks don't just happen to men. Nearly one out of two adults in the United States has high blood pressure. And heart disease is one of the biggest health risks...
Dear Living Well Daily Reader, Mad scientists have created some pretty crazy chemicals in the laboratory. And mad businesses have taken those toxic concoctions and unleashed them into our world. You've probably seen a few headlines about "forever chemicals" lurking in our environment. In fact, I've shared warnings about them right here in Living Well...