The Health Tracker You Already Own (and How It May Save Your Life)
Chances are you already have one of the best health trackers on the market in your pocket
Get convenient, real-time fitness and health tracking with no extra gadgets and little effort
Double your chances of surviving a medical emergency by combing new and old technology.
Dear Reader,
"Whoa, I had no idea."
"Yeah, me either. And it seems to be pretty on target. I counted seven flights of stairs today. Why the heck did I pay $100 for a fitness tracker when I already had one?"
This is a conversation Jasmine LeMaster, head of Living Well's quality assurance, and I had a few weeks ago.
We were discussing fitness and health trackers. We were both surprised to find a seemingly accurate and extensive amount of fitness data on a device just about everyone already owns.
In fact, it was so accurate, I instantly became irritated with myself for spending $100 for a fitness tracker on the same day I bought the other device.
I will explain how to utilize it in just a bit.
First, I want to explain what I found.
There's an App for That
I had just opened to the Health app on my iPhone, and to my surprise, there were comprehensive fitness data stored in it.
And not just for that day, but since Feb. 14, 2015, the day I bought my phone.
I was kind of shocked by the accuracy of the records. Let me share an example.
I lived in Memphis until the end of September 2015. While living there, I commuted to work by car and lived on the first floor of my apartment building.
When I moved to Baltimore, I started walking to work (where I climb up and down several sets of stairs every day), and my apartment is now on the second floor.
The changes in my daily routine are clearly reflected in my health dashboard's yearly averages.
Check out the differences: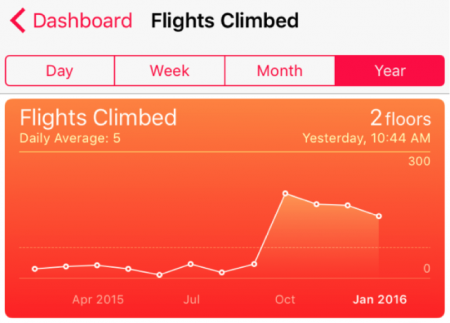 As you can see, I went from walking very few flights of stairs weekly to many flights exactly at the time I moved. It even reflects the extra flights I put in during October while I was still moving in.
The Apple Health app can only record fitness data if your phone is on you. By on you, I mean in your pocket, in your purse, or even in your hand.
Had I known this, I would have kept my phone on me more often. I feel that my daily averages are not as exact as they could be, but that is my own fault. Due to my habit of leaving my phone at my desk or on the kitchen counter for hours, the app couldn't record all of my fitness data.
However, even with my neglectful ways, I feel that my daily habits were well represented.
But there is more good news for those of you who would rather not be strapped to your phones. Apple Health app will sync with the Apple Watch and other trackers, like Fitbit.
This way, the app can hold all of your fitness data, even when you go without your phone.
Sleep, for example maybe a better fit for a health tracker, since they don't emit light and are attached to your body. These two factors may lead to better sleep and more accurate sleep readings.
I now use my health tracker for sleeping and workouts that are too intense to carry a phone.
I should mention you may have to download an app to make the sync work, depending on the tracker. This can cost a little bit of money ($0.99–2.99) — a tiny investment compared with the price you have already paid for most fitness trackers.
Apple isn't alone in the health application world. Android users have access to S Health.
While I don't have an Android phone, I was able to check it out S Health on a friend's phone.
S Health tracks similar data to the Apple Health and, in my opinion, is user-friendly, and its dashboard was easier for me to read than Apple's.
Check out the comparison: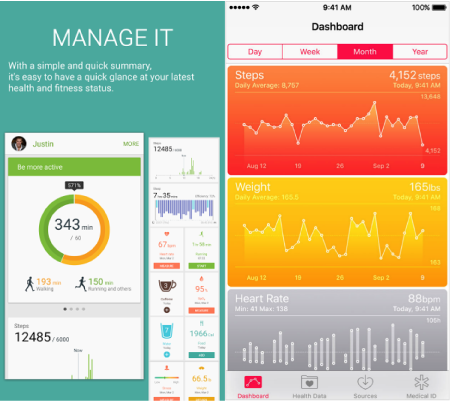 Left: S Health dashboard photo: www.apkdigg.co
Right: Apple Health dashboard. Photo: Apple.com
You can change the data on your dashboards to what is most relevant to your health quest. On my dashboard, I have steps, flights of stairs, and weight. These three categories I check most often, as I am trying to ditch some holiday pounds, so it is convenient to have them on my dashboard.
With both apps, you are able to input valuable health data. This includes anything from height, weight, caloric intake to even health stats like blood pressure, lab results, and UV exposure. Some of this information may be a little too specific for your daily dashboard but is worth taking the few minutes to store.
These health stats are good to have on hand in case of a medical emergency or if you are changing health care providers. Let's be clear, though: Information recorded in your phone is not a replacement for your actual medical records. Instead, it's a helpful tool for you to track your health progress.
For instance, if you are diabetic, this is a good way to track your glucose levels. Also, this provides an ongoing record to see if your levels change over time. It may be helpful to share this information with your physician.
While all of these features are helpful, there is a feature that could truly save your life.
Replacing the Bracelet
Remember medical ID bracelets?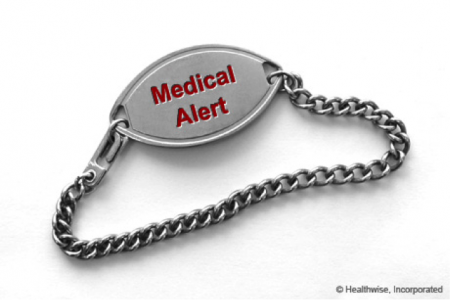 You know, the accessory that has your medical information on it?
Well, smartphones are providing the same service these days.
Apple Health has a Medical ID feature where you can input crucial health information like your emergency contacts, blood type, medical conditions, and allergies.
Since most of us don't leave home without our phones these days, this feature could help prevent medical errors and reach your loved ones quickly in an emergency situation.
In fact, these apps are becoming so popular, emergency medical technicians (EMTs) in Michigan and Wisconsin are being trained to look for the Medical ID on iPhones.
The Medical ID feature is accessed from the emergency screen of your iPhone. If you have an iPhone, you can set your emergency information in the Health app by opening the Medical ID icon.
S Health does not have this emergency feature within the app.
However, Android does have a free app called ICE (which stands for "In Case of Emergency") that will provide the same information in the event of an emergency. You can find it here.
Keep in mind, wearing a bracelet and having your Medical ID stored in your phone will double your chances of accurate medical attention during an emergency.
Since phones can lose power and/or be broken during an emergency situation, a medical bracelet is a smart backup.
If you have a fitness app you prefer to either of these, let me know all about it! nmoore@lfb.org
Live well,

Natalie Moore
Managing editor, Living Well Daily
P.S. If having your health monitored by your phone is a little too Big Brother for you, you can easily turn your health tracking off. Just go to your settings menu, find the health app, and turn it off. Simple as that.

Written By Natalie Moore
Natalie Moore is a dedicated health researcher with a passion for finding healthy, natural, and science-based solutions. After a decade of direct healthcare experience in western and natural medicine, she was involved in public health research before joining Living Well Daily.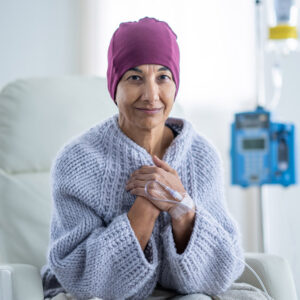 "Why does chemo also destroy good cells?" Martha from Kansas City, MO Hi Martha, We tend to think of "chemotherapy" as a single treatment. But the truth is, there are various types of chemotherapies. And they work in different ways. In general, chemotherapy destroys healthy cells, not just the cancerous ones, because it's a non-specific or...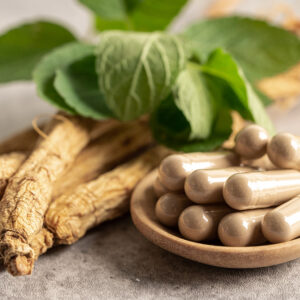 Ginseng is the very definition of an "ancient cure." In fact, you can find the potent herb mentioned in 2,000-year-old Chinese books as a treatment for a wide range of illnesses. But what's made ginseng stand the test of time… remaining nearly as popular TODAY as it was hundreds of years ago… is its apparent...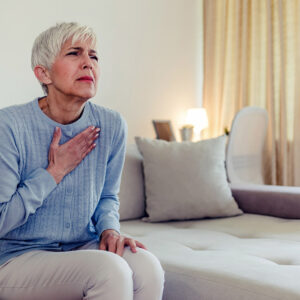 After every meal, millions of Americans pop a pill. Folks are convinced that proton pump inhibitors (PPIs) such as Prilosec or Nexium are necessary to head off heartburn. But what these drugs REALLY do is liable to shock you. To begin with, they block your body from properly digesting your food. But that's just the...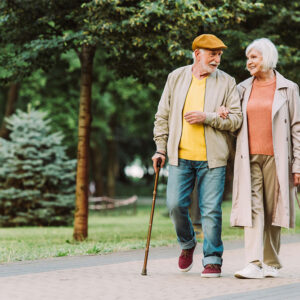 Once you pass a certain age, the medical ads start haunting you. You find them shoved into your mailbox. Then they show up in your email. And you even start spotting them hovering in the corner of every website you visit. It seems EVERYONE is trying to sell you a drug to relieve your arthritis...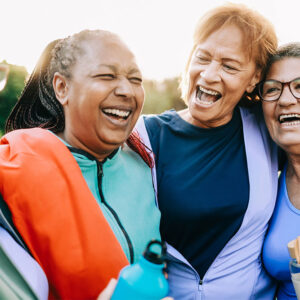 Our healthcare system has a fatal flaw. It's set up to react to illness, NOT prevent it. So, doctors are stuck in a losing game of whack-a-mole. They spend all their energy and time scrambling to knock down symptoms. That means prescriptions for preventative care are virtually nonexistent. And that's certainly the case with memory...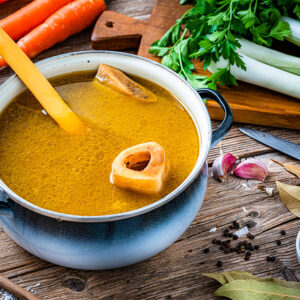 I was in a small grocery store in the mountains recently, and noticed that they had bone broth for sale. I thought, "Wow, we've come a long way!" And that's a good thing. Here's why… Bone broth used to be nearly impossible to find in modern-day grocery stores. But to eke out as much nutritional...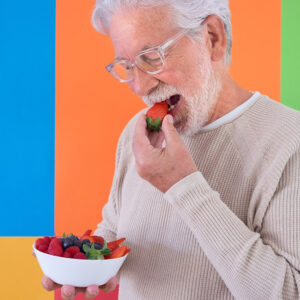 You can't turn on the T.V. or flip through a newspaper anymore without seeing a new drug breakthrough they claim will FINALLY rid humanity of our aging brain issues. These medicines hit the market promising miracles. But it typically isn't long before we start seeing their dark side. Meanwhile, a safe, natural remedy to boost...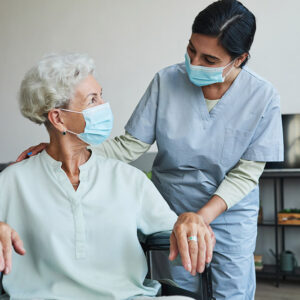 "We've unfortunately had to put my 90-year-old mother in a home. I'm so worried she's going to get sick (especially with COVID still around). Is there anything I can do to help protect her?" Sam from Prattville, AL Hi Sam, Your situation sounds familiar. My father is in a senior living center with about 300...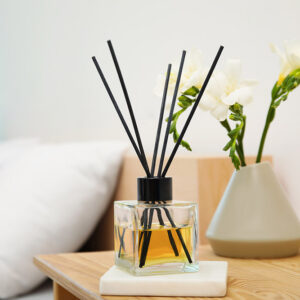 You have five primary senses: sight, hearing, taste, touch, and smell. (The sixth one doesn't count. Only your Aunt Mable claims that one.) But you've likely noticed that only your sight and hearing get tested when you visit the doctor. Your senses of taste, touch, and smell are almost entirely ignored. And ignoring one of...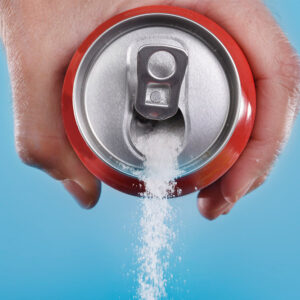 People often ask me what's the WORST thing for their health. Cigarettes, alcohol, and illegal drugs often pop to mind. But everyone KNOWS those things are bad. But there's in fact, a popular "harmless" daily habit that has HUGE health consequences. And it can be every bit as bad as a cigarette or booze habit....