This Type of Bug Is In Your Bed [Photo]
Discover how millions of uninvited bedfellows are ruining your health
Got asthma? This bug may be to blame. Find out more… 
Plus, a few easy ways to keep these dirty squatters away.
Dear Living Well Daily Reader,
"Oh, you're not sick because they are in your bed. You're sick because of what they are doing in your bed…"
For the past three days, I've woken up with itchy, watery eyes, a runny nose, and endless sneezing.
You see, I'm in Florida and staying in a foreign bed. But due to these symptoms, I haven't gotten a whole lot of rest.
Fortunately, I had a chance to catch up with a respiratory therapist I used to work with. She informed me that my symptoms were likely caused by the byproduct of an uninvited bedfellow.
This information confused me greatly, as I'm staying in my family's extremely tidy house, not a questionably clean hotel.
But what was more shocking… my reaction wasn't to these pests, but to what they were leaving behind.
The scary part is these bugs are EVERYWHERE. Including your bed.
I'll tell you how I know that in just a minute. And we will share a few tips on how to rid your bed of these filthy invaders.
First, let's find out more about who's in your bed…

Soiling Squatters
Dust mites — naturally occurring microscopic pests that feed on dead human skin cells and are responsible for the some of the most common indoor allergens.
Yet the mere presence of these tiny pests won't make you sick. It's what they are leaving behind that's ruining your health — their feces!
That's right, I'm sleeping in and getting sick from dust mite poop.
And guess what? You probably are too.
According to the American Lung Association, four out of five American homes have beds with dust mites.
But they may not be just in your bed. Millions of dust mites could be hiding (and pooping) in your curtains, carpets, and furniture.
However, since they burrow into your bed, your greatest exposure comes during sleep.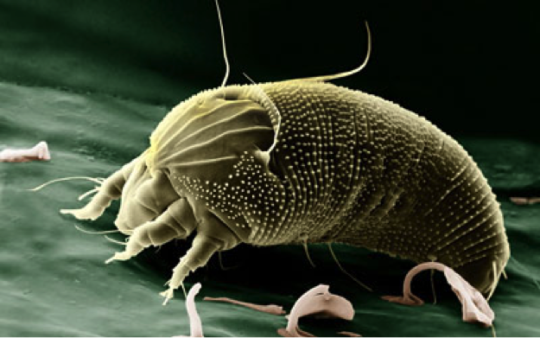 Yum! Dead human skin cells!
Source: achooallergy.com
My reaction to dust mites was very mild. For some folks, dust mites trigger severe asthma attacks, chronic sneezing and coughing, and facial pressures. In some cases, dust mite exposure can even cause asthma.
Luckily, there are a few ways to evict these soiling squatters.

Be Dust Mite Free
Since dust mites absorb moisture from the air instead of drinking water, humidity is the most significant factor in dust mite control. If you live in a humid climate, getting a dehumidifier is one way to reduce moisture in the air. There are several types available, but a free-standing unit is a good way to get started. Click here to check out a unit by Haier.
Also, be sure to open your windows on dry days in order to reduce moisture in your home.
Another way to control the population is to reduce their habitats. Throw out any nonessential textiles from your home. Things like curtains, area rugs, decorative pillows, and stuffed animals can increase dust mite populations, so it's best to pitch them when you can. If you can't toss them, wash them weekly in hot water to kill off existing mites.
Since you can't wash your mattress weekly, getting a dust mite mattress cover is a good option. These specially designed mattress covers will keep dust mites from burrowing into your mattress. Click here to check out a cover by Eco Living Friendly
Live well,

Natalie Moore
Managing editor, Living Well Daily
---
Sources
[1] Dust Mites
[3] A simple washing procedure with eucalyptus oil for controlling house dust mites and their allergens in clothing and bedding

Written By Natalie Moore
Natalie Moore is a dedicated health researcher with a passion for finding healthy, natural, and science-based solutions. After a decade of direct healthcare experience in western and natural medicine, she was involved in public health research before joining Living Well Daily.
I have arthritis in my spine. What would you suggest to help manage it? –George from Cedar Rapids, IA George, Believe it or not, many people learn that they have spinal arthritis as they age. It's very common. There's a lot you can do to help keep it from advancing or even reverse some of...
Dear Living Well Daily Reader, There is a plague of anxiety sweeping the nation. And who could blame us? Anyone with half a brain SHOULD feel anxious about the state of the world. But like any other epidemic, just because something is going around doesn't mean you should accept it. More importantly, having anxiety does...
Dear Living Well Daily Reader, If you or someone you love suffers from multiple sclerosis (MS), you already know how the disease can turn your life upside down. The stiffness and mobility problems slowly strip away your independence… and leave you in pain. Talk to your mainstream doc and he'll just shrug their shoulders –...
Dear Living Well Daily Reader, If you're a woman, chances are you have heard about the BRCA gene (BReast CAncer gene). Scientists have known for a long time that a mutation in one of two breast cancer genes, BRCA1 or BRCA2, increases the risk of getting breast cancer. But, men, listen up – just because...
Dear Living Well Daily Reader, Some people might shrug when you tell them you have knee pain… but that's only if they haven't experienced firsthand. Chronic pain from osteoarthritis is no joke— it can destroy your life. Joint pain makes moving incredibly difficult and can keep you from doing the things you love. Before you know it,...
Dear Living Well Daily Reader, Inflammation is supposed to be a normal response for your body. It's one of the key defenses protecting you. Inflammation can sometimes be our friend… when it helps fight off infections and clears away debris, that is. The problems start when inflammation blazes out of control or lasts longer than...
I have psoriasis, and I was wondering what supplements or natural treatments there are out there. –Bill from Riverside, CA Bill, As you probably know, psoriasis is a chronic autoimmune disease where the body attacks the skin as if it were a foreign invader. Psoriasis affects about two percent of the U.S. population. Normal, healthy...
Dear Living Well Daily Reader, I'm on a personal mission to rescue coffee from the hands of the nutritional puritans who think that anything fun is not good for you. Despite what the mainstream would have you believe, the news on coffee has improved in recent years. Researchers have pinpointed many powerful plant nutrients, like...
Dear Living Well Daily Reader, Some suggest pretty complicated ways to keep your brain healthy as you age. Going back to college… doing complicated puzzles… taking what feels like 30 bottles of pills a day… It can make you feel like giving up before you've even started! But what if there was something MUCH easier...
Dear Living Well Daily Reader, If you're tired constantly refilling pain prescriptions, you're not alone. And if you're even MORE tired of the side effects that come with them, who could blame you? For far too long, Big Pharma has held arthritis patients hostage… promising relief while they rob you blind. It's time for something...