This Type of Bug Is In Your Bed [Photo]
Discover how millions of uninvited bedfellows are ruining your health
Got asthma? This bug may be to blame. Find out more… 
Plus, a few easy ways to keep these dirty squatters away.
Dear Living Well Daily Reader,
"Oh, you're not sick because they are in your bed. You're sick because of what they are doing in your bed…"
For the past three days, I've woken up with itchy, watery eyes, a runny nose, and endless sneezing.
You see, I'm in Florida and staying in a foreign bed. But due to these symptoms, I haven't gotten a whole lot of rest.
Fortunately, I had a chance to catch up with a respiratory therapist I used to work with. She informed me that my symptoms were likely caused by the byproduct of an uninvited bedfellow.
This information confused me greatly, as I'm staying in my family's extremely tidy house, not a questionably clean hotel.
But what was more shocking… my reaction wasn't to these pests, but to what they were leaving behind.
The scary part is these bugs are EVERYWHERE. Including your bed.
I'll tell you how I know that in just a minute. And we will share a few tips on how to rid your bed of these filthy invaders.
First, let's find out more about who's in your bed…

Soiling Squatters
Dust mites — naturally occurring microscopic pests that feed on dead human skin cells and are responsible for the some of the most common indoor allergens.
Yet the mere presence of these tiny pests won't make you sick. It's what they are leaving behind that's ruining your health — their feces!
That's right, I'm sleeping in and getting sick from dust mite poop.
And guess what? You probably are too.
According to the American Lung Association, four out of five American homes have beds with dust mites.
But they may not be just in your bed. Millions of dust mites could be hiding (and pooping) in your curtains, carpets, and furniture.
However, since they burrow into your bed, your greatest exposure comes during sleep.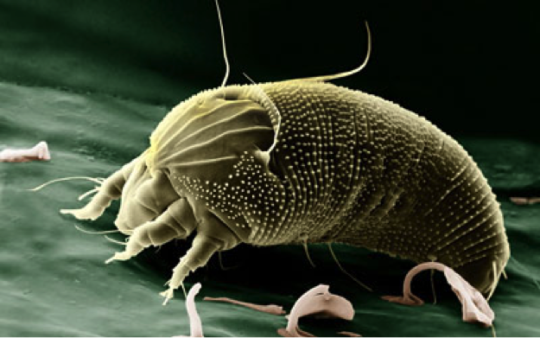 Yum! Dead human skin cells!
Source: achooallergy.com
My reaction to dust mites was very mild. For some folks, dust mites trigger severe asthma attacks, chronic sneezing and coughing, and facial pressures. In some cases, dust mite exposure can even cause asthma.
Luckily, there are a few ways to evict these soiling squatters.

Be Dust Mite Free
Since dust mites absorb moisture from the air instead of drinking water, humidity is the most significant factor in dust mite control. If you live in a humid climate, getting a dehumidifier is one way to reduce moisture in the air. There are several types available, but a free-standing unit is a good way to get started. Click here to check out a unit by Haier.
Also, be sure to open your windows on dry days in order to reduce moisture in your home.
Another way to control the population is to reduce their habitats. Throw out any nonessential textiles from your home. Things like curtains, area rugs, decorative pillows, and stuffed animals can increase dust mite populations, so it's best to pitch them when you can. If you can't toss them, wash them weekly in hot water to kill off existing mites.
Since you can't wash your mattress weekly, getting a dust mite mattress cover is a good option. These specially designed mattress covers will keep dust mites from burrowing into your mattress. Click here to check out a cover by Eco Living Friendly
Live well,

Natalie Moore
Managing editor, Living Well Daily
---
Sources
[1] Dust Mites
[3] A simple washing procedure with eucalyptus oil for controlling house dust mites and their allergens in clothing and bedding

Written By Natalie Moore
Natalie Moore is a dedicated health researcher with a passion for finding healthy, natural, and science-based solutions. After a decade of direct healthcare experience in western and natural medicine, she was involved in public health research before joining Living Well Daily.
Dear Living Well Daily Reader, What do you think are the top 3 things one can do to live a long life? –Mary from Milford, CT Hi Mary, Thanks for your excellent question! When you asked for the TOP three, it really stumped me at first. We can do so many things to live longer...
Dear Living Well Daily Reader, A sprinkle of THIS. A dash of THAT. If you like to cook, chances are you love seasoning your dishes to bring out their best flavors. But a study published last year has a lot of folks questioning how they're preparing their food. Because according to the researchers, no matter...
Dear Living Well Daily Reader, Honestly, I thought we'd already put this issue to bed. After all, the evidence is in. We KNOW that taking a daily aspirin is a bad idea. But the headlines just keep coming anyway… "Aspirin Reduces Breast Cancer by 20 percent!" "Aspirin Cuts Heart Attack Risk!" With incredible claims like...
Dear Living Well Daily Reader, I'm going to give it to you straight. Aging is tough on your whole body. Your joints… heart… and even your youthful skin all begin to show the effects of the passage of time. But aging takes the biggest toll on your brain. Because as the years go by, you...
Dear Living Well Daily Reader,  Every 90 seconds. That's how often another woman in the United States has a heart attack. Because the reality is heart attacks don't just happen to men. Nearly one out of two adults in the United States has high blood pressure. And heart disease is one of the biggest health risks...
Dear Living Well Daily Reader, Mad scientists have created some pretty crazy chemicals in the laboratory. And mad businesses have taken those toxic concoctions and unleashed them into our world. You've probably seen a few headlines about "forever chemicals" lurking in our environment. In fact, I've shared warnings about them right here in Living Well...
Dear Living Well Daily Reader, "What can I do about varicose veins?" — George, 75 Huntsville, AL Dear George, I have some good news and some bad news about varicose veins. Let's get the bad news out of the way first. Once the damage is done to the veins, it's hard to reverse. But the...
Dear Living Well Daily Reader, I've got a little pop quiz for you today. But don't worry, it's only one question. Now, if you're anything like me, you HATE to fail. The trouble is the deck is stacked against you this time. So I don't want you to be too hard on yourself if you...
Dear Living Well Daily Reader, It's a nearly universal experience. When you reach a certain age, you start to worry about your memory. Because when you're a senior, a "simple" forgotten name or missed appointment is NEVER simple. Instead, it's yet another reason to be anxious about whether it's an early sign of Alzheimer's disease....
Dear Living Well Daily Reader, If you battle anxiety, you're the victim of an overactive brain. But probably not how you think. You see, electrical impulses are storming all of our brains all of the time. In fact, most of the chemicals in your brain (neurotransmitters) are designed to make even MORE of these electrical...