This Type of Bug Is In Your Bed [Photo]
Discover how millions of uninvited bedfellows are ruining your health
Got asthma? This bug may be to blame. Find out more… 
Plus, a few easy ways to keep these dirty squatters away.
Dear Living Well Daily Reader,
"Oh, you're not sick because they are in your bed. You're sick because of what they are doing in your bed…"
For the past three days, I've woken up with itchy, watery eyes, a runny nose, and endless sneezing.
You see, I'm in Florida and staying in a foreign bed. But due to these symptoms, I haven't gotten a whole lot of rest.
Fortunately, I had a chance to catch up with a respiratory therapist I used to work with. She informed me that my symptoms were likely caused by the byproduct of an uninvited bedfellow.
This information confused me greatly, as I'm staying in my family's extremely tidy house, not a questionably clean hotel.
But what was more shocking… my reaction wasn't to these pests, but to what they were leaving behind.
The scary part is these bugs are EVERYWHERE. Including your bed.
I'll tell you how I know that in just a minute. And we will share a few tips on how to rid your bed of these filthy invaders.
First, let's find out more about who's in your bed…

Soiling Squatters
Dust mites — naturally occurring microscopic pests that feed on dead human skin cells and are responsible for the some of the most common indoor allergens.
Yet the mere presence of these tiny pests won't make you sick. It's what they are leaving behind that's ruining your health — their feces!
That's right, I'm sleeping in and getting sick from dust mite poop.
And guess what? You probably are too.
According to the American Lung Association, four out of five American homes have beds with dust mites.
But they may not be just in your bed. Millions of dust mites could be hiding (and pooping) in your curtains, carpets, and furniture.
However, since they burrow into your bed, your greatest exposure comes during sleep.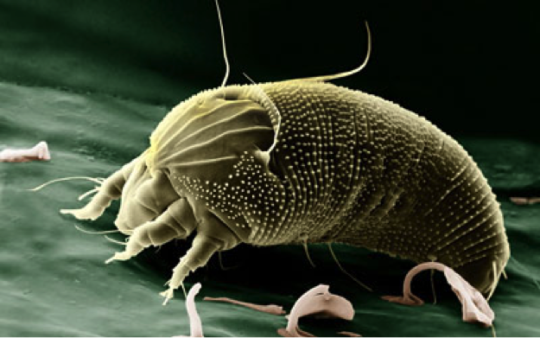 Yum! Dead human skin cells!
Source: achooallergy.com
My reaction to dust mites was very mild. For some folks, dust mites trigger severe asthma attacks, chronic sneezing and coughing, and facial pressures. In some cases, dust mite exposure can even cause asthma.
Luckily, there are a few ways to evict these soiling squatters.

Be Dust Mite Free
Since dust mites absorb moisture from the air instead of drinking water, humidity is the most significant factor in dust mite control. If you live in a humid climate, getting a dehumidifier is one way to reduce moisture in the air. There are several types available, but a free-standing unit is a good way to get started. Click here to check out a unit by Haier.
Also, be sure to open your windows on dry days in order to reduce moisture in your home.
Another way to control the population is to reduce their habitats. Throw out any nonessential textiles from your home. Things like curtains, area rugs, decorative pillows, and stuffed animals can increase dust mite populations, so it's best to pitch them when you can. If you can't toss them, wash them weekly in hot water to kill off existing mites.
Since you can't wash your mattress weekly, getting a dust mite mattress cover is a good option. These specially designed mattress covers will keep dust mites from burrowing into your mattress. Click here to check out a cover by Eco Living Friendly
Live well,

Natalie Moore
Managing editor, Living Well Daily
---
Sources
[1] Dust Mites
[3] A simple washing procedure with eucalyptus oil for controlling house dust mites and their allergens in clothing and bedding

Written By Natalie Moore
Natalie Moore is a dedicated health researcher with a passion for finding healthy, natural, and science-based solutions. After a decade of direct healthcare experience in western and natural medicine, she was involved in public health research before joining Living Well Daily.
I suffer from painful cluster headaches. Any information you have on this would be much appreciated. –Wilma from Houston, TX *********** Wilma, While many people know about migraines, not that many know about cluster headaches. And that's a good thing… because people who suffer from them describe the pain as a hot poker being shoved...
Dear Living Well Daily Reader, Ask your mainstream doc what causes cancer to spread, and he'll rattle off things like drinking alcohol, being overweight, and suffering from bad genes. Sure, those things don't help… but that's hardly an exhaustive list. And it certainly doesn't account for those big three "treatments" that leave your body weak...
Dear Living Well Daily Reader, High blood pressure and stroke are like two peas in a pod… if you have high blood pressure, then you're MUCH more likely to have a stroke. But if you have a mainstream doctor, blood pressure is ALL he'll talk about when he talks about stroke. As they say, close,...
Dear Living Well Daily Reader, If you take an angiotensin-converting enzyme inhibitor (ACE inhibitor) for high blood pressure, chances are you've run into a few side effects. First, there's the dry cough, then the headaches and loss of taste. Then comes the fatigue and dizziness. It's no picnic! But there's something else that comes with...
Dear Living Well Daily Reader, If you have prediabetes or diabetes, chances are your mainstream doc isn't much help. They suggest the over-hyped drugs (which don't work)… the outrageous workout plans (that no one can do)… or they tell you to give up your favorite foods (who wants to live like that!?). But what your...
Dear Living Well Daily Reader, Non-alcoholic fatty liver disease (NAFLD) is a silent epidemic. The symptoms are hard to pin down… meaning the disease can wreak havoc before you even know it. Luckily, nature has a way to help reverse NAFLD and make your liver happy again. And strangely enough, it's found in something you're...
Dear Living Well Daily Reader, Pardon? What did you say? I didn't catch that. If you find yourself asking these questions more than a few times a day, you're probably already experiencing hearing loss. Having hearing issues isn't just frustrating… it can be downright dangerous. You might miss an important phone call… or not hear...
I suffer from constipation and it's really embarrassing. Is there anything that can help? –Joe from Omaha, NE ******** Joe, Yes, you're right—constipation can definitely be embarrassing. It's also painful and not good for your health. Most mainstream doctors think it's normal if you move your bowels only once or twice a week. I most...
Dear Living Well Daily Reader, If you have multiple sclerosis (MS), only you can truly understand how bad it is. The condition waxes and wanes. Sometimes you're okay, other times you're in pain. Facing issues with balance, numbness, weakness, vision, fatigue, and heat intolerance can become unbearable. But the drugs the mainstream doctors give you...
Dear Living Well Daily Reader, If you're a senior, your risk of getting a stroke is VERY high. According to scientists, middle-aged adults have a 17 percent risk of having a stroke in their lifetime. Having a stroke not only destroys your brain, but it makes it difficult to walk, talk, drive, or even to...