When Natural Isn't
Dear Living Well Daily Reader,
A couple of months back, we asked you what was most frustrating or confusing about reading food labels when grocery shopping.
And for the majority of you, there was a clear consensus: the use of the words "natural" or "all-natural."
What does it mean? Does it actually mean anything? Is it regulated? Can I trust it?
These were some of your concerns, and rightfully so. "Natural" is plastered on everything from, obviously, natural foods like baby carrots to very questionable foods like Cheetos: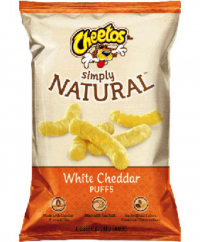 If you plant a natural Cheeto, will it grow?
So first of all, let's set one thing straight: There's no regulatory rule for use of the term "natural" on foods other than meat.
That means companies can pretty much make up how they define the use of the word.
The FDA does have an informal policy on what they consider to be appropriate use of the word, though they can't strictly enforce it. They consider the term "natural" to mean that nothing artificial or synthetic has been included or added to the food.
The USDA requires that any meat labelled "natural" cannot contain any artificial ingredients and must be minimally processed. However, they don't give any guidelines on what "minimally processed" means.
Pretty bare bones.
Soon, the FDA may establish a formal definition and policy for what "natural" means. And in just a minute, I'll tell you how you can give the FDA a piece of your mind as to what that definition should be.
But first, let's make clear what natural is not. Here's what "natural" does not mean:
It does not mean the food was grown without pesticides or herbicides
It does not mean the food is organic
It does not mean that there is nothing added to the food
It does not mean the food has not been processed in some way
It does not mean that the meat was raised without hormones or antibiotics
It does not mean the animals were raised humanely
It does not mean that the food is non-GMO.
So for all intents and purposes, if you see a food labelled as "natural" and it comes in any sort of box or package, be wary. Truly natural foods won't come in a box, and with the exception of meats or things like baby carrots, they won't be in any sort of package.
And you already know the drill: Choose fresh, local, and organic whenever you can. Avoid processed foods, and look for meats that have been raised without antibiotics and hormones.
Those are the basics.
(And I promise we're still fervently working on our shopping guide to help guide you with the nuances of food product labelling.)
But for now, we have the chance to tell FDA how we want "natural" to be defined, as they are accepting public comments starting on Nov. 12.
Here's what they want to know:
-Whether it is appropriate to define the term "natural"
-If so, how the agency should define "natural"
-How the agency should determine appropriate use of the term on food labels.
What do I think? At the bare minimum, a food labelled natural:
-Should be non-GMO
-Should not have anything artificial added to it
-If meat, should not contain antibiotics or hormones.
But that's just me.
What do you think? Tell 'em!
To submit comments to the FDA, visit http://www.regulations.gov and type "FDA-2014-N-1207" in the search box.
To living well,

Jasmine LeMaster
Health Researcher

Written By Jasmine Lemaster
Jasmine LeMaster is head of quality assurance for Laissez Faire's Living Well brand and is an integral part of their product research and development team. To hear more from Jasmine, sign up to receive Living Well Daily for free, here.
Dear Living Well Daily Reader, About 6.2 million adults in the United States have heart failure. When you visit your mainstream doc's office, he'll tell you that heart failure is the result of clogged arteries, high blood pressure, diabetes, being overweight, lung problems, and heart valve problems. It can make you feel like your health...
I have arthritis in my spine. What would you suggest to help manage it? –George from Cedar Rapids, IA George, Believe it or not, many people learn that they have spinal arthritis as they age. It's very common. There's a lot you can do to help keep it from advancing or even reverse some of...
Dear Living Well Daily Reader, There is a plague of anxiety sweeping the nation. And who could blame us? Anyone with half a brain SHOULD feel anxious about the state of the world. But like any other epidemic, just because something is going around doesn't mean you should accept it. More importantly, having anxiety does...
Dear Living Well Daily Reader, If you or someone you love suffers from multiple sclerosis (MS), you already know how the disease can turn your life upside down. The stiffness and mobility problems slowly strip away your independence… and leave you in pain. Talk to your mainstream doc and he'll just shrug their shoulders –...
Dear Living Well Daily Reader, If you're a woman, chances are you have heard about the BRCA gene (BReast CAncer gene). Scientists have known for a long time that a mutation in one of two breast cancer genes, BRCA1 or BRCA2, increases the risk of getting breast cancer. But, men, listen up – just because...
Dear Living Well Daily Reader, Some people might shrug when you tell them you have knee pain… but that's only if they haven't experienced firsthand. Chronic pain from osteoarthritis is no joke— it can destroy your life. Joint pain makes moving incredibly difficult and can keep you from doing the things you love. Before you know it,...
Dear Living Well Daily Reader, Inflammation is supposed to be a normal response for your body. It's one of the key defenses protecting you. Inflammation can sometimes be our friend… when it helps fight off infections and clears away debris, that is. The problems start when inflammation blazes out of control or lasts longer than...
I have psoriasis, and I was wondering what supplements or natural treatments there are out there. –Bill from Riverside, CA Bill, As you probably know, psoriasis is a chronic autoimmune disease where the body attacks the skin as if it were a foreign invader. Psoriasis affects about two percent of the U.S. population. Normal, healthy...
Dear Living Well Daily Reader, I'm on a personal mission to rescue coffee from the hands of the nutritional puritans who think that anything fun is not good for you. Despite what the mainstream would have you believe, the news on coffee has improved in recent years. Researchers have pinpointed many powerful plant nutrients, like...
Dear Living Well Daily Reader, Some suggest pretty complicated ways to keep your brain healthy as you age. Going back to college… doing complicated puzzles… taking what feels like 30 bottles of pills a day… It can make you feel like giving up before you've even started! But what if there was something MUCH easier...