When Natural Isn't
Dear Living Well Daily Reader,
A couple of months back, we asked you what was most frustrating or confusing about reading food labels when grocery shopping.
And for the majority of you, there was a clear consensus: the use of the words "natural" or "all-natural."
What does it mean? Does it actually mean anything? Is it regulated? Can I trust it?
These were some of your concerns, and rightfully so. "Natural" is plastered on everything from, obviously, natural foods like baby carrots to very questionable foods like Cheetos: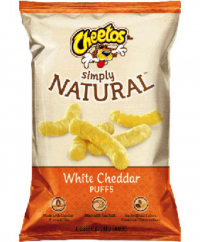 If you plant a natural Cheeto, will it grow?
So first of all, let's set one thing straight: There's no regulatory rule for use of the term "natural" on foods other than meat.
That means companies can pretty much make up how they define the use of the word.
The FDA does have an informal policy on what they consider to be appropriate use of the word, though they can't strictly enforce it. They consider the term "natural" to mean that nothing artificial or synthetic has been included or added to the food.
The USDA requires that any meat labelled "natural" cannot contain any artificial ingredients and must be minimally processed. However, they don't give any guidelines on what "minimally processed" means.
Pretty bare bones.
Soon, the FDA may establish a formal definition and policy for what "natural" means. And in just a minute, I'll tell you how you can give the FDA a piece of your mind as to what that definition should be.
But first, let's make clear what natural is not. Here's what "natural" does not mean:
It does not mean the food was grown without pesticides or herbicides
It does not mean the food is organic
It does not mean that there is nothing added to the food
It does not mean the food has not been processed in some way
It does not mean that the meat was raised without hormones or antibiotics
It does not mean the animals were raised humanely
It does not mean that the food is non-GMO.
So for all intents and purposes, if you see a food labelled as "natural" and it comes in any sort of box or package, be wary. Truly natural foods won't come in a box, and with the exception of meats or things like baby carrots, they won't be in any sort of package.
And you already know the drill: Choose fresh, local, and organic whenever you can. Avoid processed foods, and look for meats that have been raised without antibiotics and hormones.
Those are the basics.
(And I promise we're still fervently working on our shopping guide to help guide you with the nuances of food product labelling.)
But for now, we have the chance to tell FDA how we want "natural" to be defined, as they are accepting public comments starting on Nov. 12.
Here's what they want to know:
-Whether it is appropriate to define the term "natural"
-If so, how the agency should define "natural"
-How the agency should determine appropriate use of the term on food labels.
What do I think? At the bare minimum, a food labelled natural:
-Should be non-GMO
-Should not have anything artificial added to it
-If meat, should not contain antibiotics or hormones.
But that's just me.
What do you think? Tell 'em!
To submit comments to the FDA, visit http://www.regulations.gov and type "FDA-2014-N-1207" in the search box.
To living well,

Jasmine LeMaster
Health Researcher
It's pumpkin season. This humble squash is virtually ignored from December through to the following September. But when fall rolls around it takes center stage again. For most of us, pumpkins show up as festive décor and baked into delicious pies in October and November. But there are plenty of reasons you ought to start...
Okay, I'll admit I may have been accused of being a fathead a few times in my life. But I've got a secret. It doesn't bother me one little bit. In fact, I take it as a compliment. After all, having a bigger brain is a GOOD thing, especially as we age. And now scientists...
I've sung the praises of omega-3 fatty acids many times here in Living Well Daily. I've encouraged you to be sure you're getting enough of the omega-3s eicosapentaenoic acid (EPA) and docosahexaenoic acid (DHA) by eating plenty of cold-water fatty fish and taking supplements when needed. And there's a good reason for that. EPA and...
I'm sure you know that getting enough sleep is good for you. But what does that mean, exactly? It's always been hard to get a straight answer. Until now, that is. Thanks to new research we have an answer to that question. The newly published 25-year study compares the sleep habits of over 7,000 men...
Dear Living Well Daily Reader, "Along with COVID, I'm worried about getting the flu this year. What do you recommend for avoiding the flu? The flu shot?" – Mike from Park City, UT Hi Mike, I'll be honest. The flu vaccine COULD have a better long-term track record. According to the Centers for Disease Control...
If you've been a loyal reader for a while now you're probably already taking steps to ensure your health is in tip-top shape. You do your best to eat well… You stay hydrated… You, hopefully, get in some regular exercise… And maybe you even take a multivitamin… While I would certainly give you an A...
Healthy aging boils down to one surprising thing: your muscles. I know that may sound strange at first. But hear me out. Maintaining strong and healthy muscles is the first step to keeping a healthy body and sharp mind well into your golden years. After all, sturdy muscles are required to fight off frailty and...
They say cleanliness is next to godliness. Now, I don't know about that. But, I DO know that when it comes to your kitchen, cleanliness is absolutely VITAL. The trouble is, even the cleanest of kitchens can harbor some sickening hidden secrets. And new research just revealed one of the most surprising culprits. Trust me,...
Does developing a sniffle, sneeze, or cough practically cause you to panic these days? If so, you're not alone. Many of us feel the same way. Gone are the "good old days" when you only had to worry if you were coming down with a cold or the flu. And, let's be honest, we didn't...
Dear Living Well Daily Reader, Make a cup of tea. Read a couple of pages in a book. Watch a silly cat video. There are a bunch of things you can do in three minutes. And now scientists say defeating diabetes could be one of them. If you're struggling with blood sugar control, your doctor...