A GMO-Free Gift to You, From Congress
Dear Living Well Daily Reader,
I know you're busy with last-minute Christmas shopping and holiday preparations, but I want to pass along this quick update on GMO labelling because I know it's one of the things that matter most to you.
And for once, this news is good: an early holiday gift to you from Congress. (Who would have thought?)
You may have heard that last Friday Congress passed the $1.15 trillion spending bill. It was a behemoth 2,242 pages that "nobody read," according to Sen. Rand Paul.
Well, despite whatever terrible bits of legislation and riders made it through, there's one thing that didn't for which we can be thankful: a voluntary GM labelling policy.
Some members of Congress wanted to sneak a policy rider into the omnibus spending package that would pre-empt state GMO-labelling laws. This potential provision would make labelling GM-containing foods voluntary, not mandatory.
Not surprisingly, this policy was fully supported by the Grocery Manufacturers Association, a trade organization for the junk food industry (who would greatly suffer if GM labelling were made mandatory).
They were hoping for something along the lines of HR 1599, otherwise known as the "DARK Act," which we've covered in detail here
Luckily for us, their Christmas wish didn't come true.
And to make things even better for us, here's what did make it into the omnibus:
"During fiscal year 2016, the Food and Drug Administration (FDA) shall not allow the introduction or delivery for introduction into interstate commerce of any food that contains genetically engineered salmon until FDA publishes final labeling guidelines for informing consumers of such content; and
(b) Of the amounts made available to the Food and Drug Administration, salaries and expenses, not less than $150,000 shall be used to develop labeling guidelines and implement a program to disclose to consumers whether salmon offered for sale to consumers is a genetically engineered variety."
That's right! If this regulation stays in place, GM salmon will have to be labelled as such before they are allowed on the market!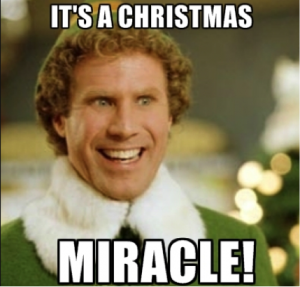 Frankly, I'm not celebrating too much, because it feels too good to be true. Is the government really listening to what consumers want? I'm not convinced just yet.
So long as GM foods (and lobbyists) exist, another bill similar to the DARK Act is bound to wind up on the House and Senate floors.
We have to stay vigilant. We have to keep hounding our reps that we deserve to know what we are eating. And we have to keep voting with our dollars.
Though GM crops will never go away, it's become clear to companies like Monsanto that the majority of the public is against GMOs. And they are getting the message; in fact, that they've started to go back to traditional crossbreeding techniques.
But for now, we can go into the holiday season with a nice little gift knowing that in the battle to label GM foods, we're winning.
Happy Holidays,

Jasmine LeMaster
Health Researcher

Written By Jasmine Lemaster
Jasmine LeMaster is head of quality assurance for Laissez Faire's Living Well brand and is an integral part of their product research and development team. To hear more from Jasmine, sign up to receive Living Well Daily for free, here.
I have arthritis in my spine. What would you suggest to help manage it? –George from Cedar Rapids, IA George, Believe it or not, many people learn that they have spinal arthritis as they age. It's very common. There's a lot you can do to help keep it from advancing or even reverse some of...
Dear Living Well Daily Reader, There is a plague of anxiety sweeping the nation. And who could blame us? Anyone with half a brain SHOULD feel anxious about the state of the world. But like any other epidemic, just because something is going around doesn't mean you should accept it. More importantly, having anxiety does...
Dear Living Well Daily Reader, If you or someone you love suffers from multiple sclerosis (MS), you already know how the disease can turn your life upside down. The stiffness and mobility problems slowly strip away your independence… and leave you in pain. Talk to your mainstream doc and he'll just shrug their shoulders –...
Dear Living Well Daily Reader, If you're a woman, chances are you have heard about the BRCA gene (BReast CAncer gene). Scientists have known for a long time that a mutation in one of two breast cancer genes, BRCA1 or BRCA2, increases the risk of getting breast cancer. But, men, listen up – just because...
Dear Living Well Daily Reader, Some people might shrug when you tell them you have knee pain… but that's only if they haven't experienced firsthand. Chronic pain from osteoarthritis is no joke— it can destroy your life. Joint pain makes moving incredibly difficult and can keep you from doing the things you love. Before you know it,...
Dear Living Well Daily Reader, Inflammation is supposed to be a normal response for your body. It's one of the key defenses protecting you. Inflammation can sometimes be our friend… when it helps fight off infections and clears away debris, that is. The problems start when inflammation blazes out of control or lasts longer than...
I have psoriasis, and I was wondering what supplements or natural treatments there are out there. –Bill from Riverside, CA Bill, As you probably know, psoriasis is a chronic autoimmune disease where the body attacks the skin as if it were a foreign invader. Psoriasis affects about two percent of the U.S. population. Normal, healthy...
Dear Living Well Daily Reader, I'm on a personal mission to rescue coffee from the hands of the nutritional puritans who think that anything fun is not good for you. Despite what the mainstream would have you believe, the news on coffee has improved in recent years. Researchers have pinpointed many powerful plant nutrients, like...
Dear Living Well Daily Reader, Some suggest pretty complicated ways to keep your brain healthy as you age. Going back to college… doing complicated puzzles… taking what feels like 30 bottles of pills a day… It can make you feel like giving up before you've even started! But what if there was something MUCH easier...
Dear Living Well Daily Reader, If you're tired constantly refilling pain prescriptions, you're not alone. And if you're even MORE tired of the side effects that come with them, who could blame you? For far too long, Big Pharma has held arthritis patients hostage… promising relief while they rob you blind. It's time for something...