Another Reason to Avoid GMOs (As If You Needed One)
Dear Living Well Daily Reader,
I hate to preach to the choir. You already know to avoid GMOs.
You know that rat studies indicate they may cause tumors and reproductive defects.
But as I was talking with Brad Lemley, editor of Natural Health Solutions, a few weeks ago, an interesting question came up:
Are the ill effects from GMOs due to their genetic modification? Or do they create problems because they are sprayed with much greater amounts of pesticides and herbicides than non-GMO crops?
Or perhaps it's due to a combination of both factors?
I tend to think the genetic manipulation does indeed play a major role.
GMO Bt corn, for example, is spliced with a gene from a bacteria called Bacillus thuringiensis (hence the Bt in Bt corn).
That particular gene produces an endotoxin that kills the European corn borer, a major pest to corn. And it does this by the following:
When a corn borer takes a bite of the corn with the Bt toxin, the toxin binds to the gut wall of the insect and causes the gut lining to break down. Then, the bacteria in the gut of the corn borer enter the blood and body of the worm and cause it to perish. 1
Though some scientists say that the toxic effects from Bt are "selective" and "safe for humans," I'm not buying it.
The incidence of both intestinal permeability and inflammatory bowel disease in humans is on the rise. And the latter actually correlates nicely with the introduction and use of Bt corn: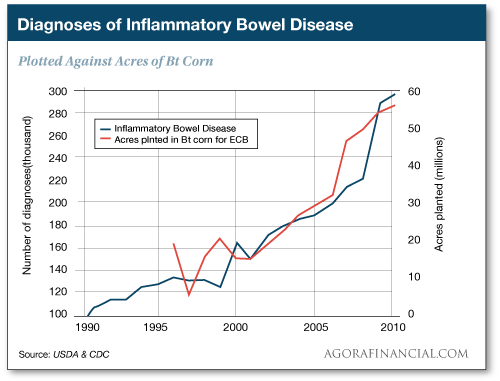 And a study on pigs fed GM corn found that they had increased levels of stomach inflammation compared with pigs fed non-GM corn. 2
So back to the question of genetic modification versus pesticides — this particular genetic modification actually allows less pesticide use on corn, hinting that it's not just the pesticides that are contributing to issues with GMOs.
But. (There's always a but…)
The pesticides and herbicides are still an issue. Even if you don't eat GM foods, you need to beware of pesticides and herbicides on non-GM foods.
And here another reason why: The EPA just approved the use of a new herbicide called Enlist Duo.
This chemical cocktail is a combination of glyphosate (Roundup) and 2,4-D (a component of Agent Orange).
As more and more weeds become resistant to Roundup, new herbicides are being created to combat the issue. And Enlist Duo is just in time to be used with GM seeds that are resistant to glyphosate and 2,4-D.
But as Dr. Philip J. Landrigan pointed out in an editorial published just last week in the New England Journal of Medicine, the EPA a huge mistake in approving Enlist Duo. 3
For one, the International Agency for Research on Cancer (IARC) has classified glyphosate as a "probable human carcinogen." Yes, not just a possible carcinogen but a probable one.
The IARC also classified 2,4-D as a "possible human carcinogen."
In addition, Dr. Landrigan believes that the science supporting the approval of Enlist Duo is outdated. It was commissioned in the '80s and '90s (by the herbicide manufacturer, no less), and the studies were not designed to detect the herbicides' low-dose effects on genes and endocrine function.
The studies also shed no light onto potential health effects in infants and children, and do not take ecological considerations into account.
Lastly, the studies considered only pure glyphosate, not what is actually being used. Roundup contains surfactants and adjuvants that make it even more toxic.
And according to the EPA, this new approval will increase the use 2,4-D up to seven-fold, further saturating crops with this potential cancer-causing chemical.
The good news?
By choosing organic foods, you can avoid the whole mess. Organic foods must be non-GMO, and they cannot be grown with the use of pesticides or herbicides (among other rules).
And a new (albeit small) study published in the journal Environmental Research showed that by switching to mainly organic foods for as little as seven days, people were able to reduce organophosphate pesticide levels in their urine by almost 90 percent. 4
If you give your body the chance, it will try as hard as it can to detoxify itself from these chemicals.
So like I said earlier, I know I'm preaching to the choir here. But if you have a family member or friend that hasn't quite gotten on board with avoiding GMOs and pesticide-laden foods, now you have a few more facts in your arsenal to share with them.
And if you're like me and sometimes get lazy and don't buy organic just to save a few bucks, a little reminder on the dangers of chemical-laden foods may be just what you (read: I) needed.
To living well,

Jasmine LeMaster
Health Researcher

Written By Jasmine Lemaster
Jasmine LeMaster is head of quality assurance for Laissez Faire's Living Well brand and is an integral part of their product research and development team. To hear more from Jasmine, sign up to receive Living Well Daily for free, here.
Dear Reader,  Humans are social animals.  While being close to other people can sometimes drive us crazy, those relationships are necessary for our health, happiness, and longevity.    In a time of "Social Isolation," keeping and maintaining strong relationships can be hard. But staying connected is crucial for your health.  Luckily, there's a lot you can do to combat this isolation and keep yourself healthy. ...
Dear Reader,  Have you started noticed troubling signs that you're getting older?   Like maybe you've found yourself sitting down to read a magazine only to realize you just can't see the tiny words clearly without holding it at arm's length…   (Perhaps you've already caved in and bought a pair of reading glasses…)  Or have you felt embarrassed as you stumble over words during conversations?...
Dear Reader,  Ask the men in your life when they last went to the doctor and most will have a hard time remembering.   I ask men this question all the time and I'm often answered with a blank stare.  You see, most men avoid going to the doctor as much as possible…but they shouldn't.  Because men die faster.  And in my years of...
Dear Reader,  We've all been told to keep her hands clean – especially so in recent times.  But wouldn't it be nice if we were told the RIGHT way to do it?  Washing your hands regularly is one of the keys to stopping the spread of germs, in part because we touch our face far more often than...
Dear Reader,  When you go to your doctor with a problem you expect to be given a cure… or, at best, at least a treatment that will make your problem manageable.  What you don't expect is for this drug to open a can of worms for other health troubles. But that's exactly what could happen if you suffer with anything from...
Dear Reader,  Most people are terrified at the thought of chemotherapy AND with good reason.  Chemotherapy works (in general) by poisoning cells that grow rapidly.  Unfortunately, chemotherapy doesn't just pinpoint cancer cells, it often takes your other healthy cells along with too (like your hair, your digestive tract…).  But most people are willing to go through this pain and torture because they believe it will put an end...
Dear Reader,  The fact of the matter is, getting older is tough on your whole body.  Your joints… your heart… and even your good looks all take a plunge with every passing year.   But, the worst part by far about aging is that it takes its biggest toll on your brain.  Because as you age, you lose brain cells… and eventually, your...
Dear Reader,  When I told Jim his blood pressure was dangerously high, he was quick with his reply:  "I don't believe that high blood pressure mumbo jumbo… I feel fine."  After all, Jim came to see me because he thought I didn't believe in that "mumbo jumbo" either.  And honestly, there's a part of me that doesn't. Drug companies make billions off...
Dear Reader,  Have you noticed that there has been a tremendous increase in allergies over the last few years?  You used to be able to host a barbecue or a cookout without worrying if someone would have an allergy – peanut, wheat or otherwise.   But these days, you can't have a bake sale or send treats without considering the...
Dear Reader,  If you've ever had a migraine, you already know that they are anything but a normal headache.  The throbbing pain… the blurred vision… and the extreme light and sound sensitivity can keep you in bed, hiding from noise and light for hours.   And unfortunately, your mainstream doc is not any help. They'll just suggest dangerous drugs… or even...