Beware of "Healthy" Snacks
Stealthy snack makers are hiding sugar everywhere! Find out how…
Don't get fooled! Be sure to check for this unhealthy ingredient.
Fresh is always best! 
Dear Reader,
To follow up on yesterday's article on the health effects of sugar, today I will show you an example of how sugar often goes by different names — including "not refined."
Often, processed foods that are marketed as "healthy" have well-hidden sources of sugar. These types of sugar are just as threatening to your health as the clearly marked ones. Don't be fooled by their cleverly disguised names.
Take these "paleo friendly" dried strawberries I found while on the road, for example: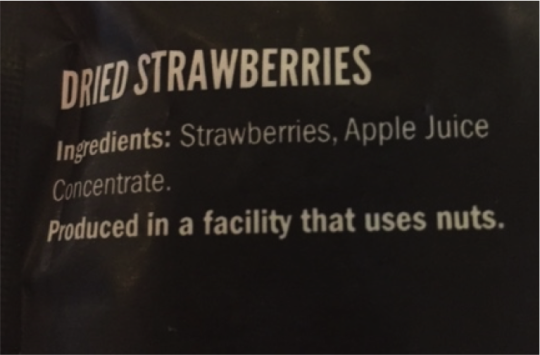 No refined sugar clearly doesn't mean low sugar in this case.
As you can clearly see, they contain two ingredients… wait… shouldn't dried strawberries be just strawberries?
Instead, there is an extra ingredient — sugar. Sugar thinly veiled as apple juice concentrate — and lots of it.
For the same-size serving, fresh strawberries contain around 1 gram of sugar — a tiny fraction in comparison to these fructose-soaked tidbits.
And even though fruits dried without added ingredients  do contain a higher level of sugar than fresh fruits (due to dehydration increasing the sugar concentration), the same serving size of dried strawberries would still have less sugar, at around 16 grams.
While this brand can tout "no refined sugars" on their label, they are still selling you nothing more than strawberry candy.
So the lesson here is to look before you eat.
Even if you see an item labeled as a health item, chances are it's got some type of sugar source. Look at the ingredients. If it contains any type of juice concentrate or fruit sugar — for instance, apple juice concentrate or grape sugar — you should pass.
Instead, opt for the fruit in its fresh state.
Live well,

Natalie Moore
Managing editor, Living Well Daily

Written By Natalie Moore
Natalie Moore is a dedicated health researcher with a passion for finding healthy, natural, and science-based solutions. After a decade of direct healthcare experience in western and natural medicine, she was involved in public health research before joining Living Well Daily.
It's pumpkin season. This humble squash is virtually ignored from December through to the following September. But when fall rolls around it takes center stage again. For most of us, pumpkins show up as festive décor and baked into delicious pies in October and November. But there are plenty of reasons you ought to start...
Okay, I'll admit I may have been accused of being a fathead a few times in my life. But I've got a secret. It doesn't bother me one little bit. In fact, I take it as a compliment. After all, having a bigger brain is a GOOD thing, especially as we age. And now scientists...
I've sung the praises of omega-3 fatty acids many times here in Living Well Daily. I've encouraged you to be sure you're getting enough of the omega-3s eicosapentaenoic acid (EPA) and docosahexaenoic acid (DHA) by eating plenty of cold-water fatty fish and taking supplements when needed. And there's a good reason for that. EPA and...
I'm sure you know that getting enough sleep is good for you. But what does that mean, exactly? It's always been hard to get a straight answer. Until now, that is. Thanks to new research we have an answer to that question. The newly published 25-year study compares the sleep habits of over 7,000 men...
Dear Living Well Daily Reader, "Along with COVID, I'm worried about getting the flu this year. What do you recommend for avoiding the flu? The flu shot?" – Mike from Park City, UT Hi Mike, I'll be honest. The flu vaccine COULD have a better long-term track record. According to the Centers for Disease Control...
If you've been a loyal reader for a while now you're probably already taking steps to ensure your health is in tip-top shape. You do your best to eat well… You stay hydrated… You, hopefully, get in some regular exercise… And maybe you even take a multivitamin… While I would certainly give you an A...
Healthy aging boils down to one surprising thing: your muscles. I know that may sound strange at first. But hear me out. Maintaining strong and healthy muscles is the first step to keeping a healthy body and sharp mind well into your golden years. After all, sturdy muscles are required to fight off frailty and...
They say cleanliness is next to godliness. Now, I don't know about that. But, I DO know that when it comes to your kitchen, cleanliness is absolutely VITAL. The trouble is, even the cleanest of kitchens can harbor some sickening hidden secrets. And new research just revealed one of the most surprising culprits. Trust me,...
Does developing a sniffle, sneeze, or cough practically cause you to panic these days? If so, you're not alone. Many of us feel the same way. Gone are the "good old days" when you only had to worry if you were coming down with a cold or the flu. And, let's be honest, we didn't...
Dear Living Well Daily Reader, Make a cup of tea. Read a couple of pages in a book. Watch a silly cat video. There are a bunch of things you can do in three minutes. And now scientists say defeating diabetes could be one of them. If you're struggling with blood sugar control, your doctor...