Celebrate Health With the National Park Service
Claim your invitation to the nation's biggest party!
Could you take the challenge? One rural community has…
Join the celebration at one of 411 locations. Find out how…
Dear Reader,
2016 marks the 100th birthday of the National Park Service (NPS) in the United States. To mark the celebration, national parks all over the country are hosting special centennial events and programs as a sort of nationwide birthday party.
And guess what? You're invited!
Plus, with 411 parks in their system, you're bound to find a national park site near you to get out and enjoy — and maybe one you've never seen before. I'll share a few tips on how to find a centennial celebration near you in a moment.
Last week, Living Well Daily was able to explore New River Gorge National River park. While there, we met up with Julena Campbell, chief of interpretation and education for New River Gorge, to talk about how they are celebrating the centennial at her park.
And what we found was an amazing turnout from the local community. I'll give you the details…

The Community's Parks
New River Gorge National River is neighbors with two other national parks — the Gauley River National Recreation Area and the Bluestone National Scenic River.
While all three parks are technically national parks and are free to anyone who wants to visit, the surrounding communities are making the parks theirs.
Here's how…
The park's signature centennial celebration is a 100-mile challenge. The original goal of the challenge was to get local residents to enjoy the national parks in their own backyard and get moving by completing 100 miles of hiking in New River Gorge National River and Bluestone National Scenic River (the Gau0ley River National Recreation Area was excluded due it being a whitewater rafting site).
Participants are expected to self-report their hiking through a mileage log provided by the park. The first 100 participants who have completed the challenge receive a bracelet that commemorates their participation. All participants receive a sticker.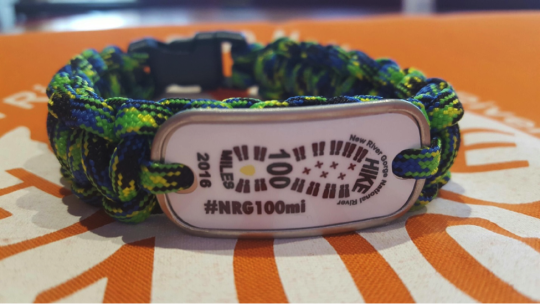 The first 100 participants who finished get to wear this bracelet with pride.
While Park Service officials were hopeful to get a few hundred residents to sign up through their social media sites, word of mouth, and local advertising, they never expected what happened next.
They were inundated with participants: 823 , to be exact. But this number is still growing – people are signing everyday!
Campbell explains further, "I think that most of us would've been happy if several hundred people said that they would participate in this challenge, so we were pleasantly surprised and really bowled over by how many people we've had sign up."
With the tremendous community participation also came several questions — mostly if pets can participate.
Even though the parks did not allow pets on the trails at the beginning of the challenge, they changed their minds. Now any four-legged companion can join participants during the challenge, as long as they remain on a leash.
In fact, participants are encouraged to register their dog (or other pet) and track their miles, as they are eligible for a prize when they complete the challenge. Five dogs have completed so far, and another 23 are currently registered.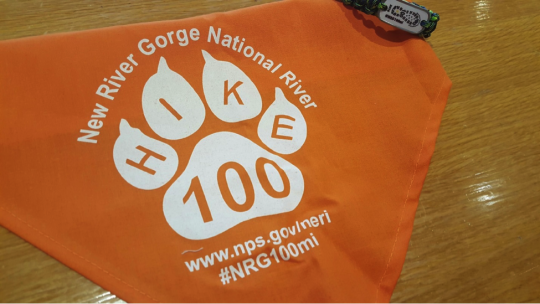 Four-legged participants get this sporty bandana

Celebrate Health
Programs like this, while not specifically designed by the National Park Service to promote health, certainly encourage people to be more active. And as I mentioned last week, West Virginia is the leading state for diabetes rates. It stands to reason that residents participating in this program are promoting their own health and taking strides against preventable diseases like diabetes and heart disease.
The National Park Service is doing its part to ensure the community has access to these healthy activities. Not only have they allowed pets, but they have also partnered with other community activity organizations — the YMCA and Active Southern West Virginia. These organizations help lead community walks for the centennial challenge.
Plus, these folks get to enjoy the natural beauty of their area!
Campbell sums this all up well:
"[The 100-mile challenge] is to get people out there — you know, the physical activity of walking, but then also the benefits of being outside in the sunshine and vitamin D and all those types of things. It's a mood enhancer — all of the reasons that we like to be active."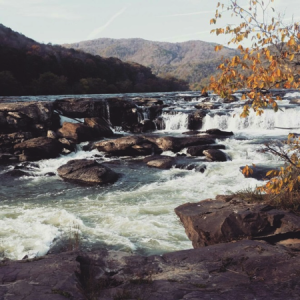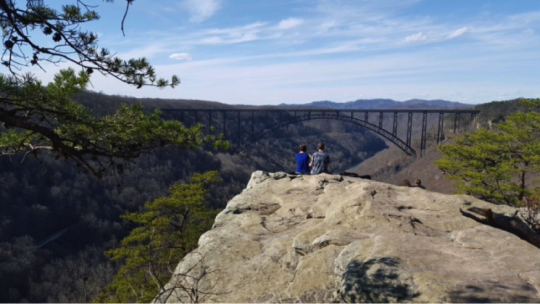 If you happen to live in the Fayetteville, West Virginia area, you can find out more information about the centennial program here.
If you would like to find a national park near you, click here. You can find more information about each park's centennial celebration on their individual websites or check out the NPS centennial page here.
You can also find out what's going on across the country by searching #NPS100 on all social media platforms.
Like the mentioned parks, many national parks offer free admission. Check the website for rates or call the park to find out.
If you are one of our international readers, simply do a Web search for national parks in your country to find one near you.
Live well,

Natalie Moore
Managing editor, Living Well Daily
P.S. Stay tuned this week! We have more exciting stories from the road coming your way. You won't want to miss this!
[_EMBED1]

Written By Natalie Moore
Natalie Moore is a dedicated health researcher with a passion for finding healthy, natural, and science-based solutions. After a decade of direct healthcare experience in western and natural medicine, she was involved in public health research before joining Living Well Daily.
Dear Living Well Daily Reader, My wife has recently begun showing signs of dementia. Her doctor has put her on medicine to try and "slow the progression" but, if anything, she seems like she's just getting worse. Is there anything we can do? –Martin from Durham, North Carolina Hi Martin, Some medications claim to slow...
It always puzzles me how anyone thinks we can spray toxic chemicals on our crops and NOT have them affect our health! Because despite what food manufacturers may claim, chemical residues from pesticides and herbicides show up on (and IN) the conventionally grown food we eat. And research makes it clear that these creepy chemicals...
I think you'll agree that aging should come with some perks. And chief among them is FINALLY having the time to relax and enjoy the retirement you earned. But that's awfully hard to do if you're losing your eyesight due to macular degeneration. Instead, your golden years become tarnished by having to focus on learning...
How does that old saying go? An ounce of prevention is worth a pound of cure. We all know it's easier to STOP something from happening in the first place than to repair the damage after it's happened. And with all of its complications, including shortening your lifespan, type 2 diabetes is well worth preventing!...
I've had patients make some pretty strange claims about their arthritis. Many folks swear they can "feel a storm coming" in their joints. And I've heard this one so often (and had them be spot-on about that storm) that I believe it's true. Other patients claim their joint pain gets worse when eating tomatoes. And...
If you're "of a certain age," I bet you remember that iconic old slogan from the late 70s, "A mind is a terrible thing to waste." It always springs to mind when I see a sharp person's memory start to fade away. They soon become unable to make decisions for themselves. Eventually, they even have...
Dear Living Well Daily Reader, "Most of my family has been hit with COVID. We're thinking it's the latest variant. Are there any extra, new recommendations for protecting yourself against the variant? (Aside from washing your hands?) My husband and I have tested negative so far, but we want to be careful." –Tammy from Lancaster,...
If you have diabetes, it's almost certain that your conventional medical doctor put you on a blood sugar-lowering drug. And there's ALSO a strong possibility that the drug makes you feel terrible. Common side effects include gas, bloating, upset stomach, kidney issues, and fatigue. Even worse, over time, these drugs become less effective. So even...
Okay, I'll admit it. There have been times I've found it tough to maintain an optimistic outlook these last few years. And I'm not alone. Studies show that unhappiness and loneliness are on the rise. That's TERRIBLE news for our health. Because when you combine the two, it can deliver a devastating blow to your...
It's the nuttiest time of year. And I'm not just talking about the decorating, shopping, and holiday chaos… I'm literally talking about NUTS. Sure, we eat these tasty treats all year round. But when the holidays approach our nut consumption goes through the roof. We eat more nuts from October through December than any other...