Easy Ways to Avoid Superbugs
The "spiderbite" you never want to get
Chances are you've taken this overprescribed drug at least once this year
The one place you want to stay out of too keep superbugs away
Dear Reader,
"Hey, you work in a hospital. Does this look like a spider bite?"
"Um, I am not a nurse or doctor, but yes, that looks kind of like a spider bite — except it's really inflamed and hot to the touch. You need to get that looked at."
"All right, I'll just go to the emergency room."
This is a conversation I had with a friend of mine many years ago.
She eventually went to the ER (as she often did, which I'll discuss later in this article) and found out that her "spider bite" was actually a staph infection.
And not just any infection — it was methicillin-resistant Staphylococcus aureus, or MRSA, the original superbug (which is often mistaken for an insect bite).
As it turns out, normal staph infections are caused by a common and typically harmless type of bacteria. Staph is so common a third of us carry staph in our noses.1
Most of the time, antibiotics can defeat a staph infection. However, MRSA strains can't be cured by common antibiotics like methicillin or penicillin.
MRSA, like all superbugs, is the result of the overuse of antibiotics.
Because of the widespread unnecessary prescribing of antibiotics, the bacteria they are supposed to kill have mutated, rendering the drugs mostly ineffective.
However, MRSA is not a lonely superbug — the CDC lists 18 different drug-resistant organisms, and it makes sense that this list is growing. I will explain more in a bit.2
In fact, superbugs have become so rampant that every year in the U.S. alone, they infect at least 2 million people and kill over 23,000.3
But what's most alarming, you can contract a superbug infection just about anywhere. However, there is one superbug hot spot.
We will discuss this infectious location  in a bit.
First, let's learn more about how superbugs work.

Too Much of a Good Thing
Since antibiotics hit the medical mainstream in the late 1940s, they have undoubtedly saved countless lives. However, it looks like antibiotics are another unfortunate case of too much of a good thing.
And modern medicine is to blame here — it has blatantly abused and overprescribed them.
This is a dangerous practice as it's one of the causes of antibiotic resistance.
Let me explain…
Antibiotics kill bacteria, fungi, and other germs. However, not all strains die during treatment, due to some being stronger or having genetic mutations that make them resistant to the drugs. Sometimes these germ have even evolved in a way to keep the medicines from harming them.3
During treatment, all susceptible germs will die, leaving only the surviving superbugs behind.
Once the superbug germs take over, they can even cause other bacteria to become drug-resistant as well.
This leaves you with a nasty illness and not many treatment options.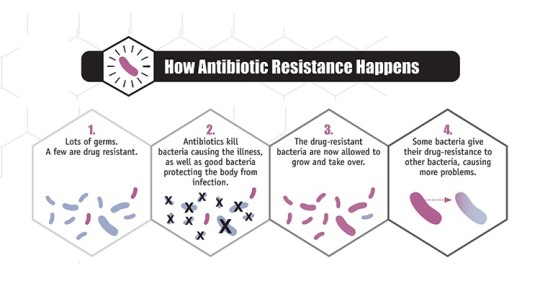 photo credit: CDC.Gov
Yet antibiotic scripts continue to fly out the hands of medical professionals at alarming and excessive rates, making them one of the most prescribed drugs in medicine.
On study found that in 2011, there were 262.5 million courses of antibiotics prescribed to Americans. This translates to prescriptions written for five in every six people in the country.4
Are we really that sick?
Jeffrey Linder, a doctor at Brigham and Women's Hospital in Boston, doesn't think so.
Linder is the co-author of a study published in JAMA that tracked doctors prescribing antibiotics for coughs. The study found that a very small number of people who saw a doctor for a cough actually had bacterial pneumonia, an infection treatable by antibiotics. However, 71 percent of patients with a viral cough, a condition not treatable by antibiotics, were still given a prescription for them.
Linder concluded his study saying:
Avoidance of antibiotic overuse for acute bronchitis [cough] should be a cornerstone of quality health care. Antibiotic overuse for acute bronchitis is straightforward to measure. Physicians, health systems, payers, and patients should collaborate to create more accountability and decrease antibiotic overuse.5
Unfortunately, not all physicians have such restraint when it comes to antibiotics.
Due to these prescription pad liberties, the CDC reports that antibiotics are not "optimally prescribed."
As a result, up to 50 percent of the time, antibiotics are prescribed with incorrect dosing or wrong duration, and mostly, as Linder's study points out, when they're not needed.3
While there is no surefire way to avoid contracting MRSA or any superbug, there are a few places to avoid and one natural antibiotic that may be helpful.

Don't Go There 
In my friend's case, it turns out her MRSA infection came from one of two places — a lake or the hospital.
At the time, she had a job where she spent many hours a day in Florida lakes and rivers. Due to her job, she had frequent minor injuries that brought her to the emergency room a little too often.
The doctor she saw there for her MRSA explained that she likely had a small cut on her leg that became the entry point for the bacteria that she picked up either while in the lake or during one of her many trips to the ER.
However, research shows it was probably the latter.
It seems that just one trip to the ER may be enough to catch a superbug, since in one year, 85% of MRSA infections came from health care facilities.7
Avoiding the emergency room for minor illness may be one of the best ways to prevent catching a superbug. Not only are you avoiding possible contact with drug-resistant germs, but you are also reducing your chances of getting a prescription for an unnecessary antibiotic.
If you have any superbug comments you would like to share, please do! nmoore@lfb.org
Live well,

Natalie Moore
Managing editor, Living Well Daily
P.S. Antibiotics in our food supply are also a cause for drug-resistant bacteria. This is a subject we will dive into in an upcoming article. Stay tuned.
---
Sources
[2] Biggest Threats
[3] Antibiotic / Antimicrobial Resistance
[4] US outpatient antibiotic prescribing variation according to geography, patient population, and provider specialty in 2011
[5] Antibiotic Prescribing for Adults With Acute Bronchitis in the United States, 1996-2010
[6] Recreational Water Illnesses (RWIs)
[7] MRSA Statistics

Written By Natalie Moore
Natalie Moore is a dedicated health researcher with a passion for finding healthy, natural, and science-based solutions. After a decade of direct healthcare experience in western and natural medicine, she was involved in public health research before joining Living Well Daily.
Okay, I'll admit I may have been accused of being a fathead a few times in my life. But I've got a secret. It doesn't bother me one little bit. In fact, I take it as a compliment. After all, having a bigger brain is a GOOD thing, especially as we age. And now scientists...
I've sung the praises of omega-3 fatty acids many times here in Living Well Daily. I've encouraged you to be sure you're getting enough of the omega-3s eicosapentaenoic acid (EPA) and docosahexaenoic acid (DHA) by eating plenty of cold-water fatty fish and taking supplements when needed. And there's a good reason for that. EPA and...
I'm sure you know that getting enough sleep is good for you. But what does that mean, exactly? It's always been hard to get a straight answer. Until now, that is. Thanks to new research we have an answer to that question. The newly published 25-year study compares the sleep habits of over 7,000 men...
Dear Living Well Daily Reader, "Along with COVID, I'm worried about getting the flu this year. What do you recommend for avoiding the flu? The flu shot?" – Mike from Park City, UT Hi Mike, I'll be honest. The flu vaccine COULD have a better long-term track record. According to the Centers for Disease Control...
If you've been a loyal reader for a while now you're probably already taking steps to ensure your health is in tip-top shape. You do your best to eat well… You stay hydrated… You, hopefully, get in some regular exercise… And maybe you even take a multivitamin… While I would certainly give you an A...
Healthy aging boils down to one surprising thing: your muscles. I know that may sound strange at first. But hear me out. Maintaining strong and healthy muscles is the first step to keeping a healthy body and sharp mind well into your golden years. After all, sturdy muscles are required to fight off frailty and...
They say cleanliness is next to godliness. Now, I don't know about that. But, I DO know that when it comes to your kitchen, cleanliness is absolutely VITAL. The trouble is, even the cleanest of kitchens can harbor some sickening hidden secrets. And new research just revealed one of the most surprising culprits. Trust me,...
Does developing a sniffle, sneeze, or cough practically cause you to panic these days? If so, you're not alone. Many of us feel the same way. Gone are the "good old days" when you only had to worry if you were coming down with a cold or the flu. And, let's be honest, we didn't...
Dear Living Well Daily Reader, Make a cup of tea. Read a couple of pages in a book. Watch a silly cat video. There are a bunch of things you can do in three minutes. And now scientists say defeating diabetes could be one of them. If you're struggling with blood sugar control, your doctor...
Dear Living Well Daily Reader, "I hate that I can no longer just eat whatever I want. I either seem to have indigestion, bloating, or gas. I'm always taking antacids. It's miserable and frustrating — what else can I do besides only eating potatoes?" –– Carl, from Lincoln, NE Hi Carl, Let's start with the...