FDA Subjects Floridians to GMO Experiment
The FDA allows biotech giant to experiment in the U.S.
GM mosquito deactivator switch rendered useless by common drug. Find out more…
Discover how a tiny fish could be facing a GMO-heavy diet and how it may affect you. 
Dear Reader,
"Yikes, the mosquitoes are really bad out here! It's time to get some more fish."
When I was a kid, I would spend my summers at a camp in the Florida Keys. I always noticed that the mosquitoes would get more intense toward the end of the sessions.
And one day, I finally figured out why… we needed more fish.
The Keys are full of areas with standing water –the perfect breeding ground for mosquitos.
And for many years, residents have reduced the numbers of these troublesome vectors with a safe, natural and effective solution – tiny fish called gambusia.
Gambusia can live in murky water and never need to be fed, because they eat mosquito larvae. This means they kill mosquitoes before they have the chance to become full-grown, disease-carrying menaces.
And luckily for Keys residents, these fish are easy to get…
If you have standing water, simply call the Florida Keys Mosquito Control District and they will bring you some of these minnow-sized fish.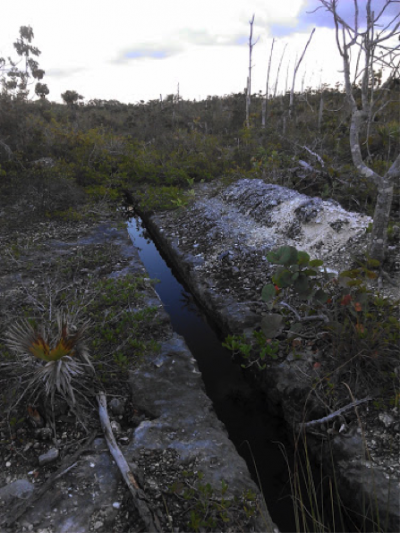 Some areas of the Keys have gambusia channels. These areas were specifically designed to attract breeding mosquitoes so that the stocked gambusia could eat their larvae. Source: conchscooter.blogspot.org
Then just let these tiny assassins do their thing and violà, your mosquito situation is under control
But due to another poor and  dangerous decision by the FDA, it looks like these little bug crushers are going to have some competition in the mosquito population control game.
Some genetically modified competition, to be exact.

FDA Greenlights GMO Menace
Last week, the FDA announced it's approved the experimental release of genetically modified mosquitoes in the Florida Keys.
Releasing these winged mutations has been a possibility for this group of tiny islands for a couple of years, and even with strong community resistance, it's now a reality.
Oxitec, a British biotech company, has been itching to get these GM mosquitoes into the Keys for years and are looking forward to unleashing these mutants into the environment.
And seems it like the first U.S. case of locally transmitted Zika virus was just the catalyst the Feds needed to greenlight their project.
The GM mosquitos are members of the Aedes aegypti species that carries Zika and other infectious diseases like chikungunya, dengue fever and yellow fever.
Male mosquitoes are unable to bite and will not be able to spread diseases. Furthermore, their greatest "feature" as highlighted by Oxitec is a special protein they are implanted with that will kill any offspring they create with wild female mosquitoes before they reach adulthood.
However, that does mean that these offspring may survive long enough to become part of the food chain.
These mosquitoes have already been released in Brazil, the Cayman Islands and Panama, but long-term environmental effects still remain unknown. And lots of folks are curious if it might affect their health directly.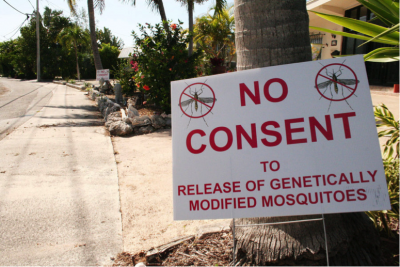 Kieys neighborhoods show their resistance to the GMO experiments going on in their backyards. Source: NPR.org
For instance, the tiny gambusia fish eats mosquito larvae, and birds eat the gambusia and adult mosquitoes, and alligators eat birds, and people eat alligators. But it's unclear if the GM mosquitoes moving up the food chain will have any negative health effects on animals and humans alike.
But what's more frightening, the introduction of these mosquitoes is irreversible. Once they are out there, we won't be able to find them if we discover they can cause problems in the future.
Oxitec reports that this is not a worry because the mosquitoes cannot breed.
But that's not entirely true.
A report Oxitec released in 2012 reports that the GM mosquitoes have a 15 percent survival rate when a common antibiotic, tetracycline, is present in the environment. This is because the antibiotic can bind to their modified gene and inactivate it. This means their self-destruct function will never turn on.
Even a very tiny amount can repress the lethal protein. Since antibiotics are so prevalent, it's quite likely some of these mosquitoes will thrive and could even create more wild mosquitoes in the right circumstances.
As for the residents of the Florida Keys, thousands of them aren't thrilled about the FDA's decision. A Change.org petition gathered 160,000 names after being started by Key West resident Mila de Mier. Many residents are upset that the experimental process is being carried out in their backyards – a fear they've never had with gambusia.
For now, because of emerging Zika cases, Keys residents and everyone else should protect themselves from mosquitoes, GMO or not.
Live well,

Natalie Moore
Managing editor, Living Well Daily Insider
---
Sources
[1]
Some Small Native Freshwater Fish Recommended for Mosquito and Midge Control in Ornamental Ponds
[2] What kind of fish do you put in standing water, how do I get them?
[3] Eliminating tetracycline contamination
[4] Genetically Modified Mosquito Study in Florida to Halt Spread of Viruses Sparks Eco Debate

Written By Natalie Moore
Natalie Moore is a dedicated health researcher with a passion for finding healthy, natural, and science-based solutions. After a decade of direct healthcare experience in western and natural medicine, she was involved in public health research before joining Living Well Daily.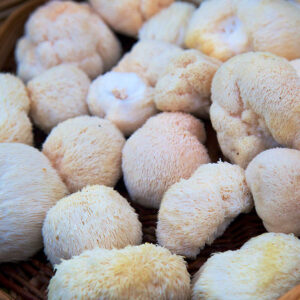 I'm a big fan of medicinal mushrooms. Almost everyone has eaten a standard mushroom on a pizza or in a spaghetti sauce, of course. But most folks have yet to experience medical mushrooms' power to improve our health. Medicinal mushrooms are already used to treat heart, liver, and brain conditions. They can boost the immune...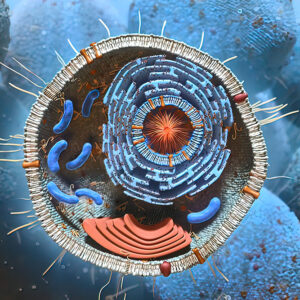 Aging isn't for sissies, that's for sure. But hey, I always remind myself the alternative is FAR worse! Besides, when you sit back and take stock, you'll realize that a life well lived – like your own – is something to be proud of. But those accomplishments, unfortunately, don't reduce your risk of suffering the...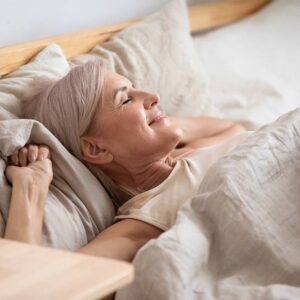 If you're concerned about diabetes, you've probably done your research. You likely focused on all the common problem areas to ward off rising blood sugar: the grocery store… the gym… and the bathroom scale. And those ARE all great places to start! Eating better, exercising, and losing weight can go a long way toward bringing your...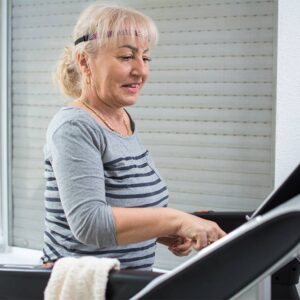 This time of year, I start to feel a little stir-crazy. Cabin fever sets in as I tire of the cold and snow. And I start thinking about the warmer weather that's right around the corner (but still feels SO far away). You see, I enjoy walking, hiking, and running outside. It's good for both...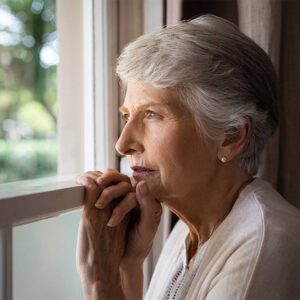 Before the pandemic, we didn't talk much about being lonely. But when the virus locked us down in our homes, the issue of isolation could no longer be ignored. Some of us were experiencing that kind of loneliness for the first time. But the truth is social isolation has ALWAYS been a common problem for...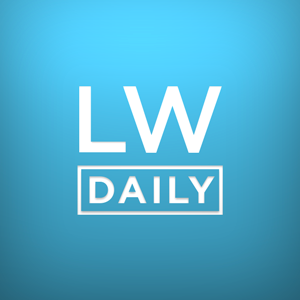 "Are there any natural solutions for an enlarged prostate?" -Mike from Summerville, South Carolina Hi Mike, There are many things you can do to improve your prostate health. Eating better is the first step. This means loading up on nutritious foods, including plenty of fresh organic vegetables and lean meats. (And yes, that DOES mean...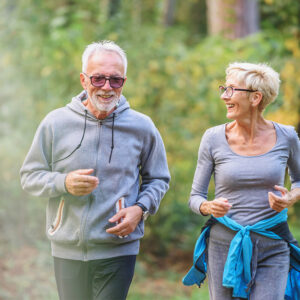 You think that when you reach "your golden years," you won't have much to worry about anymore. After all, many of life's major stressors, like work, kids, and relationships, are pretty much settled by the time you hit your sixties. So why the heck are we all so darned depressed then?! According to a recent...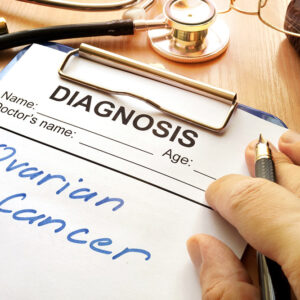 Cancer research is nothing new. In fact, we've been studying this killer since the 1800s. Yet despite all that investigating, there's still so much we DON'T know. That's why each time we reach a new milestone in our understanding of cancer, it should be celebrated. And a recent study has helped us make another large...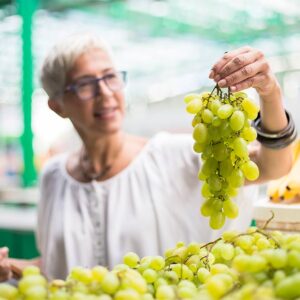 In the winter, we tend to ignore the importance of protecting our skin from the sun's powerful rays. But where I live, in Colorado, I see many folks come down from the ski areas with "raccoon eyes." This happens when skiers' faces burn, but the areas around their eyes remain pale because they wear goggles....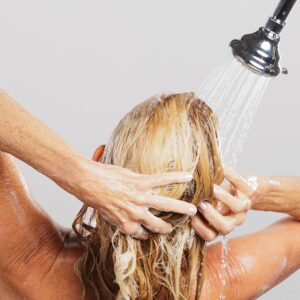 If I were to ask you what you think the risk of getting diabetes from your shampoo is, you'd probably do two things: Laugh Go looking for another doctor And to be honest, I wouldn't blame you. After all, connecting shampooing your hair to blood sugar levels seems absurd. But not so fast. The disturbing...