How to Naturally Beat Anxiety
Your hands are shaking. Your heart is pounding, and it feels like an elephant is on your chest. A cold sweat breaks across your forehead, your arms and hands start to tingle, and you feel an overwhelming sense of impending doom.
Your first thought is that you are having a heart attack.
But you go to the doctor and everything checks out. Your heart is strong.
The doctor tells you: "It was probably just an anxiety attack. Have you been stressed lately?"
Just an anxiety attack?! Anything that mimics a heart attack deserves a bit more consideration of its seriousness. True, it's not going to kill you. But if you feel like you're going to die, you aren't exactly thriving.
I am no stranger to anxiety, having battled it my whole life. I have first-hand experience with the classic "I think I'm having a heart attack" type of panic attack.
So when one reader wrote in asking for some natural ways to treat anxiety, I knew it was time to unleash the arsenal of things I've tried.
The very first place to start, as with any health condition, is with diet. What you eat will have a direct effect on your mood, and the importance of the gut-brain axis is rapidly becoming known. In fact, studies are showing that eating certain foods can actually help prevent anxiety. And some other foods are thought to increase it. However, there's a lot to cover on that topic, so I'm saving it for next week. For now, I want to give you some natural solutions that can help you today.
I always like to start with herbs. They are gentle yet powerful and not likely to produce major side effects.
One of the most dramatic herbs I've personally experienced in rapidly reducing anxiety is passionflower (Passiflora incarnata). Twenty drops of a liquid extract in an ounce of water will produce a gentle wave of calm pretty quickly. (I like the Herb Pharm brand of liquid extracts.)
Scientists believe it works by affecting the GABA system in the brain. GABA is a "calming" neurotransmitter, and lack of GABA is believed to play a role in anxiety disorder. GABA inhibits nerve transmission in the brain, which helps calm nervous activity. By upregulating GABA, passionflower helps promote a sense of peace and calm. (1)
A 2009 Cochrane review found that passionflower was similar in effectiveness to benzodiazepines for helping reduce anxiety but didn't produce as many side effects. (2) It's also been found to help reduce anxiety in people about to undergo major surgery. (3)
Lemon balm (Melissa officinalis) is another amazing herb that works by upregulating GABA. Three different studies have found that 300-600 mgs of lemon balm extract can induce calmness and relaxation. (4) (5) (6)
Lemon balm is also super easy to grow. You can then make your own tinctures or lemon balm tea. It's a member of the mint family, and if you've ever grown mint, you know how hardy it is and how it thrives with the most minimal attention.
I'm growing lemon balm on my balcony this year and eat it raw after work to help me unwind. I just pluck a few leaves, wrap them in a stevia leaf for some sweetness, and eat it straight.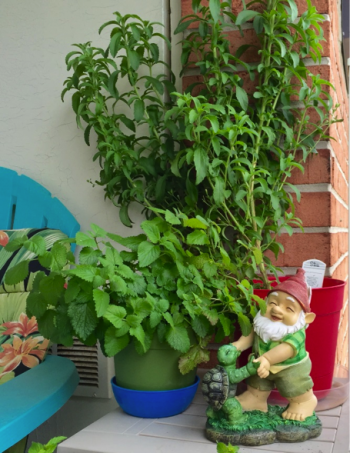 Lemon balm (front), stevia (back), and an anxiety-free gnome.
As far as side effects go, both passionflower and lemon balm may induce drowsiness. For that reason, they are great options if you suffer from insomnia, especially if it's because you find you can't get your brain to "shut up" at bedtime.
Other herbs that I've tried and recommend include chamomile tea, hops, California poppy and holy basil (also known as Tulsi). Bach's flower essences are a homeopathic remedy for stress and anxiety. It isn't very strong, but is helpful if you're just feeling stressed out.
Kava kava is another strong herb that's effective for anxiety. However, it has been associated with a few cases of liver damage, so it's best used under supervision.
Anxiety attacks can be debilitating, but know that they can be overcome. First, recognize you are not dying. Get up and take one of the natural remedies I've mentioned, and then go for a 20-minute walk. By the time you're back, the effects of the exercise and herbs will be taking effect.
Stay tuned next week for more natural anxiety remedies, including the exciting science on how you can change your brain and your mood by focusing on your gut. I'll give you the inside scoop on the one food group that could make the difference between feeling calm, or feeling like the world is crashing in on you.
And never forget the power of taking slow, deep breaths. It really does work.
To living well,
Jasmine LeMaster
P.S. John pointed out last week that I didn't give any advice on how much tomato should be eaten to get the best amount of lycopene. (If you missed the article, you can find it here.) Most studies have used doses of lycopene between 15-20 mg. Raw tomatoes have about 3 mg per 100 grams (a tomato about 3 inches in diameter.) Spaghetti sauce has about 23 mg of lycopene per half cup, and ketchup has 2.5 mg per tablespoon, so eating a few servings of tomato products a few times a week should suffice. (7)
If you've ditched eating ketchup due to the high fructose corn syrup, Audrey wrote in to tell me that Heinz now makes a version with sugar rather than HFCS. It's called Simply Heinz. It's still pretty high in sugar so best used in moderation.
Helen recommended Burpee's Sungold seeds for "the BEST-tasting tomatoes."
Henry asked what I meant by "balsamic." That was in reference to balsamic vinegar.
Lastly, Sandra pointed out that tomatoes are in the nightshade family and can be problematic for people with arthritis. Good point, Sandra! I wrote more about that in this article.
Thank you to everyone for writing in, and keep those questions, comments, and critiques coming! livingwelldaily@lfb.org

Written By Jasmine Lemaster
Jasmine LeMaster is head of quality assurance for Laissez Faire's Living Well brand and is an integral part of their product research and development team. To hear more from Jasmine, sign up to receive Living Well Daily for free, here.
Dear Living Well Daily Reader, About 6.2 million adults in the United States have heart failure. When you visit your mainstream doc's office, he'll tell you that heart failure is the result of clogged arteries, high blood pressure, diabetes, being overweight, lung problems, and heart valve problems. It can make you feel like your health...
I have arthritis in my spine. What would you suggest to help manage it? –George from Cedar Rapids, IA George, Believe it or not, many people learn that they have spinal arthritis as they age. It's very common. There's a lot you can do to help keep it from advancing or even reverse some of...
Dear Living Well Daily Reader, There is a plague of anxiety sweeping the nation. And who could blame us? Anyone with half a brain SHOULD feel anxious about the state of the world. But like any other epidemic, just because something is going around doesn't mean you should accept it. More importantly, having anxiety does...
Dear Living Well Daily Reader, If you or someone you love suffers from multiple sclerosis (MS), you already know how the disease can turn your life upside down. The stiffness and mobility problems slowly strip away your independence… and leave you in pain. Talk to your mainstream doc and he'll just shrug their shoulders –...
Dear Living Well Daily Reader, If you're a woman, chances are you have heard about the BRCA gene (BReast CAncer gene). Scientists have known for a long time that a mutation in one of two breast cancer genes, BRCA1 or BRCA2, increases the risk of getting breast cancer. But, men, listen up – just because...
Dear Living Well Daily Reader, Some people might shrug when you tell them you have knee pain… but that's only if they haven't experienced firsthand. Chronic pain from osteoarthritis is no joke— it can destroy your life. Joint pain makes moving incredibly difficult and can keep you from doing the things you love. Before you know it,...
Dear Living Well Daily Reader, Inflammation is supposed to be a normal response for your body. It's one of the key defenses protecting you. Inflammation can sometimes be our friend… when it helps fight off infections and clears away debris, that is. The problems start when inflammation blazes out of control or lasts longer than...
I have psoriasis, and I was wondering what supplements or natural treatments there are out there. –Bill from Riverside, CA Bill, As you probably know, psoriasis is a chronic autoimmune disease where the body attacks the skin as if it were a foreign invader. Psoriasis affects about two percent of the U.S. population. Normal, healthy...
Dear Living Well Daily Reader, I'm on a personal mission to rescue coffee from the hands of the nutritional puritans who think that anything fun is not good for you. Despite what the mainstream would have you believe, the news on coffee has improved in recent years. Researchers have pinpointed many powerful plant nutrients, like...
Dear Living Well Daily Reader, Some suggest pretty complicated ways to keep your brain healthy as you age. Going back to college… doing complicated puzzles… taking what feels like 30 bottles of pills a day… It can make you feel like giving up before you've even started! But what if there was something MUCH easier...