Make This Ancient Hawaiian Gut Healthy Food at Home
Dear Reader,
"Sweet potato pancakes, turkey bacon, egg scrambled with cheese and hash browns, right?"
"Ummm, yeah, that's it — oh, and ketchup?" I replied.
This wouldn't be so bad as a once-in-a-while treat, but this is what I was up to two mornings a week.
Who was I kidding? Did I really think that because the words "sweet" and "potato" were in front of the word pancake I was doing my body a favor?
And hasbrowns with KETCHUP?!?
This was a far cry from my typical eggs and fermented beets breakfast.
Not to mention the pizza and pad thai I'd been recently "treating" myself to for dinner a couple nights a week.
Headaches, indigestion, muscle aches, inflammation, brain fog, poor sleep, and a general feelings of imbalance were always for dessert.
The last few months have been pretty hectic for me.
I moved to a new city, started a new job, increased my normal exercise routine, changed my time zone, reset my sleep cycle, and added a new dog to my tiny tribe of pets.
Life is like this sometimes — you get busy or have a lot of change all at once.
And if you are anything like me, your emotions can easily sway your food choices in the wrong direction. Time constraints and reactions to change can rob you of proper meal preparation and cooking.
This means eating a lot of garbage food like the diner breakfast listed above.
Garbage food = carb loaded take out, processed and packaged foods, and foods with little nutritional value.
I know much better than to do this to myself, but I did.
My body paid the price for my convenient and emotionally stimulated bad food choices.
Luckily, I reunited with a food to help me get back on track and I am starting to feel like myself again. I will share more about that in a bit.
I was feeling the biological effects of the garbage foods. The chemicals, sugars, and simple carbohydrates were making me sluggish, dulling my mental edge, and inducing inflammation — even with increased exercise levels!
I had convinced myself it was fine to eat as I pleased because I was putting in more time at the gym. Clearly, I was wrong.
Then, one day when I was feeling particularly bad, I began unpacking some of my many moving boxes.  I stumbled upon a notebook from my freshman year Hawaiian Studies class at the University of Hawaii. I had written on the front cover:
 I ola no ke kino i ka mā'ona o ka 'ōpū.
The body enjoys health when the stomach is well filled.
 Cue the light bulb — I feel like garbage because I am eating garbage.
A Food Rich in Culture and Nutrition
I always started my day with one food when I was living on the Big Island.  Hint: It was not a pancake of any variety.
Considered sacred by many Hawaiians, this food fueled Polynesian warriors, and Hawaiian royalty, and is still a part of today's diet for many Pacific Islanders. The food is poi, a naturally fermented paste made of cooked taro (kalo in Hawaiian) corms and water.
Poi was the staple food of Hawaiians well into the 20th century. This changed once the islands became a part of the United States and local eating habits became westernized.
In fact, Historical evidence suggest that only after the introduction of the Western diet did natives Hawaiians begin to battle diabetes and heart disease — when native foods like poi were swapped with processed and refined foods. These days, native Hawaiians are getting diabetes at rate three times higher than non-Hispanic whites. 2,3  This is a reflection of how devastating the Western diet can be to good health.
Due to its fiber and complex carbohydrate content, poi is a low glycemic index food and also contains many antioxidants and nutrients, including copper, iron, zinc and magnesium. It has a high potassium level as well, making it helpful in regulation of heart rate and blood pressure functions. 4
Poi is highly digestible — so much so that some Polynesian languages didn't even have a word for indigestion.1
Poi is a good solutions for people with digestive disorders such as irritable bowel or severe food allergies due to it being a hypoallergenic, probiotic, fermented, and gluten-free food.
And it is easy to make and store.
Naturally Fermented
Adding ferments to your daily diet can aid in digestion by increasing good gut bacteria.
In fact, Dr. David Perlmutter said the following about ferments and good gut health in an interview with Brad Lemley, the guru at Natural Health Solutions:
 "Humans have been actively fermenting food for at least 7,000 years…it's a good way of boosting good bacteria within the body. I recommend eating probiotic, fermented foods throughout the course of the day." 4
Sidebar: Dr. Perlmutter writes about the importance of diet, consuming fermented foods and gut bacteria in his book Brain Maker. Some of the negative physical effects I was experiencing were likely due to the foods I was consuming negatively affecting my gut bacteria. You can read more of the interview at Brad Lemley's Natural Health Solutions and a copy of Brain Maker is your free gift with subscription. If you are interested, you can find all of the information here.
If you are familiar with Brain Maker already, poi is a ferment Dr. Perlmutter did not mention in the book but is an easy addition if you're seeking a convenient homemade source.
Fermentation of poi happens naturally, due to yeast and lactic acid bacteria occurring on the surface of the corm.
Meaning you don't have to add a starter culture to activate the fermentation process.  This provides an easy option for homemade ferments — just make the poi and let nature do its thing.
Cooking the taro corms and then pounding them with the gradual addition of water creates poi. The amount of added water determines the thickness of the paste.
Since poi availability is limited or non-existent in most areas outside of the Hawaiian Islands, the best way to get your hands on it is to make it yourself.
Let me show you how.
Pounding the Poi
Just kidding, I'm not pounding anything.
Traditional poi making requires a pounding stone and board.
I am not opposed to the traditional pounding method. It's just that I don't have the equipment.
Chances are you don't either.
You can get taro corms from Asian markets, and some grocers carry them as well. Or you can order them from Amazon.com like I did.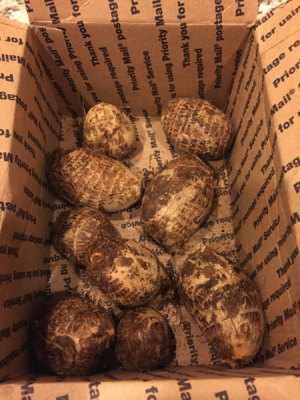 A box full of taro corms delivered to my door.
I typically use three-four roots per batch.
Select the croms you like and rinse them off. And then place them in a pot of boiling water. Boil on medium heat for 40 minutes or until soft when poked with a fork
Warning: Be sure to wash your hands after handling raw corms. Their uncooked skins can cause irritation to your skin. It is very important to boil before you peel.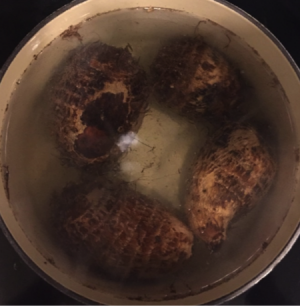 Taro corm hot tub.
Once the corms are soft, drain them in a strainer and allow them to cool for approximately 30 minutes or till cool to touch.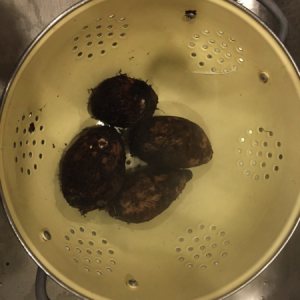 Boiled corms just chilling.
Now it's time to peel and slice your cooked corms. It is best to do this with a knife versus a vegetable peeler. I usually cut the corm in half and peel off the think skin with my fingertips. I have experienced much success with this method. Once peeled, you can slice the corms into small chunks.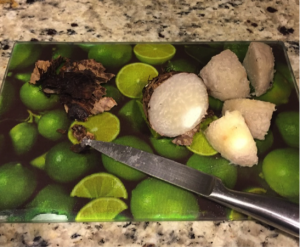 Slicing the corms can be a very sticky experience, so be sure to wipe your hands and knife handle afterward.
Next, place the cooked chunks into a food processor or blender. And add a small bit of water. I usually start with one tablespoon and add more water as I go. Blend until smooth. The consistency is your preference — just add water until you get the thickness you like best.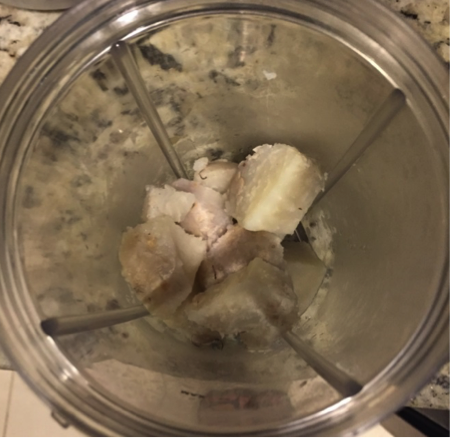 Blend me!
I like my poi pretty thick — think Elmer's paste. I have to spatula it out into jars.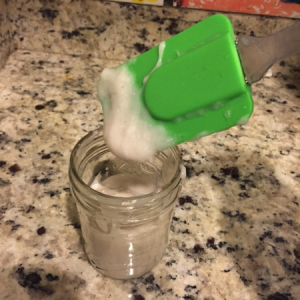 One spatula full at a time.
Lastly, let your poi sit on the counter for one-two days and ferment. If you would rather not enjoy your poi soured, you may eat it immediately.  It has a mildly sweet flavor when it's fresh.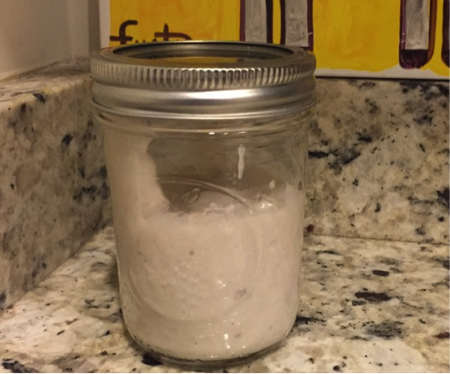 This is the poi made from a single corm.
And there you have it, homemade, starter-free ferments.
After having reduced my garbage food intake and poi for breakfast every morning, I am starting to feel like my old self again — my thoughts are quicker, my mood has lifted and my digestion is back on track.
Since it is a starch, remember to keep your portion size limited but that shouldn't be an issue as it is very filling. A half a cup in the mornings keeps me going.
If you have any questions or would like to share your poi making experience, write me! nmoore@lfb.org
Live well,

Natalie Moore
Managing editor, Living Well Daily
---
Citations
[1] Brown AC, Valiere A. The Medicinal Uses of Poi. Nutrition in clinical care : an official publication of Tufts University. 2004;7(2):69-74.
[2]
Pre-European Hawaiian high carb diet trial (paleo) reverses Lupus, obesity and diabetes
[3] Native Hawaiian & Other Pacific Islander Populations
[5] The Secret of Lifelong Brain Power… Is in Your Gut

Written By Natalie Moore
Natalie Moore is a dedicated health researcher with a passion for finding healthy, natural, and science-based solutions. After a decade of direct healthcare experience in western and natural medicine, she was involved in public health research before joining Living Well Daily.
Dear Living Well Daily Reader, My wife has recently begun showing signs of dementia. Her doctor has put her on medicine to try and "slow the progression" but, if anything, she seems like she's just getting worse. Is there anything we can do? –Martin from Durham, North Carolina Hi Martin, Some medications claim to slow...
It always puzzles me how anyone thinks we can spray toxic chemicals on our crops and NOT have them affect our health! Because despite what food manufacturers may claim, chemical residues from pesticides and herbicides show up on (and IN) the conventionally grown food we eat. And research makes it clear that these creepy chemicals...
I think you'll agree that aging should come with some perks. And chief among them is FINALLY having the time to relax and enjoy the retirement you earned. But that's awfully hard to do if you're losing your eyesight due to macular degeneration. Instead, your golden years become tarnished by having to focus on learning...
How does that old saying go? An ounce of prevention is worth a pound of cure. We all know it's easier to STOP something from happening in the first place than to repair the damage after it's happened. And with all of its complications, including shortening your lifespan, type 2 diabetes is well worth preventing!...
I've had patients make some pretty strange claims about their arthritis. Many folks swear they can "feel a storm coming" in their joints. And I've heard this one so often (and had them be spot-on about that storm) that I believe it's true. Other patients claim their joint pain gets worse when eating tomatoes. And...
If you're "of a certain age," I bet you remember that iconic old slogan from the late 70s, "A mind is a terrible thing to waste." It always springs to mind when I see a sharp person's memory start to fade away. They soon become unable to make decisions for themselves. Eventually, they even have...
Dear Living Well Daily Reader, "Most of my family has been hit with COVID. We're thinking it's the latest variant. Are there any extra, new recommendations for protecting yourself against the variant? (Aside from washing your hands?) My husband and I have tested negative so far, but we want to be careful." –Tammy from Lancaster,...
If you have diabetes, it's almost certain that your conventional medical doctor put you on a blood sugar-lowering drug. And there's ALSO a strong possibility that the drug makes you feel terrible. Common side effects include gas, bloating, upset stomach, kidney issues, and fatigue. Even worse, over time, these drugs become less effective. So even...
Okay, I'll admit it. There have been times I've found it tough to maintain an optimistic outlook these last few years. And I'm not alone. Studies show that unhappiness and loneliness are on the rise. That's TERRIBLE news for our health. Because when you combine the two, it can deliver a devastating blow to your...
It's the nuttiest time of year. And I'm not just talking about the decorating, shopping, and holiday chaos… I'm literally talking about NUTS. Sure, we eat these tasty treats all year round. But when the holidays approach our nut consumption goes through the roof. We eat more nuts from October through December than any other...