One Dead Body and Countless Injuries: Beware of the New Pokémon GO App
As downloads pile up, so do the injuries. Find out how this new game is getting people hurt
Discover how cunning criminals are preying on unwitting players
Plus, the only item you need to stay safe in just about any situation. 
Dear Living Well Daily Reader,
Last week, 19-year-old Shayla Wiggins found a dead body in the Big Wind River in Wyoming while hunting for a rare water Pokémon.
Wiggins reported, "I probably would have never went down there if it weren't for this game."
You see, Wiggins is talking about the Pokémon Go app, which was released by Niantic last week. And while it's dominated the charts in the Apple Store, it's also brought a mixed bag of activity — some healthy, some injurious, and some criminal.
The game requires players to catch Pokémon by using a GPS system linked to a digital game. This means players must go out into the real world and walk to different locations to catch the animated creatures.
But this blur between the digital and real worlds has proven both dangerous and helpful for those playing.
For some players, this activity-based game has forced them into more physical and social activity than they have had in years.
However, some players aren't just catching Pokémon; they're also catching hell.

Players Catch More Than They Bargained For
A quick look at the Twitterverse proves this: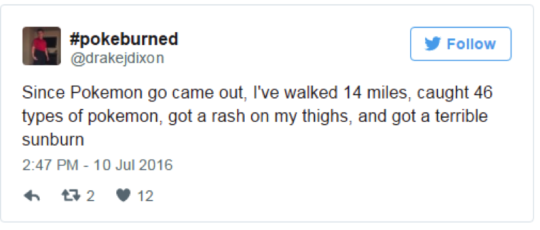 Unfortunately, the bad news doesn't end with a dead body, car wrecks, rashes, sunburns, falls, and lost Squirtles.
The gruesome find and endless list of injuries hasn't stopped Wiggins or other players from searching for Pokémon — even after threats to players became serious.
You see, PokéStops — locations in the real world that are represented by the player's GPS as Pokémon GO destinations — are also putting some unsuspecting players in potentially dangerous situations. Since PokéStops allow players to catch Pokémon and replenish supplies, they are popular stops for many people trying to get ahead in the game.
And they attract criminals.
On Sunday morning, four suspects with a handgun were taken into custody from a PokéStop in O'Fallon, Missouri. The O'Fallon Police Department reports, "Using the geolocation feature of the Pokémon GO app, the robbers were able to anticipate the location and level of seclusion of unwitting victims."
It's believed the robbers were using a lure to bring more players to the site, where they could rob them.
But the problem is you don't have to be playing Pokémon GO to be the unwitting victim of a crime or an accident — especially when you're exercising.

One Way to Stay Safe in the Real Word
While Pokémon GO is being touted as one of the best unintentional health fads to date as well as a growing source of minor injuries, distracted exercise is not a new phenomenon.
It's all too easy to wipe out on a jog when you're obliviously gazing at your phone or health tracker. Or to take a wrong turn into unfriendly territory when you're trying to beat your running time.
And even if you're just doing something as simple as checking your email as you're walking to your car, you could be putting yourself at risk — for both injury and crime.
That's why it's so important to practice personal safety when you're "getting in the zone" in the real world — no matter if it's motivated by your need to capture digital creatures, get in a few extra steps, or accomplish daily tasks.
The first and perhaps most obvious solution is to pay attention to your surroundings. If you're in a new place, put your phone away and look at what's going on around you. This way, you're more likely to prevent an injury before it happens and won't be an easy target for any close criminals.
Another easy way to protect yourself is to carry a tactical pen.
Tactical pens are made of solid aircraft-grade aluminum and make remarkable self-defense tools. This specially engineered pen can be used to stop attackers in their tracks.
And unlike a gun or knife, tactical pens are easy to carry and can be taken most almost anywhere (including airplanes). Personally, I never leave home without one! Whether I'm going for a short jog, walking to work, or going out for groceries, I make sure my tactical pen is in reach.
Click here to learn more about how owning a tactical pen can keep you safe and may even save your life. 
Live well,

Natalie Moore
Managing editor, Living Well Daily
---
Sources
[1] What Pokémon GO has to do with armed robbery and a dead body
[2] PRESS RELEASE FORM O'FALLON POLICE DEPARTMENT
[3] Pokémon Go wants to be the exercise app that actually works

Written By Natalie Moore
Natalie Moore is a dedicated health researcher with a passion for finding healthy, natural, and science-based solutions. After a decade of direct healthcare experience in western and natural medicine, she was involved in public health research before joining Living Well Daily.
Dear Living Well Daily Reader, Things that taste good must be bad for you, right? Not so fast! I'm happy to report that's NOT always true… especially when it comes to chocolate. If you've been sneaking little bits of chocolate, thinking it's bad for your health, then I have some great news… Especially if you've...
Dear Living Well Daily Reader, There are two ways to fight an infection. The first is to make sure your body is as strong as possible, so that your immune system is functioning at full throttle. This is what I always suggest to people, and it's the best place to start. Unfortunately, when your immune...
I suffer from painful cluster headaches. Any information you have on this would be much appreciated. –Wilma from Houston, TX *********** Wilma, While many people know about migraines, not that many know about cluster headaches. And that's a good thing… because people who suffer from them describe the pain as a hot poker being shoved...
Dear Living Well Daily Reader, Ask your mainstream doc what causes cancer to spread, and he'll rattle off things like drinking alcohol, being overweight, and suffering from bad genes. Sure, those things don't help… but that's hardly an exhaustive list. And it certainly doesn't account for those big three "treatments" that leave your body weak...
Dear Living Well Daily Reader, High blood pressure and stroke are like two peas in a pod… if you have high blood pressure, then you're MUCH more likely to have a stroke. But if you have a mainstream doctor, blood pressure is ALL he'll talk about when he talks about stroke. As they say, close,...
Dear Living Well Daily Reader, If you take an angiotensin-converting enzyme inhibitor (ACE inhibitor) for high blood pressure, chances are you've run into a few side effects. First, there's the dry cough, then the headaches and loss of taste. Then comes the fatigue and dizziness. It's no picnic! But there's something else that comes with...
Dear Living Well Daily Reader, If you have prediabetes or diabetes, chances are your mainstream doc isn't much help. They suggest the over-hyped drugs (which don't work)… the outrageous workout plans (that no one can do)… or they tell you to give up your favorite foods (who wants to live like that!?). But what your...
Dear Living Well Daily Reader, Non-alcoholic fatty liver disease (NAFLD) is a silent epidemic. The symptoms are hard to pin down… meaning the disease can wreak havoc before you even know it. Luckily, nature has a way to help reverse NAFLD and make your liver happy again. And strangely enough, it's found in something you're...
Dear Living Well Daily Reader, Pardon? What did you say? I didn't catch that. If you find yourself asking these questions more than a few times a day, you're probably already experiencing hearing loss. Having hearing issues isn't just frustrating… it can be downright dangerous. You might miss an important phone call… or not hear...
I suffer from constipation and it's really embarrassing. Is there anything that can help? –Joe from Omaha, NE ******** Joe, Yes, you're right—constipation can definitely be embarrassing. It's also painful and not good for your health. Most mainstream doctors think it's normal if you move your bowels only once or twice a week. I most...