Redefining "Homegrown": My Trip to the Agrihood
Leave your golf clubs and tennis rackets behind
Eggs, produce, and meat that's fresher and closer than the grocery
Farm to table cooking 
Dear Reader,
When it comes to picking a home, there are many phrases that may deter you from looking into a neighborhood. Things like, "up and coming" and "on the rise" may get an immediate pass from some folks.
But for me, after spending a good portion of my life in Florida, the words "planned community" always translated into "no way" when I was looking for a home.
If you've ever visited to the sunshine state (or you live there), you've probably seen that it's chocked full of neighborhoods with beige-colored cookie-cutter homes and rows of condos surrounding a golf course, country club, and tennis courts.
Don't get me wrong, there is nothing wrong with these types of communities. But since I haven't picked up a golf club or tennis racket a day in my life, there wasn't much appeal in that lifestyle for me.
A few weeks ago, though, I had the opportunity to visit Willowsford, Virginia — a planned community that was, well, very different from the ones I had experienced in Florida, or anywhere for that matter.
Instead of a golf course or tennis courts, I found a nature conservatory, hiking trails, camping areas, fish-stocked ponds, and, most importantly, a farm.
The farm not only provides produce, eggs, chickens and other local, sustainably grown and produced items for residents who participate in the farm's CSA program or shop at the Farm Stand, but also serves customers who live and work in neighboring communities. Additionally, the farm inspires neighborhood culinary classes and food education.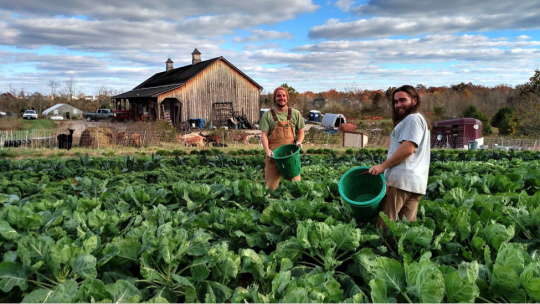 Farmers Alex Restaino and Nathan Forristall tending to Brussesl Sprouts on the farm in The Grange. Photo Credit: Deborah Lakowicz Dramby
Willowsford is one of about 200 farm-to-table communities that have sprouted up in the U.S.1 Just like Willowsford, these "agrihoods" are redefining the image of suburban life by making farming the community focus over leisure sports.
Three hundred acres of Willowsford are dedicated farmland. From May through November, residents can enjoy over 100 varieties of fruits, vegetables, herbs, eggs and meat from pastured chickens. These are available through a community-supported agriculture (CSA) program or at the Willowsford Farm Stand.
The farm also provides educational events and activities like their 2015 Monarch program which involved young participants learning how to tag and release monarch butterflies, as well as acts as a distribution point for local businesses that sell sustainably raised meats, dairy products, and poultry. One of their community partners includes Heritage Hollow Farms in Sperryville, Virginia who provides grass-fed beef to the farm stand.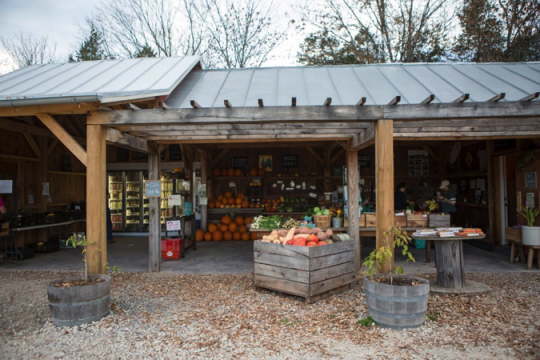 Outside the farm stand. Photo Credit: Molly Petersen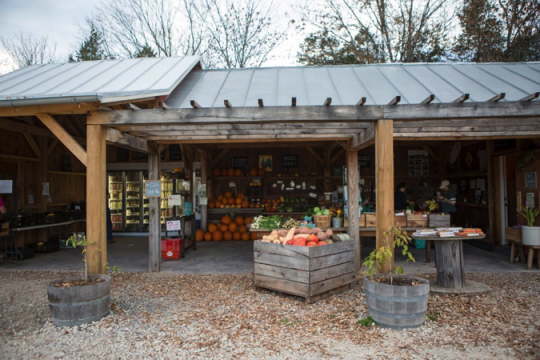 Inside the farm stand. Photo credit: Molly Peterson
While Willowsford isn't a certified organic farm, it uses organic practices, including using non-GMO seeds.
I had the pleasure of talking to Willowsford Farm director Mike Snow during my visit.
We discussed GMO seeds and common farming practice. During our discussion, Mike told me a story about how another farmer he knew resorted to using GMO seeds during a difficult squash season.
When I asked him if he would consider the same practice, he replied, "I just can't do it."
An answer as simple and perfect as the food he grows.
But the good food news doesn't end there for this agrihood. It also has a culinary program led by acclaimed chef and culinary adviser Bonnie Moore.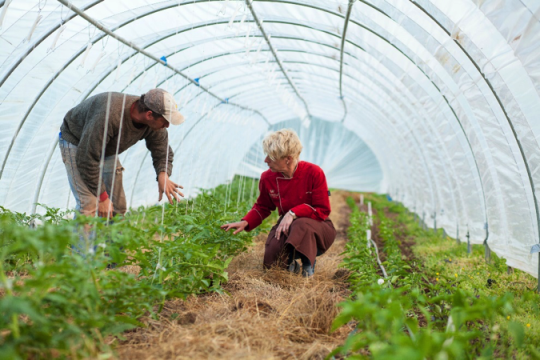 Mike Snow and Bonnie Moore checking on crops at the Willowsford Farm. Photo Credit: Molly Peterson
On the day I toured Willowsford, I got to meet Bonnie. While she was setting up for a cooking class geared toward kids, she explained that little to no food at Willowsford goes to waste. When there are excess crops, she gets to work in the kitchen. If there are extra tomatoes, she makes pasta sauce. If there are extra strawberries, she makes jam. Very industrious!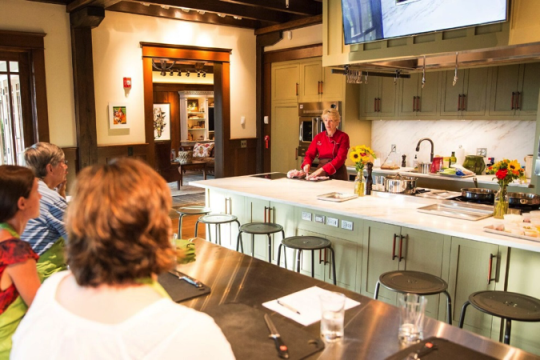 Bonnie Moore leading a culinary class at Willowsford's Sycamore House. Photo Credit: Alan Bushnell
Willowsford has 2,000 acres of conservancy lands which includes the farm. This means 2,000 acres of the community will remain undeveloped, no matter how much the community grows. In these 2,000 acres are miles of trails for residents to enjoy. Plus, they have two beautiful community buildings, the Sycamore House and The Lodge at Willow Lake, with pools, meeting areas, community kitchens, and endless other amenities.
Before you get too excited, you should know the average price of a home in Willowsford is around $850,000.
 Living in Willowsford or most agrihoods isn't an affordable option for everyone, but if you live in the Washington, D.C., area, you can still reap the benefits of the farm by joining their CSA. Click here to learn more.
Live well,

Natalie Moore
Managing editor, Living Well Daily
Sources
[1] 'Agrihoods' Offer Suburban Living Built Around Community Farms, Not Golf Courses

Written By Natalie Moore
Natalie Moore is a dedicated health researcher with a passion for finding healthy, natural, and science-based solutions. After a decade of direct healthcare experience in western and natural medicine, she was involved in public health research before joining Living Well Daily.
Dear Reader,  Have you started noticed troubling signs that you're getting older?   Like maybe you've found yourself sitting down to read a magazine only to realize you just can't see the tiny words clearly without holding it at arm's length…   (Perhaps you've already caved in and bought a pair of reading glasses…)  Or have you felt embarrassed as you stumble over words during conversations?...
Dear Reader,  Ask the men in your life when they last went to the doctor and most will have a hard time remembering.   I ask men this question all the time and I'm often answered with a blank stare.  You see, most men avoid going to the doctor as much as possible…but they shouldn't.  Because men die faster.  And in my years of...
Dear Reader,  We've all been told to keep her hands clean – especially so in recent times.  But wouldn't it be nice if we were told the RIGHT way to do it?  Washing your hands regularly is one of the keys to stopping the spread of germs, in part because we touch our face far more often than...
Dear Reader,  When you go to your doctor with a problem you expect to be given a cure… or, at best, at least a treatment that will make your problem manageable.  What you don't expect is for this drug to open a can of worms for other health troubles. But that's exactly what could happen if you suffer with anything from...
Dear Reader,  Most people are terrified at the thought of chemotherapy AND with good reason.  Chemotherapy works (in general) by poisoning cells that grow rapidly.  Unfortunately, chemotherapy doesn't just pinpoint cancer cells, it often takes your other healthy cells along with too (like your hair, your digestive tract…).  But most people are willing to go through this pain and torture because they believe it will put an end...
Dear Reader,  The fact of the matter is, getting older is tough on your whole body.  Your joints… your heart… and even your good looks all take a plunge with every passing year.   But, the worst part by far about aging is that it takes its biggest toll on your brain.  Because as you age, you lose brain cells… and eventually, your...
Dear Reader,  When I told Jim his blood pressure was dangerously high, he was quick with his reply:  "I don't believe that high blood pressure mumbo jumbo… I feel fine."  After all, Jim came to see me because he thought I didn't believe in that "mumbo jumbo" either.  And honestly, there's a part of me that doesn't. Drug companies make billions off...
Dear Reader,  Have you noticed that there has been a tremendous increase in allergies over the last few years?  You used to be able to host a barbecue or a cookout without worrying if someone would have an allergy – peanut, wheat or otherwise.   But these days, you can't have a bake sale or send treats without considering the...
Dear Reader,  If you've ever had a migraine, you already know that they are anything but a normal headache.  The throbbing pain… the blurred vision… and the extreme light and sound sensitivity can keep you in bed, hiding from noise and light for hours.   And unfortunately, your mainstream doc is not any help. They'll just suggest dangerous drugs… or even...
Dear Reader,  Trying to get the perfect blood pressure is enough to give you high blood pressure.  The never-ending hours on the treadmill… the risky drugs from your mainstream doc… and all the worrying about what you can (and can't) eat really take a toll.  But there's a solution that could put all of your troubles to rest.  Because...