Steak, Liquor, and Bug Flour: Living Well Visits Expo East
Dear Living Well Daily Reader,
Last week, the team from Living Well busted into the biggest natural health product expo on the East Coast, Expo East. (They were too busy working out to think of a decent name.)
This year's event featured everything:
Chocolate!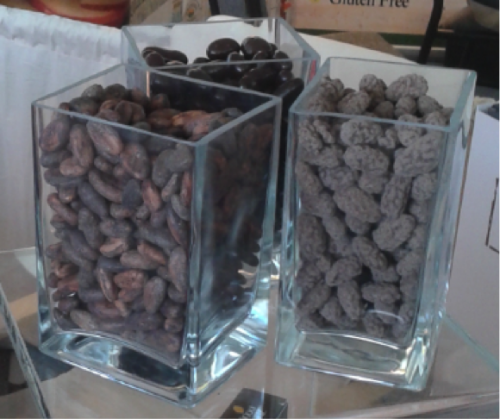 Coconuts!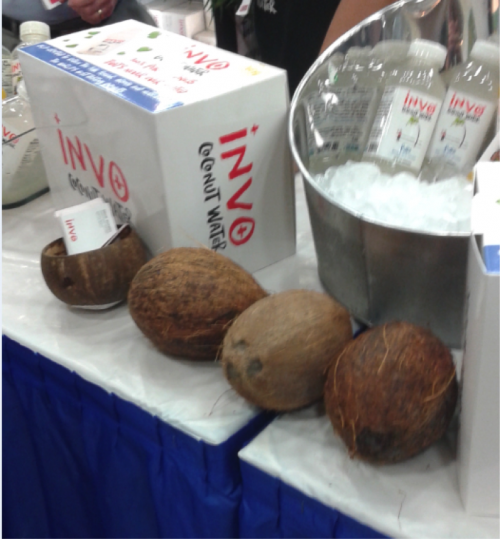 Steak!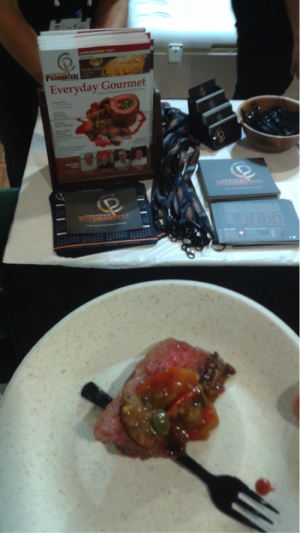 And… the post office?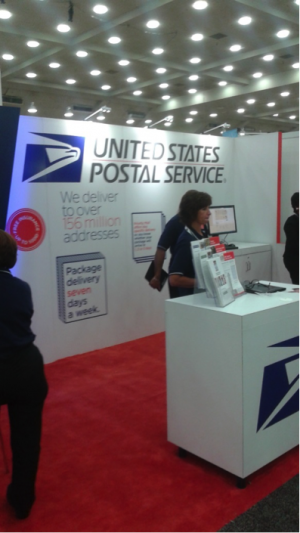 As Jasmine LeMaster, our chief quality control expert, said, "You know the post office is struggling for business when they start advertising at a health expo."
Unfortunately, they didn't have any delicious samples.
And they weren't even the strangest booth, either. One group showcased their flour made from… well, I'll let you decipher the secret formula from this photo: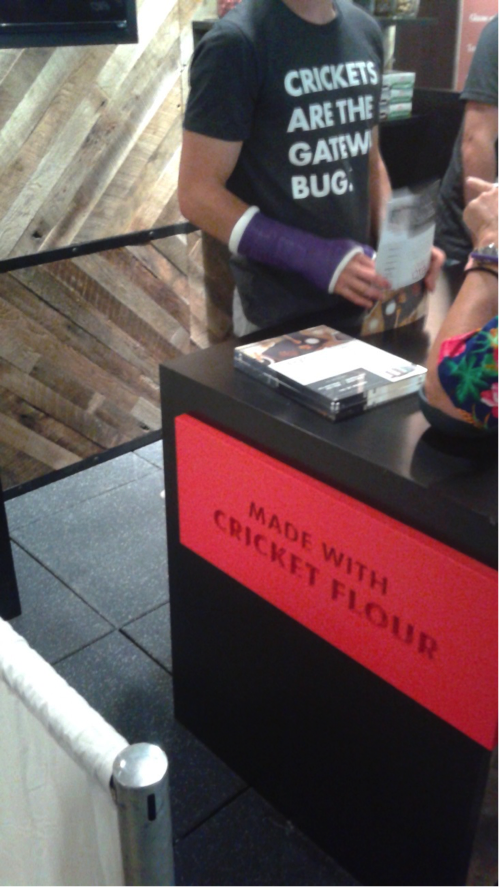 Mmmm… cricket flour.
And yes, the proprietor's shirt did read "Crickets are the gateway bug."
I didn't hear the story behind his arm cast, but I'm assuming has to do with the fact that it's dangerous being a "bug bealer." *Rim shot* (Get it? Drug dealer?… Never mind.)
Actually, cricket flour sounds pretty darn good. Certainly more healthy than the regular stuff. Unfortunately, not everyone featured as nutritious a product as the one presented by the clever folks I photographed. In fact, most were downright lousy.
I had to shake my head every time I saw someone bragging about their gluten-free, organic pastries. As if that somehow forgives them being nothing more than a carbohydrate bomb. After two days of this, my neck started to hurt (from the head-shaking).
One lady roped me and Laissez Faire Today editor Chris Campbell into an endless pitch about the wonders of her book, which started with something sensible (phytonutrients being healthy) and then quickly veered into vegan propaganda. I smelled a rat (a tofu rat, of course) as soon as I flipped through her book and saw the giveaway phrase: plant-based.
"Ah, s***," I muttered.
After some more page flipping, I saw a reference to the infamous rabbit study that sparked the whole "eating cholesterol is bad for your heart" myth. Here's the short version: A mad Russian scientist named Nikolaj Nikolajewitsch Anitschkow fed rabbits cholesterol… and the rabbits developed atherosclerosis. Now, a sensible person would glean one takeaway from an experiment like this: Don't feed cholesterol to your pet rabbit.
But some bozos figured this applied to humans as well.
I couldn't help but interrupt the lady and say, "Um, I was just looking through your book, and I couldn't help notice there's some stuff I disagree with. For instance, this rabbit study on cholesterol. The problem is… rabbits… aren't… humans."
She wasn't swayed, and soon Chris and I moved on.
Speaking of not humans, this expo was also where the now-famous photo of yours truly was taken by Chris. The weirdness later gave him nightmares. I have to admit, it's pretty easy to see why: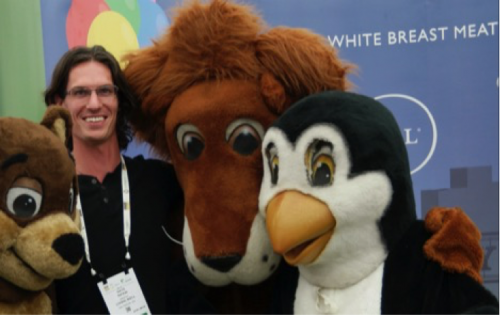 Hey, Chris… How have you been sleeping lately? Eh?!
When the clock stretched into the dark hours of 4 p.m.… the liquor began flowing: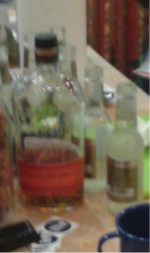 That's a rapidly emptying bottle of bourbon.
When I mentioned the early happy hour to the editor of our Natural Health Solutions newsletter, Brad Lemley, he remarked, "Nobody drinks like people in the mass-market, shelf-stable "health food" industry. Living a lie takes its toll…"
I'll wrap things up on that note. Eat some steak. Drink some liquor. Maybe visit the post office. In that order.
Have a good weekend,

Nate Rifkin
Underground Health Researcher

Written By Nate Rifkin
Nate Rifkin is an obsessed health and mind-power researcher and author. To hear more from Nate, sign up to receive Living Well Daily for free, here.
Dear Reader,  Have you started noticed troubling signs that you're getting older?   Like maybe you've found yourself sitting down to read a magazine only to realize you just can't see the tiny words clearly without holding it at arm's length…   (Perhaps you've already caved in and bought a pair of reading glasses…)  Or have you felt embarrassed as you stumble over words during conversations?...
Dear Reader,  Ask the men in your life when they last went to the doctor and most will have a hard time remembering.   I ask men this question all the time and I'm often answered with a blank stare.  You see, most men avoid going to the doctor as much as possible…but they shouldn't.  Because men die faster.  And in my years of...
Dear Reader,  We've all been told to keep her hands clean – especially so in recent times.  But wouldn't it be nice if we were told the RIGHT way to do it?  Washing your hands regularly is one of the keys to stopping the spread of germs, in part because we touch our face far more often than...
Dear Reader,  When you go to your doctor with a problem you expect to be given a cure… or, at best, at least a treatment that will make your problem manageable.  What you don't expect is for this drug to open a can of worms for other health troubles. But that's exactly what could happen if you suffer with anything from...
Dear Reader,  Most people are terrified at the thought of chemotherapy AND with good reason.  Chemotherapy works (in general) by poisoning cells that grow rapidly.  Unfortunately, chemotherapy doesn't just pinpoint cancer cells, it often takes your other healthy cells along with too (like your hair, your digestive tract…).  But most people are willing to go through this pain and torture because they believe it will put an end...
Dear Reader,  The fact of the matter is, getting older is tough on your whole body.  Your joints… your heart… and even your good looks all take a plunge with every passing year.   But, the worst part by far about aging is that it takes its biggest toll on your brain.  Because as you age, you lose brain cells… and eventually, your...
Dear Reader,  When I told Jim his blood pressure was dangerously high, he was quick with his reply:  "I don't believe that high blood pressure mumbo jumbo… I feel fine."  After all, Jim came to see me because he thought I didn't believe in that "mumbo jumbo" either.  And honestly, there's a part of me that doesn't. Drug companies make billions off...
Dear Reader,  Have you noticed that there has been a tremendous increase in allergies over the last few years?  You used to be able to host a barbecue or a cookout without worrying if someone would have an allergy – peanut, wheat or otherwise.   But these days, you can't have a bake sale or send treats without considering the...
Dear Reader,  If you've ever had a migraine, you already know that they are anything but a normal headache.  The throbbing pain… the blurred vision… and the extreme light and sound sensitivity can keep you in bed, hiding from noise and light for hours.   And unfortunately, your mainstream doc is not any help. They'll just suggest dangerous drugs… or even...
Dear Reader,  Trying to get the perfect blood pressure is enough to give you high blood pressure.  The never-ending hours on the treadmill… the risky drugs from your mainstream doc… and all the worrying about what you can (and can't) eat really take a toll.  But there's a solution that could put all of your troubles to rest.  Because...