The Common Kitchen Appliance That's Destroying Your Health
Your #1 source of antioxidants may also be causing man-boobs
This popular kitchen convenience doubles your dose of  synthetics
One easy way to brew your antioxidants without added hormones
Dear Reader,
For most of us, the day doesn't start until after the first cup of coffee.
And with good reason, coffee drinkers enjoy many health benefits from their morning brew.
However, there is a major health problem lurking in the most popular types of coffee brewing systems: flame retardants and estrogenic chemicals.
This nasty brew of synthetics can lead to issues such as obesity, Type 2 diabetes, and, even worse, reproductive disorders like man-boobs.
Today, we will share with you a way to brew healthy coffee without the added harm.
But first, let's discuss the important health benefits of your morning routine… and how it could be doing more harm than good…
The Good and Bad of Your Morning Joe
Fully 54% of Americans over the age of 18 drink coffee every day.
And not just a cup of daily coffee, but 3.1 cups of it.1
More importantly, a study shows that American's get more antioxidants from coffee than any other source — including fruits and vegetables. Due to the antioxidants in coffee's easy absorption by the body, both decaffeinated and regular coffee provide a powerful source for regular drinkers .2
Beyond providing these cell-protective antioxidants, a study found drinking coffee can reduce your risk of developing Type 2 diabetes by 50 percent for those who drink four or more cups a day. 3
And the good news about coffee doesn't stop there. There is research indicating coffee to have all sorts of health benefits ranging from making you happier to preventing liver cirrhosis.4
With all of these amazing health properties, plus the added caffeine boost, it seems that coffee is a no-brainer for those of us needing a little help in the mornings.
But there is some bad news — the toxins found in your coffee maker might overshadow all of the healthy benefits of your coffee.
Most automatic coffee makers have plastic brewing components. Since these plastic parts contain health-hazardous chemicals, they might be turning your daily joe from a healthful brew into a toxic swill.
However, there are healthy and plastic-free ways to get your coffee in and keep the toxins out. I will share a few helpful tips in a bit.
First, let's get to the bottom of your coffee maker.
 One Toxin With Your Coffee or Two?
If you have ever bought a new coffee maker, then you will likely remember those nasty first five–10 pots of coffee. You know, the ones that taste like Saran Wrap with a mild hint of coffee.
While the subsequent pots taste more like coffee and less like what your lunch is wrapped in, the plastic taste never totally goes away.
Regardless of its potent synthetic taste, the automatic coffee maker remains the cornerstone of many kitchens, offices, and break rooms.
In fact, I have already seen seven in the course of my day.
While these common little machines make our lives easier, they may also be slowly poisoning us with neurotoxic substances and estrogen-like chemicals.
Many plastic-based coffee makers contain endocrine-disrupting chemicals (EDCs) such as polybrominated diphenyl ethers (PBDEs), a flame-retardant substance used in molded plastics, and Bisphenol A (BPA), a common plastic additive.
These flame-retardant substances in plastics can store in human fat cells and has been detected in human blood, tissues, and breast milk. They can also cause neurological, reproductive, and thyroid issues in animals.5
For many years, BPA a plastic additive, has been known to affect fetuses and reproductive organs in humans and animals. More recently, a study has found that the endocrine-disrupting powers of BPA may lead to Type 2 diabetes.
Both of these synthetics are dangerous to humans because they interfere with the body's natural hormone functions and can cause serious health issues.
Sometimes referred to as "gender-bending chemicals," they lower the male hormone testosterone and boost the female hormone estrogen. For men, this means reduced virility and feminization of features, such as an increased growth of breast tissue, aka "man-boobs." For women, this means riskier pregnancies and possible long-term issues with reproductive organs.
Andrea C. Gore, chair of the Endocrine Society task force and a pharmacologist at the University of Texas at Austin, reports:
 The evidence is more definitive than ever before — EDCs disrupt hormones in a manner that harms human health. Hundreds of studies are pointing to the same conclusion, whether they are long-term epidemiological studies in human, basic research in animals and cells, or research into groups of people with known occupational exposure to specific chemicals.6
The jury is still out (for the moment, anyways) on whether PBDEs and BPA are carcinogens, but it would makes sense that if they are able to interrupt important bodily functions, they can probably cause cancer.
Beyond the nasty taste, there's real danger in heating up those plastic parts. Boiling water speeds up the leaching process for many harmful plastic additives, including BPA.
In fact, BPA leaches out 55 times faster when exposed to hot liquids than in normal circumstances, meaning you are getting 55 times more of it with every sip of a hot beverage verses a room-temperature one.7
And to make things worse, the wildly popular single-serving coffee pod machines (like Keurig's) may be the worst of the lot when it comes to leaching. Made almost entirely of plastic, the water reservoir provides the perfect space for chemicals to leach into the brewing water.
Hands down, the worst part of these machines are the pods (K-cups) themselves.
You know, these guys: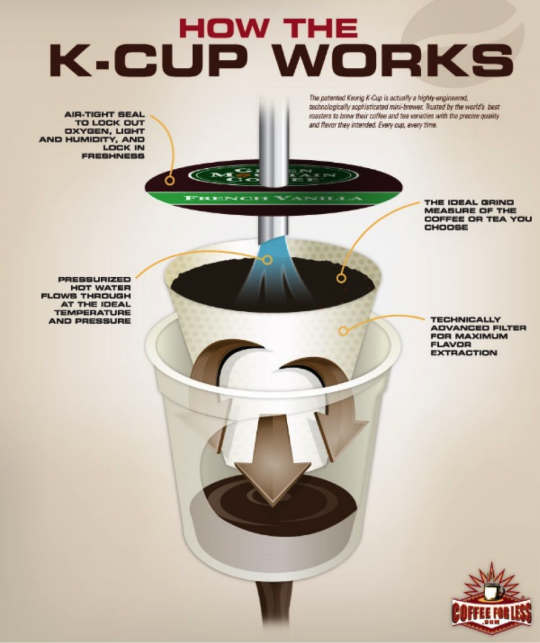 Photo credit: Dailytech.com
The above graphic is supposed to show you all of the benefits of the K-cup system. In reality, it shows you how hot water is plunging through yet another layer of plastic before it makes it to your cup.
And it's the worst kind of plastic: No. 7.
No. 7 is a blend of plastics and considered to be in the "other" category of plastic types and is not recyclable.
While Keurig says these No. 7 pods are BPA-safe, the real trouble is there is new evidence that even BPA-free plastics can have estrogenic effects.
These machines are double trouble on your health. Not only are you getting a dose of toxins from the machine, but you're now getting a bonus exposure from the hot water shooting through the pods.
So when you add all of these factors together, it looks your plastic-based automatic coffee maker is delivering you a morning cup of foul-tasting, health-ruining toxins.
And the worst part is these chemicals may be diluting coffee's natural health benefits!
But it doesn't have to be this way. There are several ways to make your morning brew and skip the synthetics.
Today, I will share with you a variety of plastic-free coffee makers, as well as  my preferred brewing method.
Let's dive in!
Choose a Healthy Brew
Many producers of kitchen products are now advertising as BPA-free. While buying a new BPA-free plastic automatic coffee maker may seem to be the easiest solution, it is not the safest.
Chances are even the BPA-free containers will still contain flame-retardants or other synthetics.
Your best bets are nonplastic coffee makers like French presses, percolators, and pour-overs.
French presses and percolators are some of the most flavorful ways to brew coffee without plastic parts. These methods don't use filters, so your brew contains all of the coffee's natural oils, enhancing the flavor.
However, studies have shown this may not be the most optimal method if you have high cholesterol. Coffee oils contain cafestol. Cafestol can increase overall levels of cholesterol, LDL cholesterol, and triglycerides.10 Most experts agree the occasional French press cup of coffee is perfectly safe, but you may not want to make it your daily coffee.
Your best option is to use a pour-over coffee system, as it uses a filter and is typically made of porcelain or glass.
The Hario V60 is an easy-to-use pour-over and is available without plastic components.
Click here for more information on the V60 and here for filters.
No matter your method, it's important to use organic coffee and an unbleached paper filter every time you brew to reduce chemical exposures.
If you have a plastic-free coffee method you want to share, please do! nmoore@lfb.org
Live well,

Natalie Moore
Managing editor, Living Well Daily
P.S. Ordering drip coffee from a cafe isn't necessarily a healthier option. As a former barista, I can attest that several commercial brewers have plastic parts. Not to mention the added exposure from plastic-lined cups and plastic lids, stirrers, and straws. However, many cafes offer pour-over or French press options.
---
Sources
[2] Coffee is number one source of antioxidants
[3] Why coffee drinking reduces the risk of Type 2 diabetes
[4] 11 Reasons You Should Drink Coffee Every Day
[5] Technical Fact Sheet – Polybrominated Diphenyl Ethers (PBDEs) and Polybrominated Biphenyls (PBBs)
[6] BPA exposure has been linked to an increase in diabetes and obesity
[7] Plastic (Not) Fantastic: Food Containers Leach a Potentially Harmful Chemical
[8] Your Coffee Pods' Dirty Secret
[9] Styrene
[10] Does Coffee Raise Cholesterol?

Written By Natalie Moore
Natalie Moore is a dedicated health researcher with a passion for finding healthy, natural, and science-based solutions. After a decade of direct healthcare experience in western and natural medicine, she was involved in public health research before joining Living Well Daily.
I've sung the praises of omega-3 fatty acids many times here in Living Well Daily. I've encouraged you to be sure you're getting enough of the omega-3s eicosapentaenoic acid (EPA) and docosahexaenoic acid (DHA) by eating plenty of cold-water fatty fish and taking supplements when needed. And there's a good reason for that. EPA and...
I'm sure you know that getting enough sleep is good for you. But what does that mean, exactly? It's always been hard to get a straight answer. Until now, that is. Thanks to new research we have an answer to that question. The newly published 25-year study compares the sleep habits of over 7,000 men...
Dear Living Well Daily Reader, "Along with COVID, I'm worried about getting the flu this year. What do you recommend for avoiding the flu? The flu shot?" – Mike from Park City, UT Hi Mike, I'll be honest. The flu vaccine COULD have a better long-term track record. According to the Centers for Disease Control...
If you've been a loyal reader for a while now you're probably already taking steps to ensure your health is in tip-top shape. You do your best to eat well… You stay hydrated… You, hopefully, get in some regular exercise… And maybe you even take a multivitamin… While I would certainly give you an A...
Healthy aging boils down to one surprising thing: your muscles. I know that may sound strange at first. But hear me out. Maintaining strong and healthy muscles is the first step to keeping a healthy body and sharp mind well into your golden years. After all, sturdy muscles are required to fight off frailty and...
They say cleanliness is next to godliness. Now, I don't know about that. But, I DO know that when it comes to your kitchen, cleanliness is absolutely VITAL. The trouble is, even the cleanest of kitchens can harbor some sickening hidden secrets. And new research just revealed one of the most surprising culprits. Trust me,...
Does developing a sniffle, sneeze, or cough practically cause you to panic these days? If so, you're not alone. Many of us feel the same way. Gone are the "good old days" when you only had to worry if you were coming down with a cold or the flu. And, let's be honest, we didn't...
Dear Living Well Daily Reader, Make a cup of tea. Read a couple of pages in a book. Watch a silly cat video. There are a bunch of things you can do in three minutes. And now scientists say defeating diabetes could be one of them. If you're struggling with blood sugar control, your doctor...
Dear Living Well Daily Reader, "I hate that I can no longer just eat whatever I want. I either seem to have indigestion, bloating, or gas. I'm always taking antacids. It's miserable and frustrating — what else can I do besides only eating potatoes?" –– Carl, from Lincoln, NE Hi Carl, Let's start with the...
Remember when they said we'd just need to hunker down at home for a few weeks, and this whole COVID-19 thing would blow over? It's safe to say they got that one wrong. In fact, it's looking like COVID-19 is less of a visitor and more of a permanent house guest these days. That means...