The Free, Simple Japanese Secret for Conquering Stress
I feel wonderful right now.
I've felt this way for nearly two weeks.
I'm calm. Focused. Infused with a sense that the world is unfolding pretty much as it should.
Why?
Well, theoretically, it could due to several factors. Teasing apart the components of "mood states," as psychology researchers call them, can be tricky.
Nutrition, social connection, exercise, sleep quality, and a dozen more variables all contribute to our personal emotional climate.
But I haven't changed much about how I eat, work out, socialize, or anything else lately.
So I think the reason for my good mood is this: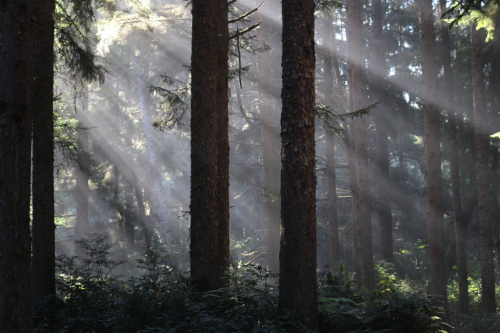 Another day in paradise — Patrick's Point State Park near Eureka, California.
In early September, my wife, Laurie, son Alex, and I spent several days camping in various wild settings up and down the coast of Oregon and northern California.
That's where we enjoyed the scene above — the morning light slanting through the Sitka spruce adjacent to our tent at Patrick's Point State Park's campground.
The joy in this setting wasn't just from the soul-stirring vista.
The only sound was the wind and the distant ocean's roar. The scent of fresh pine, spruce, and forest-floor humus was intoxicating.
It was a multisensory feast. I didn't know how hungry I had been for it until it was set before me. Honestly — while I am generally a cheerful and positive guy, this trip took me to a new and better place.
Poets, philosophers, and spiritual leaders have long extolled the redemptive power of the woods:
"The clearest way into the Universe is through a forest wilderness." — John Muir
"The forest is a peculiar organism of unlimited kindness and benevolence that makes no demands for its sustenance and extends generously the products of its life activity; it provides protection to all beings, offering shade even to the axe man who destroys it." — Attributed to Gautama Buddha
Now science is starting to confirm these insights.
The Japanese — who know a few things about stress and the psychic toll that concrete vistas can exact — lead the world in studying what's called "forest medicine" or "forest bathing."
One particularly revealing Japanese paper (1) reviewed experiments involved 420 subjects who were taken to 35 different forests throughout Japan. After sitting in natural surroundings, these folks were compared with control groups who stayed in urban settings.
The forest visitors showed lowered levels of biological markers indicating stress, including, on average:
12.4 percent decrease in cortisol level
7.0 percent decrease in sympathetic nervous activity
1.4 percent decrease in systolic blood pressure
5.8 percent decrease in heart rate.
If a drug could do all of that reliably, and with no side effects, it would be worth billions.
But I've been back in not-so-forested Tempe, Arizona, for more than a week. Why do I still feel so calm and focused?
Well, after pointing out that immune function activity (which usually accompanies lowered stress levels) in their subjects improved in the woods by 56 percent, the researchers noted that:
"A significant increase of 23% was maintained for one month even after returning to urban life, clearly illustrating the preventive benefits of forest therapy."
So… the benefits persist.
But what if you just can't get to the woods? There's hope for you, too:
"In an indoor room experiment, we conducted tests with the following: 1) olfactory stimulation using wood smell, 2) tactile stimulation using wood, and 3) auditory stimulation using forest sounds. These indoor stimulations also decreased the blood pressure and pulse rate, and induced a physiological relaxation effect."
Patrick's Point, thrust into the Pacific Ocean, was particularly calming because it's precisely the kind of environment in which our ancestors thrived — by an ocean full of nutritious fish, next to a forest with shade, berries to eat, and shelter to keep us safe from predators. But any wilderness is better than none at all.
Bottom line: Human beings are not meant to stare at drywall, concrete, asphalt, and fluorescent lights day after day without surcease. Forest environments heal us because they evoke our ancestral home, the place where we know, deep in our DNA, we truly belong.
So find your own Patrick's Point. In whatever way you can, invite natural places like this into your life.
Regards,

Brad Lemley
Editor, Natural Health Solutions
Citations:
1. Miyazaki Y, Ikei H, Song C. Forest medicine research in Japan. Nihon Eiseigaku Zasshi. 2014.

Written By Brad Lemley
Brad Lemley is a science and health writer and former senior correspondent for The Washington Post and Discover magazine. He is a tireless advocate for safe, natural, self-directed healthy living practices and therapies.
Dear Living Well Daily Reader, My wife has recently begun showing signs of dementia. Her doctor has put her on medicine to try and "slow the progression" but, if anything, she seems like she's just getting worse. Is there anything we can do? –Martin from Durham, North Carolina Hi Martin, Some medications claim to slow...
It always puzzles me how anyone thinks we can spray toxic chemicals on our crops and NOT have them affect our health! Because despite what food manufacturers may claim, chemical residues from pesticides and herbicides show up on (and IN) the conventionally grown food we eat. And research makes it clear that these creepy chemicals...
I think you'll agree that aging should come with some perks. And chief among them is FINALLY having the time to relax and enjoy the retirement you earned. But that's awfully hard to do if you're losing your eyesight due to macular degeneration. Instead, your golden years become tarnished by having to focus on learning...
How does that old saying go? An ounce of prevention is worth a pound of cure. We all know it's easier to STOP something from happening in the first place than to repair the damage after it's happened. And with all of its complications, including shortening your lifespan, type 2 diabetes is well worth preventing!...
I've had patients make some pretty strange claims about their arthritis. Many folks swear they can "feel a storm coming" in their joints. And I've heard this one so often (and had them be spot-on about that storm) that I believe it's true. Other patients claim their joint pain gets worse when eating tomatoes. And...
If you're "of a certain age," I bet you remember that iconic old slogan from the late 70s, "A mind is a terrible thing to waste." It always springs to mind when I see a sharp person's memory start to fade away. They soon become unable to make decisions for themselves. Eventually, they even have...
Dear Living Well Daily Reader, "Most of my family has been hit with COVID. We're thinking it's the latest variant. Are there any extra, new recommendations for protecting yourself against the variant? (Aside from washing your hands?) My husband and I have tested negative so far, but we want to be careful." –Tammy from Lancaster,...
If you have diabetes, it's almost certain that your conventional medical doctor put you on a blood sugar-lowering drug. And there's ALSO a strong possibility that the drug makes you feel terrible. Common side effects include gas, bloating, upset stomach, kidney issues, and fatigue. Even worse, over time, these drugs become less effective. So even...
Okay, I'll admit it. There have been times I've found it tough to maintain an optimistic outlook these last few years. And I'm not alone. Studies show that unhappiness and loneliness are on the rise. That's TERRIBLE news for our health. Because when you combine the two, it can deliver a devastating blow to your...
It's the nuttiest time of year. And I'm not just talking about the decorating, shopping, and holiday chaos… I'm literally talking about NUTS. Sure, we eat these tasty treats all year round. But when the holidays approach our nut consumption goes through the roof. We eat more nuts from October through December than any other...