Three Hassle-Free Ways to Cook Healthy Meals
Free yourself from boring meals and wasted time at the grocery store. Find out more…
Dietary restrictions? No problem. Discover three services that help you stick to your diet without extra hassle
Plus, learn how to feel satisfied in less time that it takes to get a pizza
Dear Living Well Daily Reader,
These days, most of us barely have time to tie our shoes, let alone go shopping for groceries.
Your busy schedule with work, exercise, and taking care of your family can sometimes make you settle for something "quick and easy," which typically translates into overheated frozen foods or not-so-healthy takeout.
And even when you do find a little time to shop, you may run out of time to cook. If you're anything like me, this means your fresh groceries end up rotting in the fridge — along with your good intentions to cook a meal for yourself or your family.
Not to mention the hassle of finding new recipes or tracking down rare and often expensive ingredients that you never use again.
Well, it doesn't have to be this way. You can cook new and exciting recipes every week without wasting time scouring the Web for new culinary creations or wasting your money on costly one-time  or unused ingredients.
In fact, with the availability of meal delivery services, cooking fresh, healthy, and delicious meals at home while experimenting with new flavors and ingredients has never been easier or more affordable.
With just the click of a mouse, pre-portioned, fresh, and unique dinners will be sent directly to your home along with complete cooking instructions and package recycling information.
Plus, as a Living Well Daily reader, you are entitled to discounts on some of the best in the business. We will share these in just a bit.
First, I am going to share three meal delivery options I found to have fresh and unique ingredients: Marley Spoon, Sun Basket, and GreenChef. Plus, they all come with easy-to-follow directions and recyclable packaging.
But the most important thing — all three make really good meals.
Let's take a closer look

Marley Spoon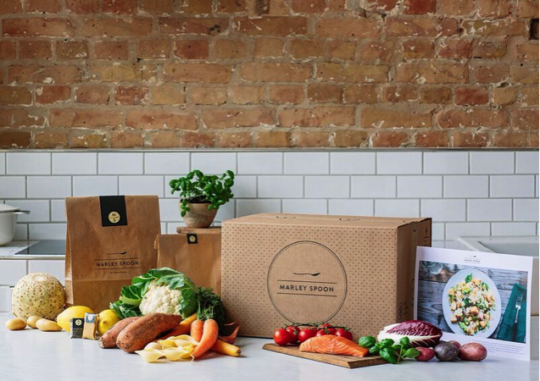 Source: Marleyspoon.com
Marley Spoon sent us two meals. One was steak, onion rings, and a fresh celery salad. The other was salmon with herbed potatoes. Both meats were very good-quality cuts and well-sized portions. And the blue cheese included was absolutely delightful.
The vegetables and herbs were very fresh, and since Marley Spoon sources organic produce when available, it makes for better-quality ingredients. However, other options have all-organic ingredients. We will get to those in a second.
I would share photos with you, but unfortunately, my camera skills do the food no justice. I found the meals to have unique recipes and felt very satisfied with the portions.
Meal choices include vegan, vegetarian, and low-carb meals. In addition, lots of meals can easily be made paleo or gluten-free by omitting certain ingredients. For example, I omitted breading the onion rings with the steak meal and sautéed them instead. This made my meal gluten-free.
Marley Spoon offers six meal boxes (three different meals, two portions each) for about $62 a week. This includes free shipping. Click here to explore Marley Spoon's menu.

GreenChef
GreenChef uses all organic ingredients and has paleo, gluten-free, vegan, and vegetarian options. These selections make meal planning very easy for folks with dietary restrictions.
Of the three meals they sent, my favorite was vegetarian Buffalo-blue cheese sweet potatoes with black bean-and-corn salsa. The ingredients were fresh and extremely flavorful in this recipe. Plus, even though there was no meat, this meal surprisingly filling.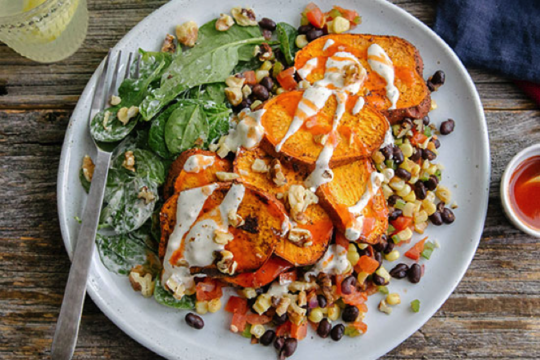 Source: Greenchef.com
The other selections included milk-brined chicken and insalata Caprese. All of the ingredients were high quality, and the organic chicken was top-notch. GreenChef collaborates with organic and sustainable food sources. You can learn more about their partners' operations on the GreenChef website.
GreenChef offers six meal boxes with meat and vegetables (three different meals, two portions each) for about $72 a week. Click here to learn more about GreenChef.

Sun Basket
Sun Basket offers paleo, gluten-free, vegetarian, and breakfast menu options. Plus, they have menu items that are soy and dairy free. Basically, Sun Basket's got you covered when it comes to most dietary restrictions. They sent us three meals: Mexican meatball soup, salmon with orange-jicama salad, and sautéed kale with chickpeas and tomato-olive relish.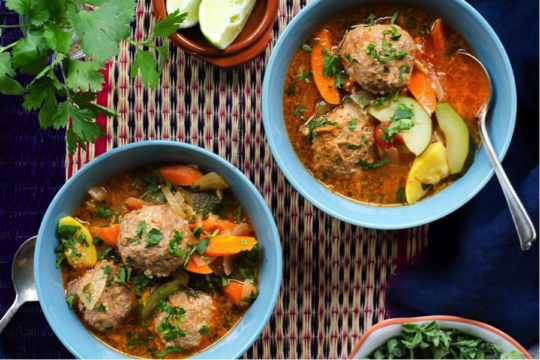 Mexican meatball soup. Source: sunbasket.com
While the salmon filets weren't as fatty and rich as the ones from Marley Spoon, they were wild-caught and antibiotic free. Plus, they were absolutely delicious.
All of the produce was extremely crisp and perfectly ripened. The vegetarian kale and chickpea dish was easy to make and had a robust flavor and texture and was, once again, surprisingly filling.
But of the three, my favorite was the Mexican meatball soup. The grass-fed ground beef made delicious meatballs, and the spices were well selected. When all ingredients were combined, the flavor and texture were unlike anything I would've ever come up with on my own. It made the perfect meal and was enough for four portions.
Sun Basket uses all-organic produce; grass-fed, antibiotic-free pastured meats; and sustainable seafood. In addition, they offer recycling pickup if you aren't able to recycle the packaging properly in your area. Sun Basket costs roughly $70 a week for the six-meal options. Click here to learn more about Sun Basket.
The greatest part of all these services was learning new cooking techniques while making my own meal with quality ingredients. Plus, they were all quick and easy. All meals were cooked in less than 40 minutes which makes it quicker than most pizza deliveries.
If you're looking for a new way to experience dinner, give one a shot.
Live well,

Natalie Moore
Managing editor, Living Well Daily

Written By Natalie Moore
Natalie Moore is a dedicated health researcher with a passion for finding healthy, natural, and science-based solutions. After a decade of direct healthcare experience in western and natural medicine, she was involved in public health research before joining Living Well Daily.
It always puzzles me how anyone thinks we can spray toxic chemicals on our crops and NOT have them affect our health! Because despite what food manufacturers may claim, chemical residues from pesticides and herbicides show up on (and IN) the conventionally grown food we eat. And research makes it clear that these creepy chemicals...
I think you'll agree that aging should come with some perks. And chief among them is FINALLY having the time to relax and enjoy the retirement you earned. But that's awfully hard to do if you're losing your eyesight due to macular degeneration. Instead, your golden years become tarnished by having to focus on learning...
How does that old saying go? An ounce of prevention is worth a pound of cure. We all know it's easier to STOP something from happening in the first place than to repair the damage after it's happened. And with all of its complications, including shortening your lifespan, type 2 diabetes is well worth preventing!...
I've had patients make some pretty strange claims about their arthritis. Many folks swear they can "feel a storm coming" in their joints. And I've heard this one so often (and had them be spot-on about that storm) that I believe it's true. Other patients claim their joint pain gets worse when eating tomatoes. And...
If you're "of a certain age," I bet you remember that iconic old slogan from the late 70s, "A mind is a terrible thing to waste." It always springs to mind when I see a sharp person's memory start to fade away. They soon become unable to make decisions for themselves. Eventually, they even have...
Dear Living Well Daily Reader, "Most of my family has been hit with COVID. We're thinking it's the latest variant. Are there any extra, new recommendations for protecting yourself against the variant? (Aside from washing your hands?) My husband and I have tested negative so far, but we want to be careful." –Tammy from Lancaster,...
If you have diabetes, it's almost certain that your conventional medical doctor put you on a blood sugar-lowering drug. And there's ALSO a strong possibility that the drug makes you feel terrible. Common side effects include gas, bloating, upset stomach, kidney issues, and fatigue. Even worse, over time, these drugs become less effective. So even...
Okay, I'll admit it. There have been times I've found it tough to maintain an optimistic outlook these last few years. And I'm not alone. Studies show that unhappiness and loneliness are on the rise. That's TERRIBLE news for our health. Because when you combine the two, it can deliver a devastating blow to your...
It's the nuttiest time of year. And I'm not just talking about the decorating, shopping, and holiday chaos… I'm literally talking about NUTS. Sure, we eat these tasty treats all year round. But when the holidays approach our nut consumption goes through the roof. We eat more nuts from October through December than any other...
Regular readers know I'm gaga for coffee. My favorite brew is downright delicious, of course. But even better, coffee is packed full of powerful phytochemicals that are natural antioxidants. In other words, coffee helps fight off the free radicals that play a role in heart disease, diabetes, cancer, and more. But I get asked a...