Three Hassle-Free Ways to Cook Healthy Meals
Free yourself from boring meals and wasted time at the grocery store. Find out more…
Dietary restrictions? No problem. Discover three services that help you stick to your diet without extra hassle
Plus, learn how to feel satisfied in less time that it takes to get a pizza
Dear Living Well Daily Reader,
These days, most of us barely have time to tie our shoes, let alone go shopping for groceries.
Your busy schedule with work, exercise, and taking care of your family can sometimes make you settle for something "quick and easy," which typically translates into overheated frozen foods or not-so-healthy takeout.
And even when you do find a little time to shop, you may run out of time to cook. If you're anything like me, this means your fresh groceries end up rotting in the fridge — along with your good intentions to cook a meal for yourself or your family.
Not to mention the hassle of finding new recipes or tracking down rare and often expensive ingredients that you never use again.
Well, it doesn't have to be this way. You can cook new and exciting recipes every week without wasting time scouring the Web for new culinary creations or wasting your money on costly one-time  or unused ingredients.
In fact, with the availability of meal delivery services, cooking fresh, healthy, and delicious meals at home while experimenting with new flavors and ingredients has never been easier or more affordable.
With just the click of a mouse, pre-portioned, fresh, and unique dinners will be sent directly to your home along with complete cooking instructions and package recycling information.
Plus, as a Living Well Daily reader, you are entitled to discounts on some of the best in the business. We will share these in just a bit.
First, I am going to share three meal delivery options I found to have fresh and unique ingredients: Marley Spoon, Sun Basket, and GreenChef. Plus, they all come with easy-to-follow directions and recyclable packaging.
But the most important thing — all three make really good meals.
Let's take a closer look

Marley Spoon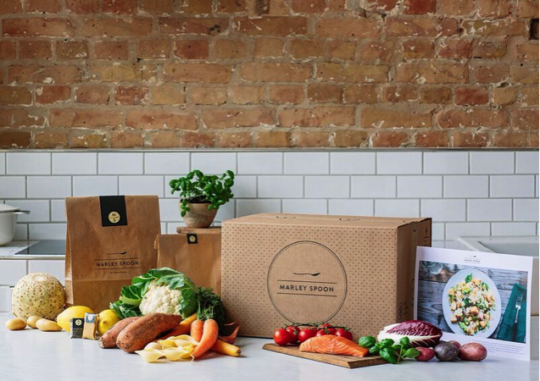 Source: Marleyspoon.com
Marley Spoon sent us two meals. One was steak, onion rings, and a fresh celery salad. The other was salmon with herbed potatoes. Both meats were very good-quality cuts and well-sized portions. And the blue cheese included was absolutely delightful.
The vegetables and herbs were very fresh, and since Marley Spoon sources organic produce when available, it makes for better-quality ingredients. However, other options have all-organic ingredients. We will get to those in a second.
I would share photos with you, but unfortunately, my camera skills do the food no justice. I found the meals to have unique recipes and felt very satisfied with the portions.
Meal choices include vegan, vegetarian, and low-carb meals. In addition, lots of meals can easily be made paleo or gluten-free by omitting certain ingredients. For example, I omitted breading the onion rings with the steak meal and sautéed them instead. This made my meal gluten-free.
Marley Spoon offers six meal boxes (three different meals, two portions each) for about $62 a week. This includes free shipping. Click here to explore Marley Spoon's menu.

GreenChef
GreenChef uses all organic ingredients and has paleo, gluten-free, vegan, and vegetarian options. These selections make meal planning very easy for folks with dietary restrictions.
Of the three meals they sent, my favorite was vegetarian Buffalo-blue cheese sweet potatoes with black bean-and-corn salsa. The ingredients were fresh and extremely flavorful in this recipe. Plus, even though there was no meat, this meal surprisingly filling.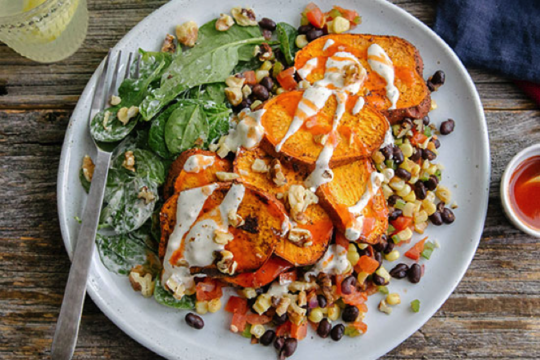 Source: Greenchef.com
The other selections included milk-brined chicken and insalata Caprese. All of the ingredients were high quality, and the organic chicken was top-notch. GreenChef collaborates with organic and sustainable food sources. You can learn more about their partners' operations on the GreenChef website.
GreenChef offers six meal boxes with meat and vegetables (three different meals, two portions each) for about $72 a week. Click here to learn more about GreenChef.

Sun Basket
Sun Basket offers paleo, gluten-free, vegetarian, and breakfast menu options. Plus, they have menu items that are soy and dairy free. Basically, Sun Basket's got you covered when it comes to most dietary restrictions. They sent us three meals: Mexican meatball soup, salmon with orange-jicama salad, and sautéed kale with chickpeas and tomato-olive relish.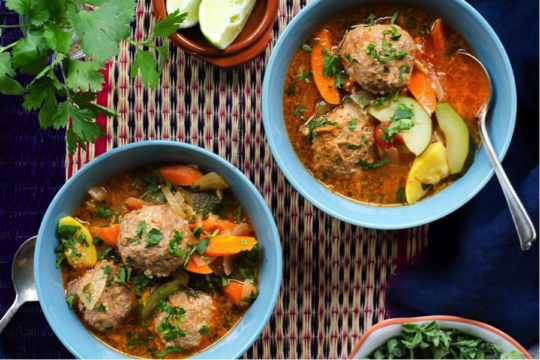 Mexican meatball soup. Source: sunbasket.com
While the salmon filets weren't as fatty and rich as the ones from Marley Spoon, they were wild-caught and antibiotic free. Plus, they were absolutely delicious.
All of the produce was extremely crisp and perfectly ripened. The vegetarian kale and chickpea dish was easy to make and had a robust flavor and texture and was, once again, surprisingly filling.
But of the three, my favorite was the Mexican meatball soup. The grass-fed ground beef made delicious meatballs, and the spices were well selected. When all ingredients were combined, the flavor and texture were unlike anything I would've ever come up with on my own. It made the perfect meal and was enough for four portions.
Sun Basket uses all-organic produce; grass-fed, antibiotic-free pastured meats; and sustainable seafood. In addition, they offer recycling pickup if you aren't able to recycle the packaging properly in your area. Sun Basket costs roughly $70 a week for the six-meal options. Click here to learn more about Sun Basket.
The greatest part of all these services was learning new cooking techniques while making my own meal with quality ingredients. Plus, they were all quick and easy. All meals were cooked in less than 40 minutes which makes it quicker than most pizza deliveries.
If you're looking for a new way to experience dinner, give one a shot.
Live well,

Natalie Moore
Managing editor, Living Well Daily

Written By Natalie Moore
Natalie Moore is a dedicated health researcher with a passion for finding healthy, natural, and science-based solutions. After a decade of direct healthcare experience in western and natural medicine, she was involved in public health research before joining Living Well Daily.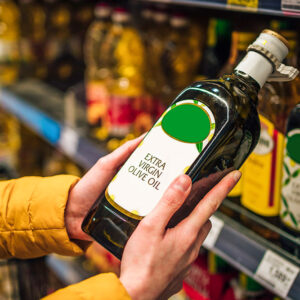 Olive oil has been getting some well-deserved attention the last few years. So it would be easy to assume that the golden oil's status as a health food was recently earned. But the truth is, olive oil has been considered a healthy staple in the human diet since it was first developed 600 years ago....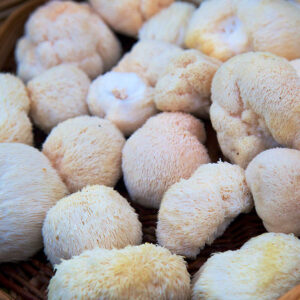 I'm a big fan of medicinal mushrooms. Almost everyone has eaten a standard mushroom on a pizza or in a spaghetti sauce, of course. But most folks have yet to experience medical mushrooms' power to improve our health. Medicinal mushrooms are already used to treat heart, liver, and brain conditions. They can boost the immune...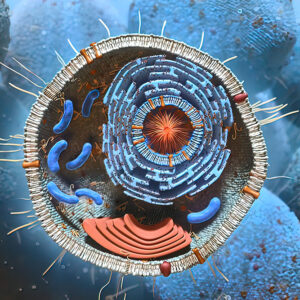 Aging isn't for sissies, that's for sure. But hey, I always remind myself the alternative is FAR worse! Besides, when you sit back and take stock, you'll realize that a life well lived – like your own – is something to be proud of. But those accomplishments, unfortunately, don't reduce your risk of suffering the...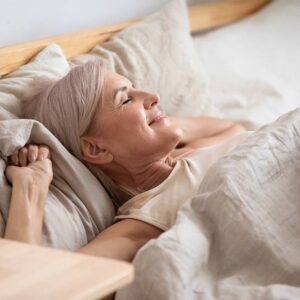 If you're concerned about diabetes, you've probably done your research. You likely focused on all the common problem areas to ward off rising blood sugar: the grocery store… the gym… and the bathroom scale. And those ARE all great places to start! Eating better, exercising, and losing weight can go a long way toward bringing your...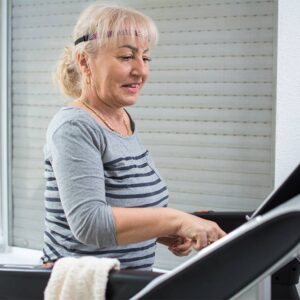 This time of year, I start to feel a little stir-crazy. Cabin fever sets in as I tire of the cold and snow. And I start thinking about the warmer weather that's right around the corner (but still feels SO far away). You see, I enjoy walking, hiking, and running outside. It's good for both...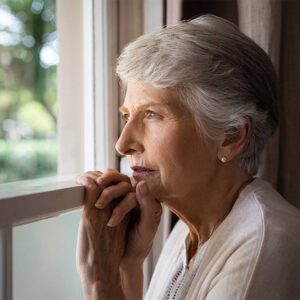 Before the pandemic, we didn't talk much about being lonely. But when the virus locked us down in our homes, the issue of isolation could no longer be ignored. Some of us were experiencing that kind of loneliness for the first time. But the truth is social isolation has ALWAYS been a common problem for...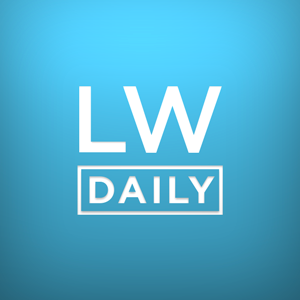 "Are there any natural solutions for an enlarged prostate?" -Mike from Summerville, South Carolina Hi Mike, There are many things you can do to improve your prostate health. Eating better is the first step. This means loading up on nutritious foods, including plenty of fresh organic vegetables and lean meats. (And yes, that DOES mean...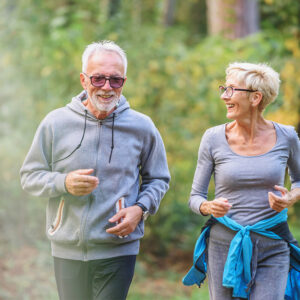 You think that when you reach "your golden years," you won't have much to worry about anymore. After all, many of life's major stressors, like work, kids, and relationships, are pretty much settled by the time you hit your sixties. So why the heck are we all so darned depressed then?! According to a recent...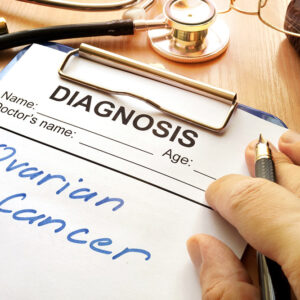 Cancer research is nothing new. In fact, we've been studying this killer since the 1800s. Yet despite all that investigating, there's still so much we DON'T know. That's why each time we reach a new milestone in our understanding of cancer, it should be celebrated. And a recent study has helped us make another large...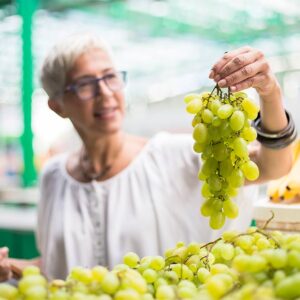 In the winter, we tend to ignore the importance of protecting our skin from the sun's powerful rays. But where I live, in Colorado, I see many folks come down from the ski areas with "raccoon eyes." This happens when skiers' faces burn, but the areas around their eyes remain pale because they wear goggles....