Toxins Found in This Common Pill (and the FDA Knows It)
The FDA's lack of concern for consumer health is a hard pill to swallow
Is your DNA being mutated every time you pop a pill? Find out…
Three quick steps to keep inflammation, heart disease, and diabetes out of your health regime. 
Dear Reader,
Most folks don't mind parting with a little cash for products they think may improve or ensure their health.
But the problem is some products are doing more harm than good.
In fact, you may have a few examples of these products around your house — I know I do.
I have tried everything from Himalayan salt lamps to detoxing foot pads to boost my health.
While most people don't go to these extremes to keep their health in check, there is a product that over half of Americans purchase with the hope for better health.
And they pay for it — in more ways than one.
According to the National Institutes of Health, Americans spend an estimated $5.7 billion every year on just this one pill .1
The problem is it comes at more than just a monetary cost to the consumer.
You see, this product can be full of worthless and even dangerous fillers and additives. We will reveal some of the toxic additives in a bit and of course how to avoid them.
But to be clear, most capsules have fillers, but not all fillers are dangerous. Just the ones with proven negative health outcomes.
In the best case, these fillers add no nutritional value. At worst, they a can contribute to serious health risks like heart disease, diabetes, inflammation, and even DNA damage.
And since the FDA has approved these fillers for use in foods, drugs, and supplements, it isn't going to save you, either.
Instead, it will sit on the sidelines while these "healthy" little pills bring in the billions and the manufacturers keep throwing toxins into them.

So what are these risky remedies?
Multivitamins.
Today, we will share with you three of the health dangers tucked away in your everyday pills and share ways to avoid them.
But first, let's get to the dangers…

Heath Danger #1: Artificial Colors
 Many gummy vitamins — for both children and adults — have artificial colors in them.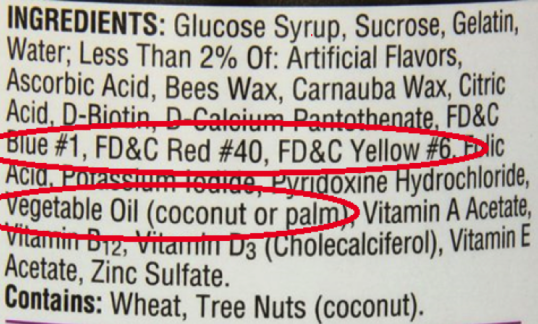 The list of ingredients for a popular kids gummy vitamin.
Source: Amazon.com

You may be wondering: What are artificial colors doing in my vitamins?!?
Well, the FDA (which approves the use of synthetic colors in foods as well) reports the following explanations for why artificial colors are in your vitamins:
1) To offset color loss due to exposure to light, air, temperature extremes, moisture, and storage conditions; 2) correct natural variations in color; 3) enhance colors that occur naturally; 4) provide color to colorless and "fun" foods. 2
I'm not sure why anyone's vitamin needs to be "fun." But the bigger concern here is that these artificial colors could be masking the degradation of active ingredients due to moisture, light, or heat.
Plus, the FDA once investigated the link between Red #40 and ADHD in kids but hasn't acted. However, the European Union has already issued warning labels for six artificial colors because of  their link to ADHD.3,4 Not to mention other artificial colors have been linked to cancers in the past.4
You might think these reasons would be enough for the FDA to ban this synthetic garbage from making its way in to any product, yet artificial colors are still in countless foods and vitamins.
Thanks, FDA.
However, artificial colors might be the least of your worries. This next filler has a reputation for wreaking havoc on your health.

Health Danger #2: Hydrogenated Oils and GMOs
All types of vitamins — capsules, tablets, softgels, and gummies — may have hidden hydrogenated oils (and partially hydrogenated oils) or GMO products hidden in them. These include corn and soybean oils.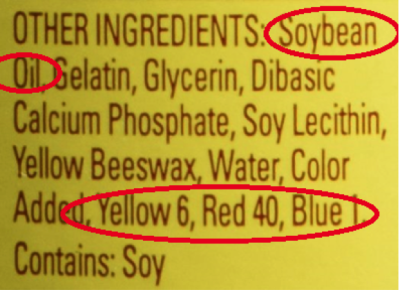 Soybean oil and artificial colors are found in this adult daily multivitamin.
Source: Amazon.com
Partially hydrogenated oils, aka trans fats, can lead to a whole host of dangerous health problems including heart disease, stroke, inflammation, diabetes, and other chronic conditions, because they raise your low-density lipoprotein (LDL), or "bad" cholesterol, levels.5
And even if the soybean or corn oil in your multivitamin isn't hydrogenated, it's almost certainly GMO if you aren't choosing an organic or GMO-free source.
We all know GMO's are bad, but they may not be as scary as the next nasty toxin…
Metal.

Health Danger #3: Titanium Dioxide
Titanium dioxide is often used as a coloring agent in both supplements and cosmetics. However, this pigment comes at grave health costs.

Titanium dioxide is listed as an ingredient in a popular multivitamin tablet.
Source: Amazon.com

This naturally occurring metal can cause lung inflammation and immune system issues in workers during production.6 And while exposure from taking a pill isn't as drastic as that from working with it, you have to wonder what it might be doing to your body.
As it turns out, it may be doing a lot.
One study shows titanium dioxide can create a small amount of DNA damage. This means you're getting a tiny dose of DNA damage every time you pop a vitamin.7
Yikes!
Yet again, our health is jeopardized for the aesthetics of supplements. I think I would rather swallow an ugly pill than damage my genetic code.
But since pretty pills sell, you need to make a few changes when buying supplements. Here are few things you can do to protect yourself…

Vitamin Solutions
It's pretty obvious the FDA is doing more to protect the big food suppliers than, you know, the food supply (of which supplements are technically a part) from these dangerous additives, so it's up to you to find safe vitamins and supplements.
Here are a few ways to do that:
Check the labels — if you see that your vitamin has addition color, make sure it's from a vegetable source. Also be sure to look for an organic or GMO-free label to ensure you're not consuming GMO oils or other GM products.
Reach out to your supplement company and ask them about their ingredients. You can do this through their website or consumer hotline (always look for the number on the bottle before you purchase).
Eat a variety of organic vegetables, fruits, and meats to get as many vitamins and nutrients as possible.
Live well,

Natalie Moore
Managing editor, Living Well Daily
P.S. Do you have supplement questions you would like answered? Send them in! We would love to answer them for you. Direct all questions to nmoore@lfb.org
---
Sources
[1] Multivitamin/mineral Supplements
[3] FDA Probes Link Between Food Dyes, Kids' Behavior
[4] Living in Color: The Potential Dangers of Artificial Dyes
[5] Shining the Spotlight on Trans Fats
[6] Effects of Th1 and Th2 cells balance in pulmonary injury induced by nano titanium dioxide.
[7] Immunomodulatory activity of zinc peroxide (ZnO₂) and titanium dioxide (TiO₂) nanoparticles and their effects on DNA and protein integrity.

Written By Natalie Moore
Natalie Moore is a dedicated health researcher with a passion for finding healthy, natural, and science-based solutions. After a decade of direct healthcare experience in western and natural medicine, she was involved in public health research before joining Living Well Daily.
I have arthritis in my spine. What would you suggest to help manage it? –George from Cedar Rapids, IA George, Believe it or not, many people learn that they have spinal arthritis as they age. It's very common. There's a lot you can do to help keep it from advancing or even reverse some of...
Dear Living Well Daily Reader, There is a plague of anxiety sweeping the nation. And who could blame us? Anyone with half a brain SHOULD feel anxious about the state of the world. But like any other epidemic, just because something is going around doesn't mean you should accept it. More importantly, having anxiety does...
Dear Living Well Daily Reader, If you or someone you love suffers from multiple sclerosis (MS), you already know how the disease can turn your life upside down. The stiffness and mobility problems slowly strip away your independence… and leave you in pain. Talk to your mainstream doc and he'll just shrug their shoulders –...
Dear Living Well Daily Reader, If you're a woman, chances are you have heard about the BRCA gene (BReast CAncer gene). Scientists have known for a long time that a mutation in one of two breast cancer genes, BRCA1 or BRCA2, increases the risk of getting breast cancer. But, men, listen up – just because...
Dear Living Well Daily Reader, Some people might shrug when you tell them you have knee pain… but that's only if they haven't experienced firsthand. Chronic pain from osteoarthritis is no joke— it can destroy your life. Joint pain makes moving incredibly difficult and can keep you from doing the things you love. Before you know it,...
Dear Living Well Daily Reader, Inflammation is supposed to be a normal response for your body. It's one of the key defenses protecting you. Inflammation can sometimes be our friend… when it helps fight off infections and clears away debris, that is. The problems start when inflammation blazes out of control or lasts longer than...
I have psoriasis, and I was wondering what supplements or natural treatments there are out there. –Bill from Riverside, CA Bill, As you probably know, psoriasis is a chronic autoimmune disease where the body attacks the skin as if it were a foreign invader. Psoriasis affects about two percent of the U.S. population. Normal, healthy...
Dear Living Well Daily Reader, I'm on a personal mission to rescue coffee from the hands of the nutritional puritans who think that anything fun is not good for you. Despite what the mainstream would have you believe, the news on coffee has improved in recent years. Researchers have pinpointed many powerful plant nutrients, like...
Dear Living Well Daily Reader, Some suggest pretty complicated ways to keep your brain healthy as you age. Going back to college… doing complicated puzzles… taking what feels like 30 bottles of pills a day… It can make you feel like giving up before you've even started! But what if there was something MUCH easier...
Dear Living Well Daily Reader, If you're tired constantly refilling pain prescriptions, you're not alone. And if you're even MORE tired of the side effects that come with them, who could blame you? For far too long, Big Pharma has held arthritis patients hostage… promising relief while they rob you blind. It's time for something...