Ultra-Processed: The Sweet, Sad Truth About The American Diet
Clean these foods out of your pantry!
Sugar, sugar everywhere, but not a nutrient in sight
The American diet: overfed and undernourished.
Dear Reader,
What did you have for breakfast?
There's a good chance you may have taken a bite out of a once-frozen waffle or spooned down some cereal as you got your morning started — well, if you ate your breakfast in America, that is.
In fact, it's more like a great chance.
New evidence taken from America's largest health survey, the National Health and Nutrition Examination Survey (NHANES), finds that Americans are getting a staggering amount of their calories from ultra-processed food sources.
But the bad news just keeps coming from this study.
As it turns out, all of this ultra-processed food is responsible for almost the entire amount of the additional sugar that clogs up the American dietscape. And it's making our country unhealthy.
Today, we will provide you some examples of what these foods are and what they can do to your body.
First, let's break down the study.

Ultra-gross
The study, from the University of São Paulo and Tufts University, was published in BMJ Open last week.
Data taken from the NHANES let researches examine the dietary habits of over 9,000 people.
After analyzing this information, they discovered 58 percent of the participants' diets consisted of ultra-processed foods.
In addition, they found that 30 percent of the participants' calories were coming from minimally processed foods. Processed but not ultra-processed foods made up 9.4 percent. Lastly, 3 percent consisted of "processed culinary ingredients," like salt, oils, and sugar.
"Processed" foods are different from "ultra-processed foods."
Let's break it down…
Per the FDA, a food is "fresh" when it's been recently harvested. However, I should mention, the FDA also allows foods that have been drenched in pesticides and coated in preservatives to be called "fresh."
Minimually processed foods are things like frozen vegetables, pastas, eggs, and some meats.
Processed foods include items such as canned foods, cheese, breads, and even wine.
However, for the purposes of this study, the researchers were concerned with foods that are ultra-processed.
They define them as:
Formulations of several ingredients which, besides salt, sugar, oils, and fats, include food substances not used in culinary preparations, in particular, flavors, colors, sweeteners, emulsifiers, and other additives used to imitate sensorial qualities of unprocessed or minimally processed foods and their culinary preparations or to disguise undesirable qualities of the final product.1
Yum.
They also include examples: "Ultra-processed foods include mass-produced soft drinks; sweet or savory packaged snacks; confectionery and desserts; packaged baked goods; chicken/fish nuggets and other reconstituted meat products; instant noodles and soups." 1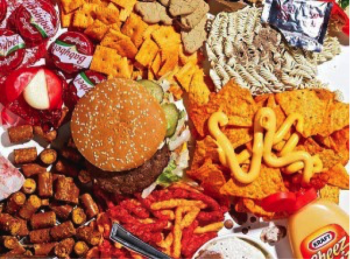 The building blocks of many Americans.
Photo credit: middleagemusclegain.com
But it's these ultra-processed foods that are accounting for just about all of massive amounts of sugars we are eating — 90 percent, to be exact.

Sickeningly Sweet
The study found that one of every five calories in the average ultra-processed food product is due to sugar.
The 2015–2020 U.S. Dietary Guidelines and the World Health Organization both recommend that added sugars make up 10 percent or less of your daily caloric intake.
Only people who ate within the lowest 20 percent of the ultra-processed food range were in the 10 percent range for their average daily added sugar intake.
The 80 percent of those who ate the most ultra-processed foods blew right past the 10 percent limit.
As you may already know, added sugars can cause many health issues, including diabetes, obesity, tooth decay, risk of heart disease, and cancer.2
They suggest one of the main issues with the American diet is that sugar-laden, ultra-processed foods are replacing "more-nutrient-dense foods." Because of this, Americans are "simultaneously overfed and undernourished." 2
In conclusion of the study, the researchers suggest the obvious: The best way for you to cut out this added sugar is to reduce your intake of ultra-processed foods.
If you have any special ways to avoid processed foods you would like to share, please do!
Nmoore@lfb.org
Live well,

Natalie Moore
Managing editor, Living Well Daily
---
Sources
[1] 'Ultra-processed' foods make up more than half of all calories in US diet
[2] Ultra-processed foods and added sugars in the US diet: evidence from a nationally representative cross-sectional study

Written By Natalie Moore
Natalie Moore is a dedicated health researcher with a passion for finding healthy, natural, and science-based solutions. After a decade of direct healthcare experience in western and natural medicine, she was involved in public health research before joining Living Well Daily.
I've sung the praises of omega-3 fatty acids many times here in Living Well Daily. I've encouraged you to be sure you're getting enough of the omega-3s eicosapentaenoic acid (EPA) and docosahexaenoic acid (DHA) by eating plenty of cold-water fatty fish and taking supplements when needed. And there's a good reason for that. EPA and...
I'm sure you know that getting enough sleep is good for you. But what does that mean, exactly? It's always been hard to get a straight answer. Until now, that is. Thanks to new research we have an answer to that question. The newly published 25-year study compares the sleep habits of over 7,000 men...
Dear Living Well Daily Reader, "Along with COVID, I'm worried about getting the flu this year. What do you recommend for avoiding the flu? The flu shot?" – Mike from Park City, UT Hi Mike, I'll be honest. The flu vaccine COULD have a better long-term track record. According to the Centers for Disease Control...
If you've been a loyal reader for a while now you're probably already taking steps to ensure your health is in tip-top shape. You do your best to eat well… You stay hydrated… You, hopefully, get in some regular exercise… And maybe you even take a multivitamin… While I would certainly give you an A...
Healthy aging boils down to one surprising thing: your muscles. I know that may sound strange at first. But hear me out. Maintaining strong and healthy muscles is the first step to keeping a healthy body and sharp mind well into your golden years. After all, sturdy muscles are required to fight off frailty and...
They say cleanliness is next to godliness. Now, I don't know about that. But, I DO know that when it comes to your kitchen, cleanliness is absolutely VITAL. The trouble is, even the cleanest of kitchens can harbor some sickening hidden secrets. And new research just revealed one of the most surprising culprits. Trust me,...
Does developing a sniffle, sneeze, or cough practically cause you to panic these days? If so, you're not alone. Many of us feel the same way. Gone are the "good old days" when you only had to worry if you were coming down with a cold or the flu. And, let's be honest, we didn't...
Dear Living Well Daily Reader, Make a cup of tea. Read a couple of pages in a book. Watch a silly cat video. There are a bunch of things you can do in three minutes. And now scientists say defeating diabetes could be one of them. If you're struggling with blood sugar control, your doctor...
Dear Living Well Daily Reader, "I hate that I can no longer just eat whatever I want. I either seem to have indigestion, bloating, or gas. I'm always taking antacids. It's miserable and frustrating — what else can I do besides only eating potatoes?" –– Carl, from Lincoln, NE Hi Carl, Let's start with the...
Remember when they said we'd just need to hunker down at home for a few weeks, and this whole COVID-19 thing would blow over? It's safe to say they got that one wrong. In fact, it's looking like COVID-19 is less of a visitor and more of a permanent house guest these days. That means...