Ultra-Processed: The Sweet, Sad Truth About The American Diet
Clean these foods out of your pantry!
Sugar, sugar everywhere, but not a nutrient in sight
The American diet: overfed and undernourished.
Dear Reader,
What did you have for breakfast?
There's a good chance you may have taken a bite out of a once-frozen waffle or spooned down some cereal as you got your morning started — well, if you ate your breakfast in America, that is.
In fact, it's more like a great chance.
New evidence taken from America's largest health survey, the National Health and Nutrition Examination Survey (NHANES), finds that Americans are getting a staggering amount of their calories from ultra-processed food sources.
But the bad news just keeps coming from this study.
As it turns out, all of this ultra-processed food is responsible for almost the entire amount of the additional sugar that clogs up the American dietscape. And it's making our country unhealthy.
Today, we will provide you some examples of what these foods are and what they can do to your body.
First, let's break down the study.

Ultra-gross
The study, from the University of São Paulo and Tufts University, was published in BMJ Open last week.
Data taken from the NHANES let researches examine the dietary habits of over 9,000 people.
After analyzing this information, they discovered 58 percent of the participants' diets consisted of ultra-processed foods.
In addition, they found that 30 percent of the participants' calories were coming from minimally processed foods. Processed but not ultra-processed foods made up 9.4 percent. Lastly, 3 percent consisted of "processed culinary ingredients," like salt, oils, and sugar.
"Processed" foods are different from "ultra-processed foods."
Let's break it down…
Per the FDA, a food is "fresh" when it's been recently harvested. However, I should mention, the FDA also allows foods that have been drenched in pesticides and coated in preservatives to be called "fresh."
Minimually processed foods are things like frozen vegetables, pastas, eggs, and some meats.
Processed foods include items such as canned foods, cheese, breads, and even wine.
However, for the purposes of this study, the researchers were concerned with foods that are ultra-processed.
They define them as:
Formulations of several ingredients which, besides salt, sugar, oils, and fats, include food substances not used in culinary preparations, in particular, flavors, colors, sweeteners, emulsifiers, and other additives used to imitate sensorial qualities of unprocessed or minimally processed foods and their culinary preparations or to disguise undesirable qualities of the final product.1
Yum.
They also include examples: "Ultra-processed foods include mass-produced soft drinks; sweet or savory packaged snacks; confectionery and desserts; packaged baked goods; chicken/fish nuggets and other reconstituted meat products; instant noodles and soups." 1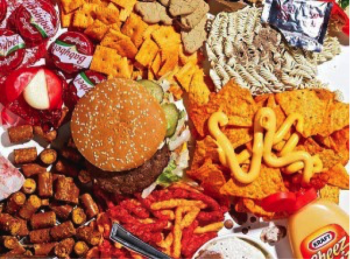 The building blocks of many Americans.
Photo credit: middleagemusclegain.com
But it's these ultra-processed foods that are accounting for just about all of massive amounts of sugars we are eating — 90 percent, to be exact.

Sickeningly Sweet
The study found that one of every five calories in the average ultra-processed food product is due to sugar.
The 2015–2020 U.S. Dietary Guidelines and the World Health Organization both recommend that added sugars make up 10 percent or less of your daily caloric intake.
Only people who ate within the lowest 20 percent of the ultra-processed food range were in the 10 percent range for their average daily added sugar intake.
The 80 percent of those who ate the most ultra-processed foods blew right past the 10 percent limit.
As you may already know, added sugars can cause many health issues, including diabetes, obesity, tooth decay, risk of heart disease, and cancer.2
They suggest one of the main issues with the American diet is that sugar-laden, ultra-processed foods are replacing "more-nutrient-dense foods." Because of this, Americans are "simultaneously overfed and undernourished." 2
In conclusion of the study, the researchers suggest the obvious: The best way for you to cut out this added sugar is to reduce your intake of ultra-processed foods.
If you have any special ways to avoid processed foods you would like to share, please do!
Nmoore@lfb.org
Live well,

Natalie Moore
Managing editor, Living Well Daily
---
Sources
[1] 'Ultra-processed' foods make up more than half of all calories in US diet
[2] Ultra-processed foods and added sugars in the US diet: evidence from a nationally representative cross-sectional study

Written By Natalie Moore
Natalie Moore is a dedicated health researcher with a passion for finding healthy, natural, and science-based solutions. After a decade of direct healthcare experience in western and natural medicine, she was involved in public health research before joining Living Well Daily.
Dear Living Well Daily Reader, There are a lot of reasons to hate belly fat. Researchers call this type of fat "visceral fat," and it's been linked to metabolic diseases and increased risk for heart disease and type 2 diabetes. In women, visceral fat is associated with an increased risk of breast cancer and gallbladder...
I was recently diagnosed with A-fib, and I was hoping you could suggest some natural ways to deal with it. –Lawanda from Milwaukee, WI Lawanda, As I'm sure your doctor probably explained, A-fib (atrial fibrillation) is a heart condition where the atria (upper part of the heart) beats irregularly. This irregular rhythm can cause a...
Dear Living Well Daily Reader, Most people think vitamin D is, understandably, just one vitamin.  But many vitamins have different forms or types… and vitamin D is no exception. Vitamin D is categorized in two types: vitamin D2 and vitamin D3. And the difference between the two is crucial. In fact, one helps your immune...
Dear Living Well Daily Reader, My readers are smart people. If I were to ask you what to do to keep your heart healthy, I'm betting you could list a ton of nutrients. The same is true if I ask about bone health. You know what you need to do. (And why it probably won't...
Dear Living Well Daily Reader, When it comes to natural health, there are new advancements every day. If you're a frequent reader of mine, you're probably well-versed on natural compounds… You may even supplement with a few already! But there's an entire group of compounds that few know about – phytonutrients. Phytonutrients include carotenoids such...
Dear Living Well Daily Reader, Growing up, my mother practically pulled her hair out trying to get me to listen to her advice. Here's the thing: I can't think of a single time when my mother gave me advice that was wrong. And now her advice has been proven yet again, this time about breakfast....
Dear Living Well Daily Reader, There's nothing like a good night's sleep. There's a lot riding on your sleep—including your overall health. Poor sleep can lead to a number of problems, like weight gain and even lung disease. And now your odds of getting a good night's sleep have just gotten worse. Researchers have found...
I had surgery on my prostate for BPH several years ago, and it's affected my love life. I've heard about nitric oxide levels causing this problem—is this true? –Robert from Dallas, TX Robert, The answer to your question is a little difficult to answer. Sadly, your symptoms are NOT unique: many men find they have...
Dear Living Well Daily Reader, It seems like every time you turn on the news, Big Pharma's drugs are causing MORE problems than they "fix." Whether it's addictive painkillers or (yet again!) another drug recall, it's clear that Big Pharma doesn't care… and neither does the FDA. It almost seems as though the drug companies...
Dear Living Well Daily Readers, Severe tiredness and exhaustion go hand in hand with cancer, and it's horrible. The worse the cancer and more extensive the treatment, the worse the fatigue. Ask any mainstream doctor about relief from fatigue and they will say something like, "unfortunately, good pharmacological treatment options are limited." Which means: the...