You Say Tomato, I Say (Tangerine) Tomahto
Toasted white bread. Mayo. American cheese. Salt, pepper, and two thick slices of fresh-picked red ripe tomato.
Growing up, that was our family's classic summer sandwich. On a hot day, there really wasn't anything better.
We now know that the white bread, mayo, and processed cheese are best avoided or eaten only as a very special treat. But the tomato? That's one of the healthiest summer fruits you can find. And if you grow it yourself or get it local and organic, you really can't go wrong.
Thanks to the clever marketing of Heinz ketchup, many people are aware that it's the lycopene content of tomatoes that researchers believe hold most of their health benefits.
Lycopene has been shown to have strong antioxidant properties, and numerous studies have linked diets high in lycopene-rich foods, like tomatoes, to reduced risk of cancer, heart disease, and eye diseases. And it's been found to be especially protective against prostate cancer.
Just last week, I wrote about how women who ate lycopene-rich tomato paste for 12 weeks experienced protection against sunburn and sun damage compared with women who did not eat the tomato paste.
And since then, I've come across two more studies showing lycopene-rich foods can help protect against sunburn and sun damage. (1) (2)
Eating red tomatoes is a great way to get lycopene; they supply about 80% of lycopene in the American diet. And unlike with many other vitamins and phytonutrients, cooking tomatoes actually increases the bioavailability of lycopene (meaning how much you absorb). Cooking tomatoes in olive oil can increase the bioavailability of lycopene even further. (3)
And now a new study published in Molecular Nutrition & Food Research suggests there is an even better source of lycopene than red tomatoes: the bright orange tangerine tomato. (4)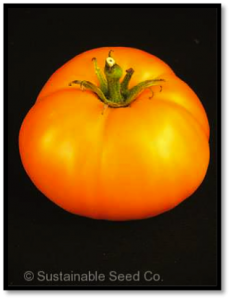 Tangerine tomato
In this study, researchers gave participants a meal containing either tangerine tomato juice or red tomato juice and then measured their blood levels of lycopene. Then after a washout period, the participants switched to the other type of tomato and the researchers again measured their lycopene blood levels.
Surprisingly, the tangerine tomatoes boosted blood levels of lycopene about 8.5-fold better than the red tomatoes!
It was a small study — only 11 participants — and the researchers noted there were a lot of individual differences in absorption among the study participants.
But another study published in back in 2009 had similar findings. In this study, 21 men and women were fed either red or tangerine tomato chili for one week. Again, the tangerine tomatoes boosted lycopene levels greater than the red tomatoes. The researchers also found that while both types of tomatoes decreased markers of oxidative damage, the tangerine tomatoes produced better results. (5)
The reason for the enhanced bioavailability in tangerine tomatoes appears to be due to the form of lycopene in them: Red tomatoes contain mostly trans-lycopene, while tangerine tomatoes have more tetra-cis-lycopene.
So where can you find tangerine tomatoes? I can't say I've ever seen them in any chain grocery stores, so checking for them at a local farmer's market is your best bet. Shopping at the farmer's market is a great idea, anyway, as the produce is going to be much fresher and nutrient dense than what you get at the grocery store. If you can't find them anywhere, you can buy tangerine tomato seeds online and plant them in your garden next year.
Either way, be sure to take advantage of fresh local tomatoes this summer. They're a great source of antioxidants that can help protect you against free radicals that can damage DNA and lead to cancer. Tomatoes are also rich in vitamins C and A and are a good source of potassium, which helps keep blood pressure levels in the healthy range.
Stew them in some oil to make a tomato sauce. Layer the sauce on zucchini sliced length-wise, top with some parmesan cheese and bake for a low carb "pizza." Or make a caprese salad: slice them up, layer with fresh organic mozzarella cheese, drizzle with balsamic and olive oil, and top with fresh chopped garlic and basil.
Have you ever tried or grown tangerine tomatoes? Let me know! livingwelldaily@lfb.org
To living well,
Jasmine LeMaster

Written By Jasmine Lemaster
Jasmine LeMaster is head of quality assurance for Laissez Faire's Living Well brand and is an integral part of their product research and development team. To hear more from Jasmine, sign up to receive Living Well Daily for free, here.
Dear Living Well Daily Reader, There are a lot of reasons to hate belly fat. Researchers call this type of fat "visceral fat," and it's been linked to metabolic diseases and increased risk for heart disease and type 2 diabetes. In women, visceral fat is associated with an increased risk of breast cancer and gallbladder...
I was recently diagnosed with A-fib, and I was hoping you could suggest some natural ways to deal with it. –Lawanda from Milwaukee, WI Lawanda, As I'm sure your doctor probably explained, A-fib (atrial fibrillation) is a heart condition where the atria (upper part of the heart) beats irregularly. This irregular rhythm can cause a...
Dear Living Well Daily Reader, Most people think vitamin D is, understandably, just one vitamin.  But many vitamins have different forms or types… and vitamin D is no exception. Vitamin D is categorized in two types: vitamin D2 and vitamin D3. And the difference between the two is crucial. In fact, one helps your immune...
Dear Living Well Daily Reader, My readers are smart people. If I were to ask you what to do to keep your heart healthy, I'm betting you could list a ton of nutrients. The same is true if I ask about bone health. You know what you need to do. (And why it probably won't...
Dear Living Well Daily Reader, When it comes to natural health, there are new advancements every day. If you're a frequent reader of mine, you're probably well-versed on natural compounds… You may even supplement with a few already! But there's an entire group of compounds that few know about – phytonutrients. Phytonutrients include carotenoids such...
Dear Living Well Daily Reader, Growing up, my mother practically pulled her hair out trying to get me to listen to her advice. Here's the thing: I can't think of a single time when my mother gave me advice that was wrong. And now her advice has been proven yet again, this time about breakfast....
Dear Living Well Daily Reader, There's nothing like a good night's sleep. There's a lot riding on your sleep—including your overall health. Poor sleep can lead to a number of problems, like weight gain and even lung disease. And now your odds of getting a good night's sleep have just gotten worse. Researchers have found...
I had surgery on my prostate for BPH several years ago, and it's affected my love life. I've heard about nitric oxide levels causing this problem—is this true? –Robert from Dallas, TX Robert, The answer to your question is a little difficult to answer. Sadly, your symptoms are NOT unique: many men find they have...
Dear Living Well Daily Reader, It seems like every time you turn on the news, Big Pharma's drugs are causing MORE problems than they "fix." Whether it's addictive painkillers or (yet again!) another drug recall, it's clear that Big Pharma doesn't care… and neither does the FDA. It almost seems as though the drug companies...
Dear Living Well Daily Readers, Severe tiredness and exhaustion go hand in hand with cancer, and it's horrible. The worse the cancer and more extensive the treatment, the worse the fatigue. Ask any mainstream doctor about relief from fatigue and they will say something like, "unfortunately, good pharmacological treatment options are limited." Which means: the...