Fight Cancer With This Weird Farmers Market Find (Pictures Inside)
Taking a bite out of cancer has never been more delicious. Find out more about this family of cancer-busting veggies…
Move over bananas! Discover a new potassium-rich produce today…
Plus, one simple way to get more of this cancer-fighting veg in your diet without a lot of hassle! 
Dear Living Well Daily Reader,
"Ahhh! What the hell is that?! It looks like an alien's head or something… There's no way I am eating that!"
I heard this reaction from a man who had just seen a strange-looking vegetable in his CSA share.
I was a bit surprised to hear such an animated yet genuine response from a grown man about a vegetable.
However, it did intrigue me to find out which veggie shocked him so greatly. Yet I never thought I would have a similar reaction to it. Since I considered myself a farmers market pro, I figured I had seen it all.
But I was wrong…
When I opened the bag and looked at my bounty of farm-fresh produce all I could think was, Whoa, that IS weird!
I quickly asked one of the farmers, Alex, "What on Earth is that?"
He laughed and said, "If you haven't been in the south very long, then you probably haven't run across these… but man, are you in luck now… these things are delicious and good for you! I'll share an easy way to enjoy it with you…"
He was right. This bizarre plant is packed with flavor as well as powerful nutrition.
And it tastes particularly good when prepared as Alex suggested.
We will share this technique with you in a bit; first, let's talk about this otherworldly-looking veg and why it's so good for you…

Weird Veggies, Good Health
Meet kohlrabi…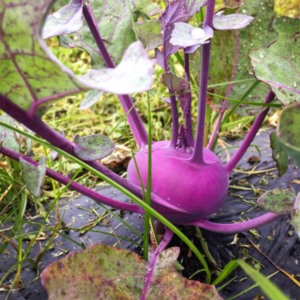 A purple kohlrabi grown by my former CSA.
Source:Rootsmemphis.org
Kohlrabi is a bulb-like member of the Brassica family that also includes cruciferous vegetables like kale, Brussels sprouts, cauliflower, broccoli, and other nutrient-dense cabbages. In German, the name kohlrabi means "cabbage turnip" and is sometimes called a German turnip. Kohlrabi can be green or purple in color, but the flesh of both varieties is white.
From the leaves to its bulbous stem, this entire vegetable is edible, though it's best if the peel is removed. The leaves can be cooked like other greens or added to a salad.
The stem has a milder and sweeter taste than broccoli but with a slight peppery kick. Its texture is somewhere between an apple and a radish. Peeling your kohlrabi until you can see the white flesh is essential before cooking or eating it. The peeling is very fibrous and may get stuck in your throat (trust me, I learned this lesson the hard way).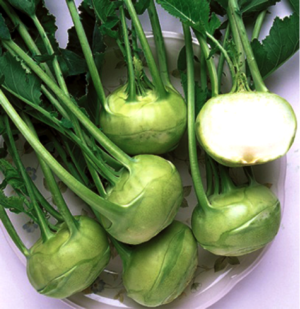 Green kohlrabi.
Source: nicholsgardennursery.com
But kohlrabi is more than just a tasty addition to your meals — it has some serious health-boosting powers too.
Cruciferous vegetables like kohlrabi are loaded with cancer-fighting components. In fact, some studies show that by just eating cruciferous veggies, you may lower your risk of cancer and can even halt the growth of cancer cells including tumors in the lungs, colon, liver, cervix, and breasts.1,2
And the good news doesn't stop there…
Kohlrabi is loaded with vitamin C. A one-cup serving contains 138% of your daily needs. Plus, the same serving contains more potassium than a medium-sized banana! 3This means kohlrabi is a good choice for heart and immune support! And kohlrabi is great source of fiber, which can help with digestion and blood sugar levels.
As you can see, kohlrabi has a lot of health benefits to offer you!
So without any further ado, we will share Alex's simple, yet delicious kohlrabi cooking secret…

Simply Delicious
Before you can eat kohlrabi, you have to find some. As Alex pointed out, you may have more luck at farmers markets if you are living in the Southern states, but that doesn't mean you shouldn't try looking there if you live in a different region. Other good places to look are specialty food stores and Asian markets.
There is no difference in taste or nutritional value between the green kohlrabi and purple kohlrabi, so don't worry if you can only find one or the other. However, the one thing that does affect the taste is bulb size. Smaller bulbs have a sweeter and milder taste, so it's best to purchase those.
Once you get your hands on some, start peeling and chopping! Fresh kohlrabi is a great addition to soup, salads, and slaws. You can keep peeled and chopped kohlrabi in your fridge for up to five days, making it the perfect garnish or last-minute addition to any meal.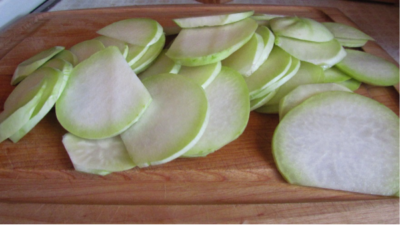 Some sliced kohlrabi ready for snacking!
Source: beyondpaisly.net
But if you want to enjoy kohlrabi in its purest form, use Alex's method — peel, slice thinly, and sprinkle with a bit of sea salt. It makes a great afternoon snack or the perfect addition to a picnic basket.
Live well,

Natalie Moore
Managing editor, Living Well Daily
P.S. Do you have any produce you don't know what to do with? Let me know! nmoore@lfb.org
---
Sources
[1] FOODS THAT FIGHT CANCER: Broccoli & Cruciferous Vegetables
[2] Epidemiological studies on brassica vegetables and cancer risk
[3] Basic Report: 09040, Bananas, raw

Written By Natalie Moore
Natalie Moore is a dedicated health researcher with a passion for finding healthy, natural, and science-based solutions. After a decade of direct healthcare experience in western and natural medicine, she was involved in public health research before joining Living Well Daily.
You know what the world DOESN'T need? A new pill for diabetes. But Big Pharma – and the FDA – don't agree. The FDA just approved a new pill to lower blood sugar in people with type 2 diabetes. But there's a HUGE problem with this new drug… it CAUSES CANCER. Here's how to stay...
As you age, it can seem like your metabolism comes to a screeching halt. And when it does, your energy tanks… and you start packing on the pounds. Even worse? You could find yourself on the fast track to dangerous diseases like diabetes and heart disease. But it doesn't have to be this way. Because...
If you or your loved one has Alzheimer's, you'd probably do just about anything to reverse the disease. That's why it's easy to submit when your mainstream doc suggests taking meds. The only problem? There's not a single Alzheimer's drug on the market that actually WORKS. And if that's bad enough… research now shows that...
If you've got cancer, the only thing on your mind is surviving it. But the mainstream makes that difficult at every turn. The chemo… radiation… and even "safe" immunotherapies all come with a price. Now it looks like a popular class of conventional drugs can sabotage your chances of surviving cancer. And chances are you've...
You know those red lights that pop us on your car's dashboards? They're signs that somethings wrong with your car. Well, your body has the same type of warning system. And if you're a man of 50, you shouldn't be looking for a red light… Instead, you should be calling the doctor if you're having...
If you're like most of my senior patients, you've probably lost count of the number of times you've walked into a room… and totally forgot why you went in there in the first place. Or had to drive BACK to the grocery store for that one forgotten item. But most mainstream brain health solutions are...
If you're anything like my senior patients, your biggest fear is losing your memories… and independence. And why shouldn't it be? No one wants to saddle their family with the cost and stress of taking care of them as they grow older. But it seems like the mainstream is hell bent on seeing this happen...
As you age, keeping your brain in tip-top shape should be your most important health goal. Because without a healthy brain, you will slowly lose your memories… your health… and your independence. But your mainstream doc is NO HELP. He'll just put you on a strict diet and give you a bunch of nasty, worthless...
If you're anything like my senior patients, you'd do just about anything to live longer. That's why you have up smoking… never skip your daily walk… and try to eat more veggies. But as it turns out there's a certain drink you also NEED to avoid to stay out of an early grave. Your mainstream...
There's all kinds of advice out there on the best way to get the most out of your workout. You know… post-exercise protein shakes… drinking water… and taking supplements. But what you don't hear about is what you SHOULD'NT do after a workout. As it turns out there's one weird thing you should avoid at...