How to Ward off Cancer in Just 60 Seconds a Day
Dear Living Well Daily Reader,
Imagine you're about to be dropped off on a deserted island for a year and you can only bring the seeds for one vegetable.
Which would you choose?
Well, if you're looking to significantly increase your body's ability to fight cancer cells, there's a clear winner: broccoli seeds.
The consumption of broccoli and other cruciferous vegetables has long been linked to reduced rates of cancer in epidemiological studies, and recent research is showing that one of the compounds in broccoli may hold the key to optimizing the body's ability to ward of cancer.
And in just a minute, I'll show you how you can get up to 30 times the cancer-busting benefits of broccoli without eating a single floret (and no, it's not by taking a supplement).
Broccoli contains a compound called glucoraphanin, which is a precursor to a compound called sulforaphane.
Sulforaphane has strong anti-cancer properties and works against cancer in two ways.
First, it helps block the initiation of cancer by inhibiting the metabolism of procarcinogenic substances into carcinogens. That means it helps stop those could-be cancerous substances from becoming cancerous. Sulforaphane also helps the body detoxify carcinogenic substances and excrete them from the body.
And second, if cancer has already begun to grow in the body, sulforaphane can help shut it down by modulating cell growth and cell death.
Sulforaphane has been shown in in vitro studies to have anti-cancer effects against prostate, breast, colon, and urinary cancer cells. Most importantly, it has been shown to inhibit cancer stem cells.
The stem cells are the parent cells of cancer, and if they are not destroyed, the chances of the cancer returning are high. Most conventional cancer treatments, including radiation and some forms of chemotherapy, do not affect cancer stems cells.
Compounds that can inhibit or kill cancer stem cells are the best defense in the fight against cancer.
And that's good news. But when researchers tried to calculate the amount of broccoli one would have to eat to have a significant amount of protection against cancer, they found that it would take about two pounds per week.
And that's raw broccoli, since cooking can destroy the enzymes that are necessary for sulforaphane to be absorbed in the body.
The thought of that much raw broccoli makes my stomach groan. Not because I don't like broccoli, but because it's quite hard to digest in its raw state.
(Fun fact: Tom "Broccoli" Landers holds the world record for eating a pound of raw broccoli in just 92 seconds. I'd want to be far, far away from Mr. Landers about an hour or two after that competition.)
But there's a much easier way to get all the cancer-busting benefit of broccoli without having to stuff yourself with it every day: broccoli sprouts!
Broccoli sprouts may actually be even more powerful for fighting cancer than mature broccoli, as they are extremely rich in glucoraphanin. In fact, just 5 grams of broccoli sprouts contain the same amount of glucoraphanin as 150 grams of mature broccoli.
With broccoli spouts, just a few tablespoons a couple of times a week is enough to offer significant protection.
Broccoli sprouts have also been shown to help protect against gastritis (stomach inflammation) caused by H. pylori infection, and may also help protect the skin against UV radiation.
Though you can find sprouts in the grocery store, they are very easy to grow. I've been growing sprouts every couple of weeks for the past year, and all it takes is about 60 seconds a day.
First, you'll need a bowl, a mason jar, some sprouting seeds, and a sprouting lid that fits the mason jar. You can also use a reusable coffee filter instead of a sprouting lid.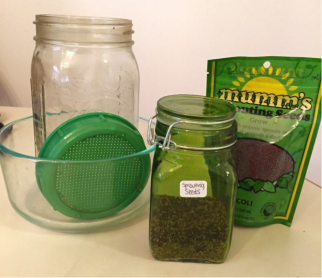 The seeds in the jar are for a mixture of broccoli, alfalfa, and other plants. The package is all broccoli seeds.
First, put about a tablespoon of the seeds into the jar and cover them with water. Let them sit in the water for about eight hours.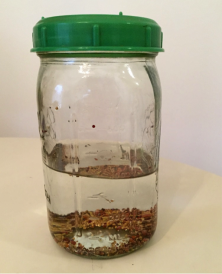 Then, drain the water and rinse the sprouts. Prop the mason jar in the bowl like so: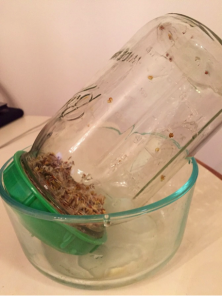 These are the sprouts after about two days. You'll notice the little white roots starting to emerge
Twice a day, rinse the sprouts by filling the jar through the sprouting lid and draining the water. Then prop it in the bowl again. Keep the sprout jar on your counter, but not in direct sunlight.
After about five-seven days, you'll have a decent amount of sprouts: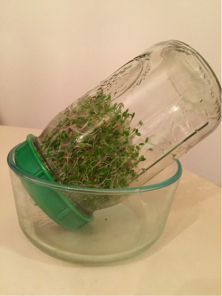 On the day before you want to use them, put them in a sunny window to help them get greener.
To store them, I like to take the sprouts out of the jar, leaving them attached to the lid, and let them sit on the counter for a couple hours to dry out just a bit. Then I carefully remove them from the lid and put them in a storage container that's been lined with a paper towel.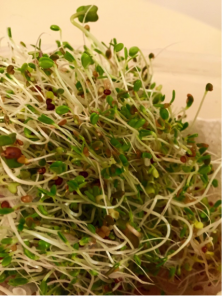 And voila! You just grew you own cancer-fighting superfood.
You can use the sprouts in your morning omelet, on your salad, or even just by themselves as a side with your dinner. They taste pretty neutral, not nearly as strong as mature broccoli.
To living well,

Jasmine LeMaster
Health Researcher
Dear Living Well Daily Reader, My wife has recently begun showing signs of dementia. Her doctor has put her on medicine to try and "slow the progression" but, if anything, she seems like she's just getting worse. Is there anything we can do? –Martin from Durham, North Carolina Hi Martin, Some medications claim to slow...
It always puzzles me how anyone thinks we can spray toxic chemicals on our crops and NOT have them affect our health! Because despite what food manufacturers may claim, chemical residues from pesticides and herbicides show up on (and IN) the conventionally grown food we eat. And research makes it clear that these creepy chemicals...
I think you'll agree that aging should come with some perks. And chief among them is FINALLY having the time to relax and enjoy the retirement you earned. But that's awfully hard to do if you're losing your eyesight due to macular degeneration. Instead, your golden years become tarnished by having to focus on learning...
How does that old saying go? An ounce of prevention is worth a pound of cure. We all know it's easier to STOP something from happening in the first place than to repair the damage after it's happened. And with all of its complications, including shortening your lifespan, type 2 diabetes is well worth preventing!...
I've had patients make some pretty strange claims about their arthritis. Many folks swear they can "feel a storm coming" in their joints. And I've heard this one so often (and had them be spot-on about that storm) that I believe it's true. Other patients claim their joint pain gets worse when eating tomatoes. And...
If you're "of a certain age," I bet you remember that iconic old slogan from the late 70s, "A mind is a terrible thing to waste." It always springs to mind when I see a sharp person's memory start to fade away. They soon become unable to make decisions for themselves. Eventually, they even have...
Dear Living Well Daily Reader, "Most of my family has been hit with COVID. We're thinking it's the latest variant. Are there any extra, new recommendations for protecting yourself against the variant? (Aside from washing your hands?) My husband and I have tested negative so far, but we want to be careful." –Tammy from Lancaster,...
If you have diabetes, it's almost certain that your conventional medical doctor put you on a blood sugar-lowering drug. And there's ALSO a strong possibility that the drug makes you feel terrible. Common side effects include gas, bloating, upset stomach, kidney issues, and fatigue. Even worse, over time, these drugs become less effective. So even...
Okay, I'll admit it. There have been times I've found it tough to maintain an optimistic outlook these last few years. And I'm not alone. Studies show that unhappiness and loneliness are on the rise. That's TERRIBLE news for our health. Because when you combine the two, it can deliver a devastating blow to your...
It's the nuttiest time of year. And I'm not just talking about the decorating, shopping, and holiday chaos… I'm literally talking about NUTS. Sure, we eat these tasty treats all year round. But when the holidays approach our nut consumption goes through the roof. We eat more nuts from October through December than any other...