Is Organic Turkey Healthier?
Dear Living Well Daily Reader,
I have a bag of rooster heads and rooster feet in my freezer.
My sister, an organic farmer, sold me the recently butchered roosters this weekend when she was up visiting from the Eastern Shore of Maryland. I wanted whole birds to make bone broth and had read that the feet and combs can add lots of good collagen to the broth.
I asked her to save me the combs, and she gave me the whole heads.
(I got the livers too!)
"This is probably a silly question," I asked her, "but does rooster taste the same as other chicken?"
"I've eaten only one before," she told me. "It was when we first got Rudy," her beloved pet pig, "and this rooster kept pecking at him, so we killed it. It was the best tasting chicken I ever had."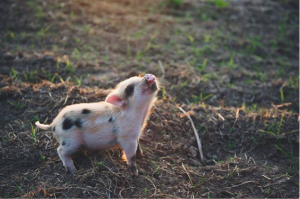 Rudy, safe from the big bad rooster
I baked the organic, pastured rooster on Sunday, and I have to admit, it was different than a typical broiler, even the organic ones I buy at MOM's Organic Market. It was leaner with less meat, and the dark meat was very dark.
But it was good.
Even though I paid a pretty penny for each of them, I feel so much better knowing that I'm eating a bird that's lived a happy life, never been given antibiotics or other drugs, ate plenty of bugs and grub rich with omega-3s, which are beneficial for heart and brain health, and fed only organic feed.
And this Thanksgiving, for the first time ever, we will be eating organic, pastured turkey that she raised.
As I imagine many of you are getting ready to go buy your turkey for next week's dinner, I thought for this episode of Living Well Daily, we could dive into the question of whether or not you should go organic.
Is it really healthier? Is it worth the extra money? Will eating organic meat one day a year make a difference?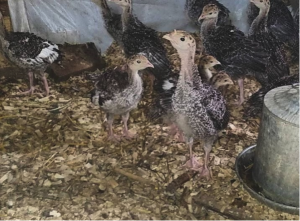 My sister's turkeys as chicks
First, let's get one thing out of the way: If you see "cage free" "hormone free/raised without hormones" or "natural" on any poultry, understand these labels mean just about nothing. All poultry raised for meat must be cage free, and hormones are not allowed. And "natural" means only that nothing synthetic has been added to the meat and it has only been minimally processed.
But then there's "organic." And then there's "pastured poultry."
"Organic" means the birds were raised without antibiotics and fed only organic feed. The birds also must have had access to the outdoors, but that could mean a bare patch of dirt or concrete slab. It doesn't mean they were able to peck for grubs.
"Pastured poultry" (sometimes called "free range") has been allowed to roam outside and eat a natural diet of bugs, which can increase their omega-3 content up to 38%. They are typically supplemented with feed that may or may not be organic depending on if the meat has both labels. Also, because they are given more space, pastured birds are less likely to get infections and need antibiotics.
Conventional turkeys are raised in very close quarters and are typically given antibiotics to prevent infections. And according to the Poultry Science Association, many turkey producers add antibiotics to the feed to make the turkeys grow faster and larger.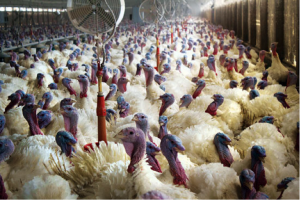 Conventional turkeys are raised in extremely close quarters
Choosing antibiotic-free meat is one of the most important food choices you can make. Antibiotic-resistant bacteria is swiftly becoming a serious worldwide epidemic, contributing to the rise in untreatable and deadly infections. In addition, when we ingest antibiotic-laced meat, it can alter our own intestinal flora and cause gut dysbiosis (an imbalance of helpful microbes in the stomach).
And remember how turkey farmers give the bird antibiotics to plump them up? Researchers are hypothesizing that excessive antibiotic consumption in humans could be a contributing factor to weight gain and the obesity epidemic.
Another reason to consider buying organic is if you are at all concerned with the use of pesticides and GMOs. Conventional birds are fed pesticide-laden corn and soy that is likely genetically modified, and the EPA reports that nonorganic meat has higher levels of pesticides than any plant food.
In fact, if you can afford to buy only one thing organic, make it your meats.
Buying organic could also help lower your risk of food poisoning. Though it was done on chickens, not turkeys, one study found that only 6% of organic birds were infected with salmonella, compared with 39% of conventional ones.
(Whether you buy organic or conventional, always be sure to cook poultry thoroughly and use a meat thermometer to make sure the meat is at least 165 degrees.)
Other than the omega-3 content, organic poultry hasn't been shown to have any significant differences from conventional meat from a nutrient standpoint. However, buying organic, antibiotic-free meat is always a good idea, both for your health and the health of the planet.
Antibiotic-free organic turkeys may be hard to find, as they are only about 2.3% of the total number of turkeys produced each year in the U.S. And pastured poultry is even harder to find. Wegmans and Whole Foods both sell organic turkeys. And www.localharvest.org can help you find a farmer near you so you can buy one directly from them.
If you do decide to go organic, prepare yourself for sticker shock. While a conventionally raised Butterball turkey typically sells for $0.99 per pound, organic turkey may be as much as five times that price. My local Wegmans sells organic turkeys for $4.99 per pound, and Whole Foods has them for $3.99 per pound.
But to me, that's worth it.
To living well,

Jasmine LeMaster
P.S. As for those rooster heads and feet? Well, they are still chilling out in my freezer. I promise to report back with lots of photos of my broth-making experience.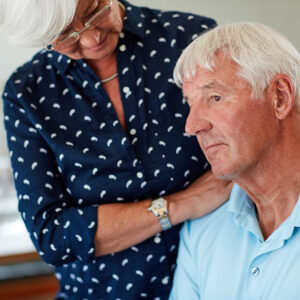 When someone you love is battling Alzheimer's, it's heartbreaking. You want to do everything possible to ensure they live the happiest and most fulfilled life possible. And yet, all too often, you're left feeling helpless in the face of overwhelming symptoms that threaten to destroy their quality of life. One of the MOST disturbing for...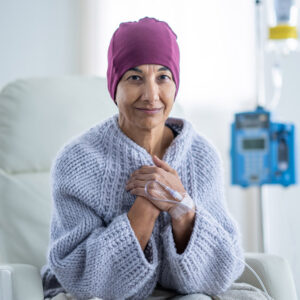 "Why does chemo also destroy good cells?" Martha from Kansas City, MO Hi Martha, We tend to think of "chemotherapy" as a single treatment. But the truth is, there are various types of chemotherapies. And they work in different ways. In general, chemotherapy destroys healthy cells, not just the cancerous ones, because it's a non-specific or...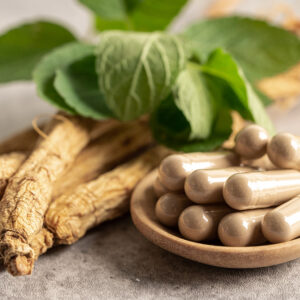 Ginseng is the very definition of an "ancient cure." In fact, you can find the potent herb mentioned in 2,000-year-old Chinese books as a treatment for a wide range of illnesses. But what's made ginseng stand the test of time… remaining nearly as popular TODAY as it was hundreds of years ago… is its apparent...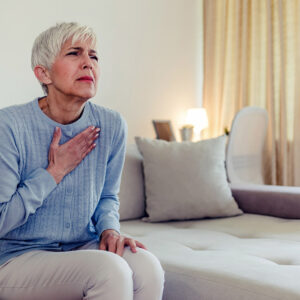 After every meal, millions of Americans pop a pill. Folks are convinced that proton pump inhibitors (PPIs) such as Prilosec or Nexium are necessary to head off heartburn. But what these drugs REALLY do is liable to shock you. To begin with, they block your body from properly digesting your food. But that's just the...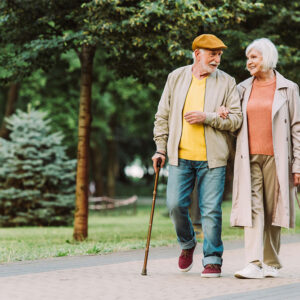 Once you pass a certain age, the medical ads start haunting you. You find them shoved into your mailbox. Then they show up in your email. And you even start spotting them hovering in the corner of every website you visit. It seems EVERYONE is trying to sell you a drug to relieve your arthritis...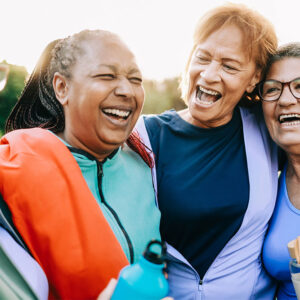 Our healthcare system has a fatal flaw. It's set up to react to illness, NOT prevent it. So, doctors are stuck in a losing game of whack-a-mole. They spend all their energy and time scrambling to knock down symptoms. That means prescriptions for preventative care are virtually nonexistent. And that's certainly the case with memory...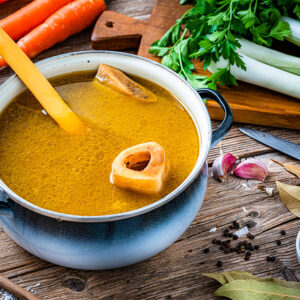 I was in a small grocery store in the mountains recently, and noticed that they had bone broth for sale. I thought, "Wow, we've come a long way!" And that's a good thing. Here's why… Bone broth used to be nearly impossible to find in modern-day grocery stores. But to eke out as much nutritional...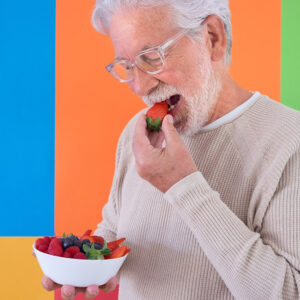 You can't turn on the T.V. or flip through a newspaper anymore without seeing a new drug breakthrough they claim will FINALLY rid humanity of our aging brain issues. These medicines hit the market promising miracles. But it typically isn't long before we start seeing their dark side. Meanwhile, a safe, natural remedy to boost...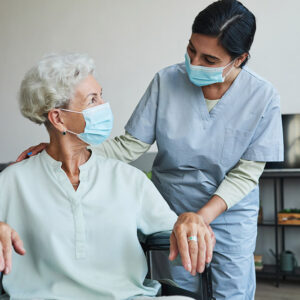 "We've unfortunately had to put my 90-year-old mother in a home. I'm so worried she's going to get sick (especially with COVID still around). Is there anything I can do to help protect her?" Sam from Prattville, AL Hi Sam, Your situation sounds familiar. My father is in a senior living center with about 300...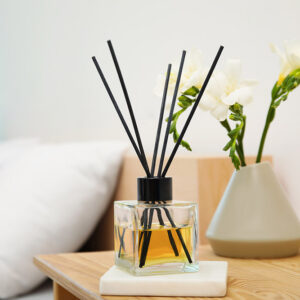 You have five primary senses: sight, hearing, taste, touch, and smell. (The sixth one doesn't count. Only your Aunt Mable claims that one.) But you've likely noticed that only your sight and hearing get tested when you visit the doctor. Your senses of taste, touch, and smell are almost entirely ignored. And ignoring one of...