Is Organic Turkey Healthier?
Dear Living Well Daily Reader,
I have a bag of rooster heads and rooster feet in my freezer.
My sister, an organic farmer, sold me the recently butchered roosters this weekend when she was up visiting from the Eastern Shore of Maryland. I wanted whole birds to make bone broth and had read that the feet and combs can add lots of good collagen to the broth.
I asked her to save me the combs, and she gave me the whole heads.
(I got the livers too!)
"This is probably a silly question," I asked her, "but does rooster taste the same as other chicken?"
"I've eaten only one before," she told me. "It was when we first got Rudy," her beloved pet pig, "and this rooster kept pecking at him, so we killed it. It was the best tasting chicken I ever had."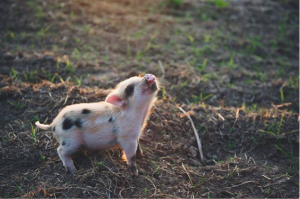 Rudy, safe from the big bad rooster
I baked the organic, pastured rooster on Sunday, and I have to admit, it was different than a typical broiler, even the organic ones I buy at MOM's Organic Market. It was leaner with less meat, and the dark meat was very dark.
But it was good.
Even though I paid a pretty penny for each of them, I feel so much better knowing that I'm eating a bird that's lived a happy life, never been given antibiotics or other drugs, ate plenty of bugs and grub rich with omega-3s, which are beneficial for heart and brain health, and fed only organic feed.
And this Thanksgiving, for the first time ever, we will be eating organic, pastured turkey that she raised.
As I imagine many of you are getting ready to go buy your turkey for next week's dinner, I thought for this episode of Living Well Daily, we could dive into the question of whether or not you should go organic.
Is it really healthier? Is it worth the extra money? Will eating organic meat one day a year make a difference?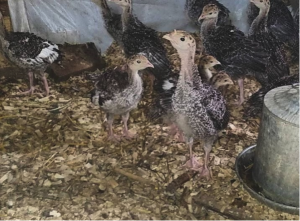 My sister's turkeys as chicks
First, let's get one thing out of the way: If you see "cage free" "hormone free/raised without hormones" or "natural" on any poultry, understand these labels mean just about nothing. All poultry raised for meat must be cage free, and hormones are not allowed. And "natural" means only that nothing synthetic has been added to the meat and it has only been minimally processed.
But then there's "organic." And then there's "pastured poultry."
"Organic" means the birds were raised without antibiotics and fed only organic feed. The birds also must have had access to the outdoors, but that could mean a bare patch of dirt or concrete slab. It doesn't mean they were able to peck for grubs.
"Pastured poultry" (sometimes called "free range") has been allowed to roam outside and eat a natural diet of bugs, which can increase their omega-3 content up to 38%. They are typically supplemented with feed that may or may not be organic depending on if the meat has both labels. Also, because they are given more space, pastured birds are less likely to get infections and need antibiotics.
Conventional turkeys are raised in very close quarters and are typically given antibiotics to prevent infections. And according to the Poultry Science Association, many turkey producers add antibiotics to the feed to make the turkeys grow faster and larger.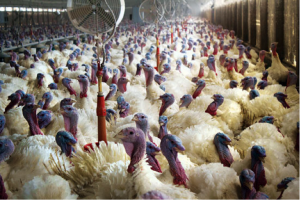 Conventional turkeys are raised in extremely close quarters
Choosing antibiotic-free meat is one of the most important food choices you can make. Antibiotic-resistant bacteria is swiftly becoming a serious worldwide epidemic, contributing to the rise in untreatable and deadly infections. In addition, when we ingest antibiotic-laced meat, it can alter our own intestinal flora and cause gut dysbiosis (an imbalance of helpful microbes in the stomach).
And remember how turkey farmers give the bird antibiotics to plump them up? Researchers are hypothesizing that excessive antibiotic consumption in humans could be a contributing factor to weight gain and the obesity epidemic.
Another reason to consider buying organic is if you are at all concerned with the use of pesticides and GMOs. Conventional birds are fed pesticide-laden corn and soy that is likely genetically modified, and the EPA reports that nonorganic meat has higher levels of pesticides than any plant food.
In fact, if you can afford to buy only one thing organic, make it your meats.
Buying organic could also help lower your risk of food poisoning. Though it was done on chickens, not turkeys, one study found that only 6% of organic birds were infected with salmonella, compared with 39% of conventional ones.
(Whether you buy organic or conventional, always be sure to cook poultry thoroughly and use a meat thermometer to make sure the meat is at least 165 degrees.)
Other than the omega-3 content, organic poultry hasn't been shown to have any significant differences from conventional meat from a nutrient standpoint. However, buying organic, antibiotic-free meat is always a good idea, both for your health and the health of the planet.
Antibiotic-free organic turkeys may be hard to find, as they are only about 2.3% of the total number of turkeys produced each year in the U.S. And pastured poultry is even harder to find. Wegmans and Whole Foods both sell organic turkeys. And www.localharvest.org can help you find a farmer near you so you can buy one directly from them.
If you do decide to go organic, prepare yourself for sticker shock. While a conventionally raised Butterball turkey typically sells for $0.99 per pound, organic turkey may be as much as five times that price. My local Wegmans sells organic turkeys for $4.99 per pound, and Whole Foods has them for $3.99 per pound.
But to me, that's worth it.
To living well,

Jasmine LeMaster
P.S. As for those rooster heads and feet? Well, they are still chilling out in my freezer. I promise to report back with lots of photos of my broth-making experience.

Written By Jasmine Lemaster
Jasmine LeMaster is head of quality assurance for Laissez Faire's Living Well brand and is an integral part of their product research and development team. To hear more from Jasmine, sign up to receive Living Well Daily for free, here.
Dear Living Well Daily Reader, There are a lot of reasons to hate belly fat. Researchers call this type of fat "visceral fat," and it's been linked to metabolic diseases and increased risk for heart disease and type 2 diabetes. In women, visceral fat is associated with an increased risk of breast cancer and gallbladder...
I was recently diagnosed with A-fib, and I was hoping you could suggest some natural ways to deal with it. –Lawanda from Milwaukee, WI Lawanda, As I'm sure your doctor probably explained, A-fib (atrial fibrillation) is a heart condition where the atria (upper part of the heart) beats irregularly. This irregular rhythm can cause a...
Dear Living Well Daily Reader, Most people think vitamin D is, understandably, just one vitamin.  But many vitamins have different forms or types… and vitamin D is no exception. Vitamin D is categorized in two types: vitamin D2 and vitamin D3. And the difference between the two is crucial. In fact, one helps your immune...
Dear Living Well Daily Reader, My readers are smart people. If I were to ask you what to do to keep your heart healthy, I'm betting you could list a ton of nutrients. The same is true if I ask about bone health. You know what you need to do. (And why it probably won't...
Dear Living Well Daily Reader, When it comes to natural health, there are new advancements every day. If you're a frequent reader of mine, you're probably well-versed on natural compounds… You may even supplement with a few already! But there's an entire group of compounds that few know about – phytonutrients. Phytonutrients include carotenoids such...
Dear Living Well Daily Reader, Growing up, my mother practically pulled her hair out trying to get me to listen to her advice. Here's the thing: I can't think of a single time when my mother gave me advice that was wrong. And now her advice has been proven yet again, this time about breakfast....
Dear Living Well Daily Reader, There's nothing like a good night's sleep. There's a lot riding on your sleep—including your overall health. Poor sleep can lead to a number of problems, like weight gain and even lung disease. And now your odds of getting a good night's sleep have just gotten worse. Researchers have found...
I had surgery on my prostate for BPH several years ago, and it's affected my love life. I've heard about nitric oxide levels causing this problem—is this true? –Robert from Dallas, TX Robert, The answer to your question is a little difficult to answer. Sadly, your symptoms are NOT unique: many men find they have...
Dear Living Well Daily Reader, It seems like every time you turn on the news, Big Pharma's drugs are causing MORE problems than they "fix." Whether it's addictive painkillers or (yet again!) another drug recall, it's clear that Big Pharma doesn't care… and neither does the FDA. It almost seems as though the drug companies...
Dear Living Well Daily Readers, Severe tiredness and exhaustion go hand in hand with cancer, and it's horrible. The worse the cancer and more extensive the treatment, the worse the fatigue. Ask any mainstream doctor about relief from fatigue and they will say something like, "unfortunately, good pharmacological treatment options are limited." Which means: the...