Is Organic Turkey Healthier?
Dear Living Well Daily Reader,
I have a bag of rooster heads and rooster feet in my freezer.
My sister, an organic farmer, sold me the recently butchered roosters this weekend when she was up visiting from the Eastern Shore of Maryland. I wanted whole birds to make bone broth and had read that the feet and combs can add lots of good collagen to the broth.
I asked her to save me the combs, and she gave me the whole heads.
(I got the livers too!)
"This is probably a silly question," I asked her, "but does rooster taste the same as other chicken?"
"I've eaten only one before," she told me. "It was when we first got Rudy," her beloved pet pig, "and this rooster kept pecking at him, so we killed it. It was the best tasting chicken I ever had."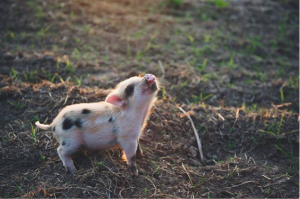 Rudy, safe from the big bad rooster
I baked the organic, pastured rooster on Sunday, and I have to admit, it was different than a typical broiler, even the organic ones I buy at MOM's Organic Market. It was leaner with less meat, and the dark meat was very dark.
But it was good.
Even though I paid a pretty penny for each of them, I feel so much better knowing that I'm eating a bird that's lived a happy life, never been given antibiotics or other drugs, ate plenty of bugs and grub rich with omega-3s, which are beneficial for heart and brain health, and fed only organic feed.
And this Thanksgiving, for the first time ever, we will be eating organic, pastured turkey that she raised.
As I imagine many of you are getting ready to go buy your turkey for next week's dinner, I thought for this episode of Living Well Daily, we could dive into the question of whether or not you should go organic.
Is it really healthier? Is it worth the extra money? Will eating organic meat one day a year make a difference?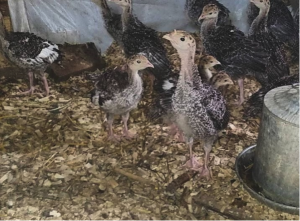 My sister's turkeys as chicks
First, let's get one thing out of the way: If you see "cage free" "hormone free/raised without hormones" or "natural" on any poultry, understand these labels mean just about nothing. All poultry raised for meat must be cage free, and hormones are not allowed. And "natural" means only that nothing synthetic has been added to the meat and it has only been minimally processed.
But then there's "organic." And then there's "pastured poultry."
"Organic" means the birds were raised without antibiotics and fed only organic feed. The birds also must have had access to the outdoors, but that could mean a bare patch of dirt or concrete slab. It doesn't mean they were able to peck for grubs.
"Pastured poultry" (sometimes called "free range") has been allowed to roam outside and eat a natural diet of bugs, which can increase their omega-3 content up to 38%. They are typically supplemented with feed that may or may not be organic depending on if the meat has both labels. Also, because they are given more space, pastured birds are less likely to get infections and need antibiotics.
Conventional turkeys are raised in very close quarters and are typically given antibiotics to prevent infections. And according to the Poultry Science Association, many turkey producers add antibiotics to the feed to make the turkeys grow faster and larger.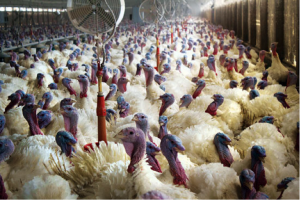 Conventional turkeys are raised in extremely close quarters
Choosing antibiotic-free meat is one of the most important food choices you can make. Antibiotic-resistant bacteria is swiftly becoming a serious worldwide epidemic, contributing to the rise in untreatable and deadly infections. In addition, when we ingest antibiotic-laced meat, it can alter our own intestinal flora and cause gut dysbiosis (an imbalance of helpful microbes in the stomach).
And remember how turkey farmers give the bird antibiotics to plump them up? Researchers are hypothesizing that excessive antibiotic consumption in humans could be a contributing factor to weight gain and the obesity epidemic.
Another reason to consider buying organic is if you are at all concerned with the use of pesticides and GMOs. Conventional birds are fed pesticide-laden corn and soy that is likely genetically modified, and the EPA reports that nonorganic meat has higher levels of pesticides than any plant food.
In fact, if you can afford to buy only one thing organic, make it your meats.
Buying organic could also help lower your risk of food poisoning. Though it was done on chickens, not turkeys, one study found that only 6% of organic birds were infected with salmonella, compared with 39% of conventional ones.
(Whether you buy organic or conventional, always be sure to cook poultry thoroughly and use a meat thermometer to make sure the meat is at least 165 degrees.)
Other than the omega-3 content, organic poultry hasn't been shown to have any significant differences from conventional meat from a nutrient standpoint. However, buying organic, antibiotic-free meat is always a good idea, both for your health and the health of the planet.
Antibiotic-free organic turkeys may be hard to find, as they are only about 2.3% of the total number of turkeys produced each year in the U.S. And pastured poultry is even harder to find. Wegmans and Whole Foods both sell organic turkeys. And www.localharvest.org can help you find a farmer near you so you can buy one directly from them.
If you do decide to go organic, prepare yourself for sticker shock. While a conventionally raised Butterball turkey typically sells for $0.99 per pound, organic turkey may be as much as five times that price. My local Wegmans sells organic turkeys for $4.99 per pound, and Whole Foods has them for $3.99 per pound.
But to me, that's worth it.
To living well,

Jasmine LeMaster
P.S. As for those rooster heads and feet? Well, they are still chilling out in my freezer. I promise to report back with lots of photos of my broth-making experience.
It's the nuttiest time of year. And I'm not just talking about the decorating, shopping, and holiday chaos… I'm literally talking about NUTS. Sure, we eat these tasty treats all year round. But when the holidays approach our nut consumption goes through the roof. We eat more nuts from October through December than any other...
Regular readers know I'm gaga for coffee. My favorite brew is downright delicious, of course. But even better, coffee is packed full of powerful phytochemicals that are natural antioxidants. In other words, coffee helps fight off the free radicals that play a role in heart disease, diabetes, cancer, and more. But I get asked a...
A number of things can put you at a higher risk for colon cancer including being overweight, sedentary, a smoker, someone with a family history of the disease, or simply being over 50. Talk to your mainstream doctor about it and he'll dole out a ton of dietary rules to reduce your risk. But even...
Dear Living Well Daily Reader, I've gained a bit of weight over the last few years, and my doctor keeps telling me to lose it. It's hard to do, especially now with the holiday season starting. Is there anything easy I can do without having to just eat leaves while everyone enjoys turkey and stuffing?...
Tomorrow is the first official day of fall. But depending on where you live, you may have already been feeling a nip in the air for weeks. I love the change of seasons. But for many folks, fall brings more than falling leaves, cooler weather, and pumpkin pies. The cold, dry air signals the start...
It's pumpkin season. This humble squash is virtually ignored from December through to the following September. But when fall rolls around it takes center stage again. For most of us, pumpkins show up as festive décor and baked into delicious pies in October and November. But there are plenty of reasons you ought to start...
Okay, I'll admit I may have been accused of being a fathead a few times in my life. But I've got a secret. It doesn't bother me one little bit. In fact, I take it as a compliment. After all, having a bigger brain is a GOOD thing, especially as we age. And now scientists...
I've sung the praises of omega-3 fatty acids many times here in Living Well Daily. I've encouraged you to be sure you're getting enough of the omega-3s eicosapentaenoic acid (EPA) and docosahexaenoic acid (DHA) by eating plenty of cold-water fatty fish and taking supplements when needed. And there's a good reason for that. EPA and...
I'm sure you know that getting enough sleep is good for you. But what does that mean, exactly? It's always been hard to get a straight answer. Until now, that is. Thanks to new research we have an answer to that question. The newly published 25-year study compares the sleep habits of over 7,000 men...
Dear Living Well Daily Reader, "Along with COVID, I'm worried about getting the flu this year. What do you recommend for avoiding the flu? The flu shot?" – Mike from Park City, UT Hi Mike, I'll be honest. The flu vaccine COULD have a better long-term track record. According to the Centers for Disease Control...