Study Reveals Major Health Threat in Your Home
New health threat takes a back seat only to high blood pressure, poor diet, and smoking.
Are you breathing in these cancer causers and heart attack triggers? Find out more…
Discover one simple way to find out exactly which toxins are in your home.
Dear Living Well Daily Reader,
"Go get some fresh air…"
That's a suggestion you may not hear much longer.
In fact, according to new research, it's a suggestion you should probably ignore now… if you care about your health.
Not because taking a "breather" is a bad health practice.
No, taking a deep breath can have all sort of health benefits… except when it's done in a toxic environment.
And according to a disturbing report released by the International Energy Agency (IEA) on Monday, chances are every breath you take has something bad in it.
The report shows that air pollution has become a public health catastrophe liable for the premature deaths of 6.5 million people every year.1
This means air pollution is now the fourth-largest human health threat, just after high blood pressure, poor diet, and smoking.1
But the bad news gets worse.
Without action, death by air pollution will continue to rise. By the year 2040, the estimated death toll will reach 7.5 million.
So why exactly is air pollution deadly?

More Particles, More Problems
Many factors add to air pollution levels including, industrial manufacturing, fossil fuel-based transportation and shipping sources, and even natural occurrences like volcanic activity.
However, according to the IEA's report, the release of harmful pollutants is mostly due to unregulated production and use of energy, which creates particulate matter (PM).
PM contains acid, dust, metal, soil particles, and mold spores, which not only create air pollution, but are also responsible for reduced visibility or haze (think smog).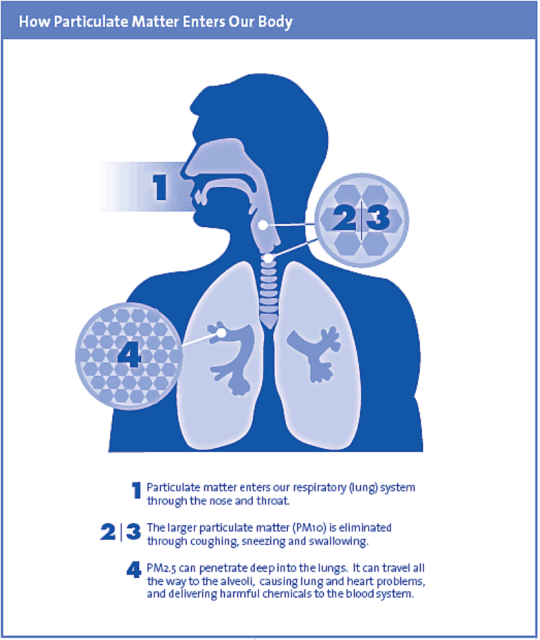 Source: bcairquality.ca
Miniscule PM is particularly problematic for your heath, because these tiny particles can get deep into your lungs, and some can even enter your bloodstream.
But more importantly, PM can cause deadly health issues like heart disease, strokes, and lung cancer with long-term exposure.
Not to mention PM can also trigger devastating symptoms like heart attack, aggravated asthma, irregular heartbeat, and decreased lung function through inflammation. 3
In addition to particulate matter, volatile organic compounds ( VOCs) contribute to the health issues associated with air pollution. VOCs are released from fuels, chemicals, and solvents and evaporate into surrounding air.
VOC levels are consistently higher in indoor environments. In fact, they can be up to 10 times higher than outdoors. One reason for this is the use of chemicals, paints, adhesives, cleaners and other household products.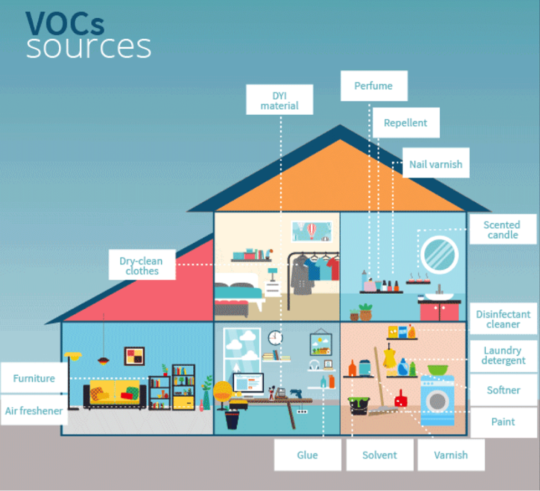 Source: foobot.io
VOCs including benzene and formaldehyde are linked to a range of detrimental health effects like eye, nose, and throat irritation; headaches; loss of concentration; and nausea. More serious heath endpoints include liver damage, kidney damage, central nervous system damage, and cancer.4
However, since most folks spend a majority of time indoors these days, exposure to VOCs and mold spores is likely more prevalent.

Breathe Easy
Unfortunately, the only universal resolve for decreasing air pollution is to decrease energy production or at the very least, make it more efficient. And since these actions are in the hands of policymakers and energy producers, any possible improvements will be a long time coming.
But there is something you can control – your home indoor air quality.
The first step to take is to figure out exactly what level of air pollution is inside your home.
You can do this with a home air test.
The most comprehensive home air tests use a sampling pump to collect air from your home and then a lab for analysis. I recommend using  Home Air Check.
They will mail you a pump and test kit. Once you mail it back in, they will analyze your sample and send you the results and a detailed report of likely sources of VOCs in your home.
This easy-to-read report will also include targeted advice for improving your indoor air quality.
In addition, Home Air Check uses a lab accredited by the American Industrial Hygiene Association. This accreditation takes months to complete and ensures the lab is fully competent in conducting air quality testing.
Click here to discover more about Home Air Check.
We are using Home Air Check to find out what's in the air here at the Living Well HQ. We will share the results with you as soon as we get them in. Stay tuned for that!
Live well,

Natalie Moore
Managing editor, Living Well Daily
P.S. Do you currently use an air filtration system? If so, what kind? Let me know!
nmoore@lfb.org
Sources
[1] Energy and Air Pollution 2016 – World Energy Outlook Special Report
[4]  Volatile Organic Compounds (VOCs)

Written By Natalie Moore
Natalie Moore is a dedicated health researcher with a passion for finding healthy, natural, and science-based solutions. After a decade of direct healthcare experience in western and natural medicine, she was involved in public health research before joining Living Well Daily.
Dear Living Well Daily Reader, About 6.2 million adults in the United States have heart failure. When you visit your mainstream doc's office, he'll tell you that heart failure is the result of clogged arteries, high blood pressure, diabetes, being overweight, lung problems, and heart valve problems. It can make you feel like your health...
I have arthritis in my spine. What would you suggest to help manage it? –George from Cedar Rapids, IA George, Believe it or not, many people learn that they have spinal arthritis as they age. It's very common. There's a lot you can do to help keep it from advancing or even reverse some of...
Dear Living Well Daily Reader, There is a plague of anxiety sweeping the nation. And who could blame us? Anyone with half a brain SHOULD feel anxious about the state of the world. But like any other epidemic, just because something is going around doesn't mean you should accept it. More importantly, having anxiety does...
Dear Living Well Daily Reader, If you or someone you love suffers from multiple sclerosis (MS), you already know how the disease can turn your life upside down. The stiffness and mobility problems slowly strip away your independence… and leave you in pain. Talk to your mainstream doc and he'll just shrug their shoulders –...
Dear Living Well Daily Reader, If you're a woman, chances are you have heard about the BRCA gene (BReast CAncer gene). Scientists have known for a long time that a mutation in one of two breast cancer genes, BRCA1 or BRCA2, increases the risk of getting breast cancer. But, men, listen up – just because...
Dear Living Well Daily Reader, Some people might shrug when you tell them you have knee pain… but that's only if they haven't experienced firsthand. Chronic pain from osteoarthritis is no joke— it can destroy your life. Joint pain makes moving incredibly difficult and can keep you from doing the things you love. Before you know it,...
Dear Living Well Daily Reader, Inflammation is supposed to be a normal response for your body. It's one of the key defenses protecting you. Inflammation can sometimes be our friend… when it helps fight off infections and clears away debris, that is. The problems start when inflammation blazes out of control or lasts longer than...
I have psoriasis, and I was wondering what supplements or natural treatments there are out there. –Bill from Riverside, CA Bill, As you probably know, psoriasis is a chronic autoimmune disease where the body attacks the skin as if it were a foreign invader. Psoriasis affects about two percent of the U.S. population. Normal, healthy...
Dear Living Well Daily Reader, I'm on a personal mission to rescue coffee from the hands of the nutritional puritans who think that anything fun is not good for you. Despite what the mainstream would have you believe, the news on coffee has improved in recent years. Researchers have pinpointed many powerful plant nutrients, like...
Dear Living Well Daily Reader, Some suggest pretty complicated ways to keep your brain healthy as you age. Going back to college… doing complicated puzzles… taking what feels like 30 bottles of pills a day… It can make you feel like giving up before you've even started! But what if there was something MUCH easier...