The New USDA Dietary Teaching Tools Include No Food
The USDA substitutes pixelated shapes for food on its new answer to the food pyramid
Water icon? No way. No precise beverage suggestions for the U.S. despite public health requests
If you want to learn how to eat actual food, go to Brazil.
Dear Reader,
The USDA launched new Dietary Guidelines last Thursday.
The USDA reviews and updates the guidelines every five years. Revisions stem from a systematic review of food, public health, and nutrition studies conducted between 2010–2015.
Considered to be the U.S. government's official voice on what you should eat, the guidelines determine things like food nutrition labels and school lunches and serve as teaching guides for proper nutrition.
Since the dietary guidelines document is a bit wordy and uses complex ideas like "A Social-Ecological Model for Food and Physical Activity Decisions," the USDA launched an infographic called MyPlate and a tipsheet called MyPlate, MyWins alongside the guidelines.
The goal of MyPlate is to illustrate what portions should look like on a dinner plate. This image will be in schools, hospitals, and other public places, reminiscent of the old food pyramid.
While the concept seems simple and effective, it was poorly executed.
Today, we will use the new sugar guideline as an example to take a closer look at the MyPlate, MyWins tipsheet and the MyPlate infographic.
Bittersweet Suggestions
The 2016–20 version suggests Americans limit their sugar intake to 10 percent of their daily diet. This equals about 12 teaspoons.
Currently, 23 teaspoons of sugar is the daily average for many Americans. The new guideline requires many to slash their daily sugar consumption in half based on a 2,000-calorie diet.1
And while this new dietary standard is much clearer than the 2010 loose suggestion of "reduce the intake of calories from added sugars," it remains a far cry from what the American Heart Association (AHA) considers a healthy amount of daily sugar.2
In fact, the AHA suggestions no more than six teaspoons of sugar for women, half of the new USDA recommendation, and nine teaspoons for men.2
Here's a common issue — a 20 oz. Coke has 15 teaspoons of sugar in it.
If a person drinks just one of these conveniently vending machine-sized sodas, they are instantly over the USDA sugar suggestion by one-third, and at the combined sugar intake for a man and a woman by AHA regulations.
So if you look at MyPlate, it appears as if the USDA took a step in the right direction — obscure, but still in the right direction on the soda issue.
Even though it's in the limit category and not a part of the actual meal, the MyPlate tipsheet plainly states, "Drink water instead of sugary drinks."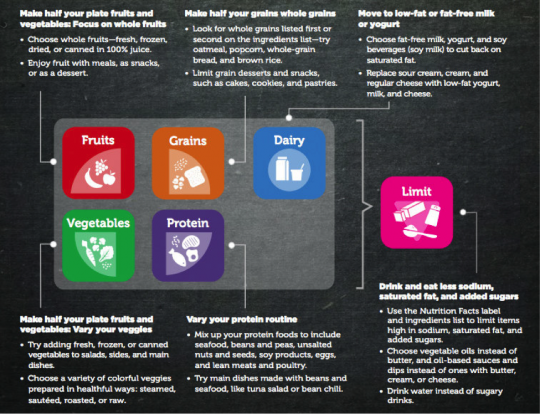 Notice the last bullet under the "Limit" box.
Source: United States Department of Agriculture.
This seems like a win for public health.
And in a way, it is. But it's like placing fourth in an Olympic event.
Especially since a panel of nutrition experts and public health scientist begged the USDA to not just say "drink water." They requested the USDA add a water icon to the official MyPlate infographic.4
This the current edition: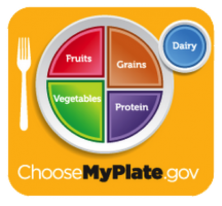 Not only is there no water icon, there is no beverage icon at all.
Which brings us to the biggest issues with the USDA's tipsheet and infographics — why are some food/beverage categories missing, and why are there computer-generated icons and not images of actual food in these teaching tools?
Protein doesn't look like a pixelated purple triangle! It looks like a steak or bowl of beans.
How can the government expect us to know what to eat if they can't even show us food!
Particularly when sugar, the biggest dietary culprit in America, isn't even represented on the plate.
This makes no sense.
I am not advocating for sugar as main food group but it is fact that many Americans will continue to drink soda and eat sugary sweets.
Why not show us what is an appropriate amount?
Not to mention depictions of actual-sized examples may help people make better choices. Perhaps you would choose a 6 oz. Coke containing only a fraction of the sugar of the 20 oz. blood sugar-blasting version if you knew what that looked like or could make a comparison.
Or better yet, perhaps if you could see that a banana is better choice than a soda, you would choose the banana.
Bottom line: It is very hard to understand a proper portion size if all you are looking at is a Tetris-like dinner plate graphic where all of the food groups are not symbolized.
And it seems the experts agree.
Marion Nestle, a New York University nutrition professor, sums it up to NPR :
It's ugly and it's hard to read.
And she is right.
Nestle went on to explain to NPR she wishes "the government's visual messaging on what Americans should and shouldn't eat was much more explicit."5
Other countries, like Sweden and Brazil, have more user-friendly guidelines. These easy-to-follow instructions and pictures of actual food make for valuable teaching tools themselves and eliminate the need for supplemental tip sheets and infographics.
In fact, Brazil even provides meal suggestions. Here is what lunch looks like in Brazil: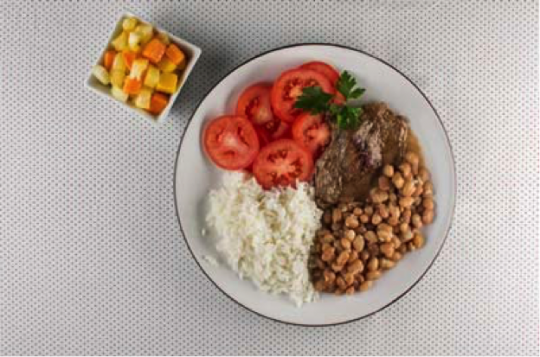 Tomato salad, rice, beans, grilled beef, and fruit salad.
Photo Credit: Brazilian Dietary Guidelines.
Wow, the fruit salad didn't even make in on the plate and I still clearly understand the portioning!
While this doesn't have a direct example of sugar on the plate, the guidelines include easy yet thorough explanations of high-sugar foods and also explain that fruit has natural sugars. But the best part: All of their meal photos include appropriate and relatable fruit serving sizes.
And they make helpful suggestions like "eating in company," instead of the aforementioned USDA "A Social-Ecological Model for Food and Physical Activity Decisions" advice.
If you want to see more meal suggestion involving actual food, you can download a copy of the Brazilian Dietary Guidelines here.
I suggest it over the USDA's MyPlate any day.
The full version of the USDA guidelines does offer a few serving suggestions with pictures for cup and ounce equivalents and has a chart of a breakfast meal, but no pictures of plated meals.
If you have anything to say about the new dietary guidelines, drop me a line. Nmoore@lfb.org
Live well,

Natalie Moore
Managing editor, Living Well Daily
---
Sources
[1] Sugar: Too Much of a Sweet Thing
[2] Dietary Guidelines for Americans 2010
[3] Obesity Rates & Trends Overview
[4] What Might Be Missing From MyPlate? Water
[5] Uncle Sam Just Told Us To Drink Water, Not Soda. You Might've Missed It
[6] Dietary Guidelines for the Brazilian Population

Written By Natalie Moore
Natalie Moore is a dedicated health researcher with a passion for finding healthy, natural, and science-based solutions. After a decade of direct healthcare experience in western and natural medicine, she was involved in public health research before joining Living Well Daily.
Dear Living Well Daily Reader, About 6.2 million adults in the United States have heart failure. When you visit your mainstream doc's office, he'll tell you that heart failure is the result of clogged arteries, high blood pressure, diabetes, being overweight, lung problems, and heart valve problems. It can make you feel like your health...
I have arthritis in my spine. What would you suggest to help manage it? –George from Cedar Rapids, IA George, Believe it or not, many people learn that they have spinal arthritis as they age. It's very common. There's a lot you can do to help keep it from advancing or even reverse some of...
Dear Living Well Daily Reader, There is a plague of anxiety sweeping the nation. And who could blame us? Anyone with half a brain SHOULD feel anxious about the state of the world. But like any other epidemic, just because something is going around doesn't mean you should accept it. More importantly, having anxiety does...
Dear Living Well Daily Reader, If you or someone you love suffers from multiple sclerosis (MS), you already know how the disease can turn your life upside down. The stiffness and mobility problems slowly strip away your independence… and leave you in pain. Talk to your mainstream doc and he'll just shrug their shoulders –...
Dear Living Well Daily Reader, If you're a woman, chances are you have heard about the BRCA gene (BReast CAncer gene). Scientists have known for a long time that a mutation in one of two breast cancer genes, BRCA1 or BRCA2, increases the risk of getting breast cancer. But, men, listen up – just because...
Dear Living Well Daily Reader, Some people might shrug when you tell them you have knee pain… but that's only if they haven't experienced firsthand. Chronic pain from osteoarthritis is no joke— it can destroy your life. Joint pain makes moving incredibly difficult and can keep you from doing the things you love. Before you know it,...
Dear Living Well Daily Reader, Inflammation is supposed to be a normal response for your body. It's one of the key defenses protecting you. Inflammation can sometimes be our friend… when it helps fight off infections and clears away debris, that is. The problems start when inflammation blazes out of control or lasts longer than...
I have psoriasis, and I was wondering what supplements or natural treatments there are out there. –Bill from Riverside, CA Bill, As you probably know, psoriasis is a chronic autoimmune disease where the body attacks the skin as if it were a foreign invader. Psoriasis affects about two percent of the U.S. population. Normal, healthy...
Dear Living Well Daily Reader, I'm on a personal mission to rescue coffee from the hands of the nutritional puritans who think that anything fun is not good for you. Despite what the mainstream would have you believe, the news on coffee has improved in recent years. Researchers have pinpointed many powerful plant nutrients, like...
Dear Living Well Daily Reader, Some suggest pretty complicated ways to keep your brain healthy as you age. Going back to college… doing complicated puzzles… taking what feels like 30 bottles of pills a day… It can make you feel like giving up before you've even started! But what if there was something MUCH easier...