The New USDA Dietary Teaching Tools Include No Food
The USDA substitutes pixelated shapes for food on its new answer to the food pyramid
Water icon? No way. No precise beverage suggestions for the U.S. despite public health requests
If you want to learn how to eat actual food, go to Brazil.
Dear Reader,
The USDA launched new Dietary Guidelines last Thursday.
The USDA reviews and updates the guidelines every five years. Revisions stem from a systematic review of food, public health, and nutrition studies conducted between 2010–2015.
Considered to be the U.S. government's official voice on what you should eat, the guidelines determine things like food nutrition labels and school lunches and serve as teaching guides for proper nutrition.
Since the dietary guidelines document is a bit wordy and uses complex ideas like "A Social-Ecological Model for Food and Physical Activity Decisions," the USDA launched an infographic called MyPlate and a tipsheet called MyPlate, MyWins alongside the guidelines.
The goal of MyPlate is to illustrate what portions should look like on a dinner plate. This image will be in schools, hospitals, and other public places, reminiscent of the old food pyramid.
While the concept seems simple and effective, it was poorly executed.
Today, we will use the new sugar guideline as an example to take a closer look at the MyPlate, MyWins tipsheet and the MyPlate infographic.
Bittersweet Suggestions
The 2016–20 version suggests Americans limit their sugar intake to 10 percent of their daily diet. This equals about 12 teaspoons.
Currently, 23 teaspoons of sugar is the daily average for many Americans. The new guideline requires many to slash their daily sugar consumption in half based on a 2,000-calorie diet.1
And while this new dietary standard is much clearer than the 2010 loose suggestion of "reduce the intake of calories from added sugars," it remains a far cry from what the American Heart Association (AHA) considers a healthy amount of daily sugar.2
In fact, the AHA suggestions no more than six teaspoons of sugar for women, half of the new USDA recommendation, and nine teaspoons for men.2
Here's a common issue — a 20 oz. Coke has 15 teaspoons of sugar in it.
If a person drinks just one of these conveniently vending machine-sized sodas, they are instantly over the USDA sugar suggestion by one-third, and at the combined sugar intake for a man and a woman by AHA regulations.
So if you look at MyPlate, it appears as if the USDA took a step in the right direction — obscure, but still in the right direction on the soda issue.
Even though it's in the limit category and not a part of the actual meal, the MyPlate tipsheet plainly states, "Drink water instead of sugary drinks."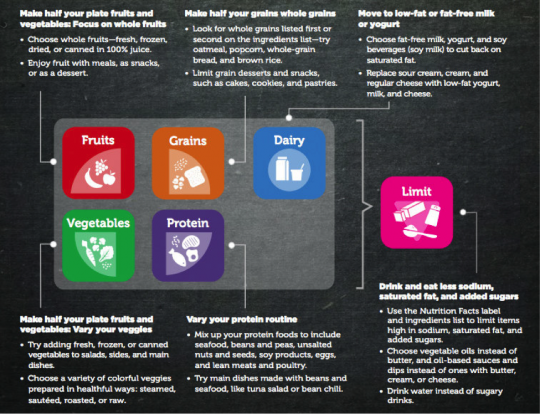 Notice the last bullet under the "Limit" box.
Source: United States Department of Agriculture.
This seems like a win for public health.
And in a way, it is. But it's like placing fourth in an Olympic event.
Especially since a panel of nutrition experts and public health scientist begged the USDA to not just say "drink water." They requested the USDA add a water icon to the official MyPlate infographic.4
This the current edition: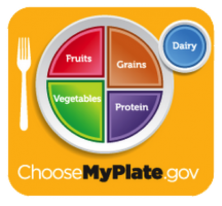 Not only is there no water icon, there is no beverage icon at all.
Which brings us to the biggest issues with the USDA's tipsheet and infographics — why are some food/beverage categories missing, and why are there computer-generated icons and not images of actual food in these teaching tools?
Protein doesn't look like a pixelated purple triangle! It looks like a steak or bowl of beans.
How can the government expect us to know what to eat if they can't even show us food!
Particularly when sugar, the biggest dietary culprit in America, isn't even represented on the plate.
This makes no sense.
I am not advocating for sugar as main food group but it is fact that many Americans will continue to drink soda and eat sugary sweets.
Why not show us what is an appropriate amount?
Not to mention depictions of actual-sized examples may help people make better choices. Perhaps you would choose a 6 oz. Coke containing only a fraction of the sugar of the 20 oz. blood sugar-blasting version if you knew what that looked like or could make a comparison.
Or better yet, perhaps if you could see that a banana is better choice than a soda, you would choose the banana.
Bottom line: It is very hard to understand a proper portion size if all you are looking at is a Tetris-like dinner plate graphic where all of the food groups are not symbolized.
And it seems the experts agree.
Marion Nestle, a New York University nutrition professor, sums it up to NPR :
It's ugly and it's hard to read.
And she is right.
Nestle went on to explain to NPR she wishes "the government's visual messaging on what Americans should and shouldn't eat was much more explicit."5
Other countries, like Sweden and Brazil, have more user-friendly guidelines. These easy-to-follow instructions and pictures of actual food make for valuable teaching tools themselves and eliminate the need for supplemental tip sheets and infographics.
In fact, Brazil even provides meal suggestions. Here is what lunch looks like in Brazil: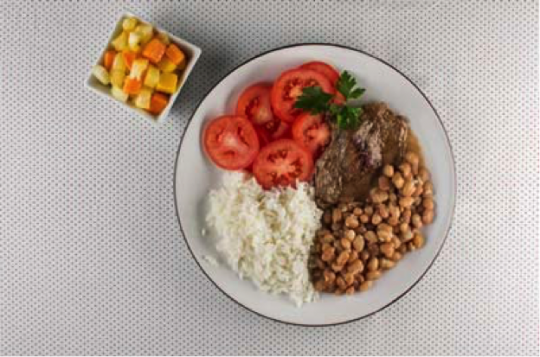 Tomato salad, rice, beans, grilled beef, and fruit salad.
Photo Credit: Brazilian Dietary Guidelines.
Wow, the fruit salad didn't even make in on the plate and I still clearly understand the portioning!
While this doesn't have a direct example of sugar on the plate, the guidelines include easy yet thorough explanations of high-sugar foods and also explain that fruit has natural sugars. But the best part: All of their meal photos include appropriate and relatable fruit serving sizes.
And they make helpful suggestions like "eating in company," instead of the aforementioned USDA "A Social-Ecological Model for Food and Physical Activity Decisions" advice.
If you want to see more meal suggestion involving actual food, you can download a copy of the Brazilian Dietary Guidelines here.
I suggest it over the USDA's MyPlate any day.
The full version of the USDA guidelines does offer a few serving suggestions with pictures for cup and ounce equivalents and has a chart of a breakfast meal, but no pictures of plated meals.
If you have anything to say about the new dietary guidelines, drop me a line. Nmoore@lfb.org
Live well,

Natalie Moore
Managing editor, Living Well Daily
---
Sources
[1] Sugar: Too Much of a Sweet Thing
[2] Dietary Guidelines for Americans 2010
[3] Obesity Rates & Trends Overview
[4] What Might Be Missing From MyPlate? Water
[5] Uncle Sam Just Told Us To Drink Water, Not Soda. You Might've Missed It
[6] Dietary Guidelines for the Brazilian Population

Written By Natalie Moore
Natalie Moore is a dedicated health researcher with a passion for finding healthy, natural, and science-based solutions. After a decade of direct healthcare experience in western and natural medicine, she was involved in public health research before joining Living Well Daily.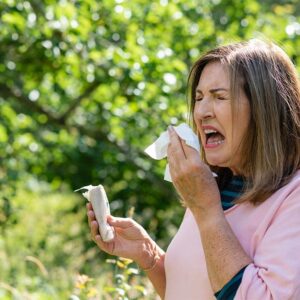 "My allergies have been so terrible the last few weeks and my allergy medicine isn't really doing anything. What can I do?" – Darlene from Chesapeake, Virginia Hi Darlene, There are two steps I typically recommend to tackle troublesome allergies. The first is to focus on nutrients. Begin by getting enough magnesium, folic acid, and carotenoids...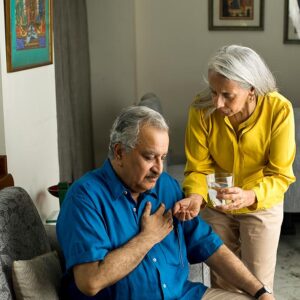 Type the word "Zantac" into any search engine, and the first thing likely to come up is "Zantac lawsuit." And the reason WHY people are suing the drug's maker, GlaxoSmithKline (GSK), is a twisted tale that'll turn your stomach… The drug company allegedly took a page straight out of big tobacco's playbook. And as a...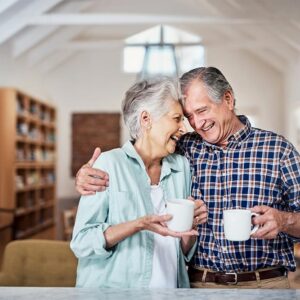 I love coffee. I roast my own beans. I have a fancy coffee maker. The WHOLE nine yards. Of course, I love the bright, bitter punch of flavor I get in every sip. And there's nothing like the jump-start coffee gives my brain in the morning. But I also know that coffee has bunches of...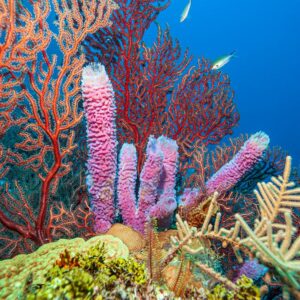 Cancer treatments essentially come in two "flavors." There are the sickening meds that poison the cancerous cells (and sometimes the healthy ones, too), like chemotherapy. Or there are the physical "slash and burn" options such as surgery and radiation. There are times that either or both might be necessary. But let's face it, cancer treatments...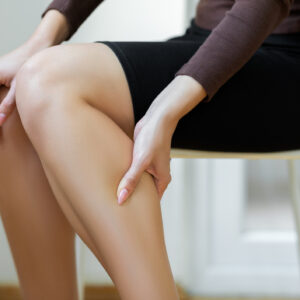 Venous thromboembolism is what I call an "orphan condition." The chances are high that you've never even heard of it before. But we should discuss it more often because it's underdiagnosed, SERIOUS, and preventable. A (VTE) happens when a blood clot forms in a vein. When that clot is in a DEEP vein (usually in...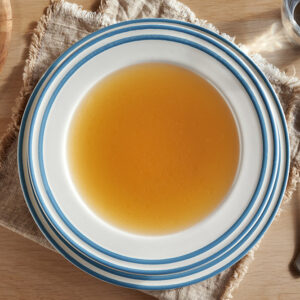 Bone broth has popped up on grocery store shelves nationwide in the last few years. And I couldn't be happier about it! I love to drink bone broth. But I used to have to make my own "liquid gold." And to be honest… it's time-consuming. Now, you can pop down to your local supermarket and...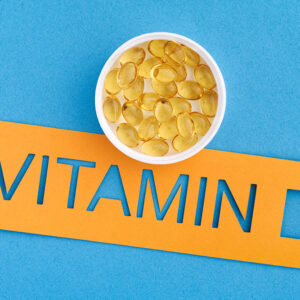 I've got to be honest with you. When it comes to health, the future is looking a bit grim. If you're no spring chicken, a tsunami of poor health could be headed your way. Recent research has found that 25 percent of people over 65 ALREADY have diabetes. But it gets worse. Over 50 percent...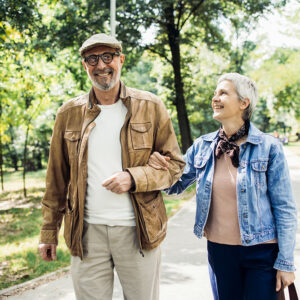 "My wife had a heart attack a few months ago. She's sitting around and doing even less than she did before. I'm a regular reader and know you've mentioned moving is important for heart attack patients. What are some safe things she can do to keep moving? How much should she move?" – Rob from...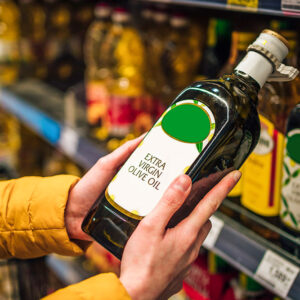 Olive oil has been getting some well-deserved attention the last few years. So it would be easy to assume that the golden oil's status as a health food was recently earned. But the truth is, olive oil has been considered a healthy staple in the human diet since it was first developed 600 years ago....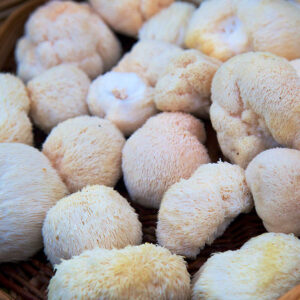 I'm a big fan of medicinal mushrooms. Almost everyone has eaten a standard mushroom on a pizza or in a spaghetti sauce, of course. But most folks have yet to experience medical mushrooms' power to improve our health. Medicinal mushrooms are already used to treat heart, liver, and brain conditions. They can boost the immune...