This "Medicine" Could Kill You
There's one drug (some call it "medicine") that is so potentially harmful even the FDA has taken notice.
Each year, overdoses are estimated to kill over 458 people, send over 56,000 to the emergency room, and lead to 2,600 hospitalizations.[1]
(To answer your question, Bobby, that's about two people killed between Wednesday's issue and today.)
And chances are good it's in your medicine cabinet right now.
What is it?
None other, that good ol' Tylenol (acetaminophen).
Now, to be fair, a good number of the folks harmed by acetaminophen have intentionally overdosed on the product by trying to commit suicide.
But think about it: A drug that's a first choice for someone who want to kill themselves is readily available over the counter.
Ok, to be even fairer, it's true most things available over the counter could kill you if you took too much. Heck, even water can kill you.
The problem is that acetaminophen can become extremely harmful or outright deadly with just a few extra doses. Of the estimated 458 acetaminophen-related deaths each year, about 150 are caused by inadvertently taking too much of the drug.
According to the FDA, as few as just two additional extra-strength pills can cause liver damage. And if taken all at once, less than four times the maximum daily dose can be deadly.
And for some people, even taking the recommended dose can lead to severe injury and death.
The problem compounds because acetaminophen is found in many different products, and people don't always know it's in there. Aside from straight pain relievers, cough syrups and even sleep aids can contain the drug. That's why it's so important to read labels.
Combining acetaminophen with alcohol can also lead to severe liver injury. That's why you should never treat a hangover with Tylenol.
Oh, and acetaminophen can also cause fatal skin reactions, literally causing the skin to melt off your face.
After reading that I came across this ad, and it doesn't seem so cute anymore: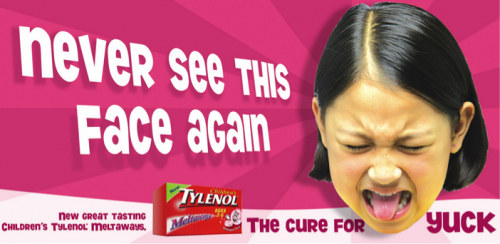 Even FDA acknowledges the issues with acetaminophen, though they are far from banning it.
In 2009, 32 years after an expert panel advised FDA to add a warning advising of the potential for liver toxicity, they finally did so.
In 2011, FDA declared that prescription acetaminophen products had to decrease the per-capsule dose to no more than 325mg. But this limit doesn't apply to over-the-counter (OTC) products.
Way to go, FDA!
And as Ken wrote in to tell me: "Most doctors do not read the FDA reports on the drugs they prescribe. A doctor told me it's not important. WOW. There can be warnings about mixing drugs in those reports."
You got that right, Ken.
Not only should you be careful how much of a drug you take, but you should also make sure it doesn't interact with any other medications or herbal supplements you're taking.
Growing up, Tylenol was our pain reliever of choice. It worked, and my mom, a nurse, made sure we knew not to take more than what the bottle said. We thought it was safe.
With what I know now about the risk for liver damage or death, I won't touch the stuff. I like to save my liver for more important things, like its necessary role in detoxing the chemicals and pesticides I can't avoid (and also, admittedly, processing my Friday night cocktails).
So the question is if you have a headache/backache/arthritis, what should you take?
Non-steroidal anti-inflammatory drugs (NSAIDs), such as ibuprofen (Advil/Motrin), aspirin, and naproxen sodium (Aleve), are not without their own risks.
They can cause stomach ulcers, bleeding, or holes in the intestines, which can lead to death. All NSAIDs (except for aspirin) have also been linked to a higher risk of heart attack or stroke.
But in regard to causing death, NSAIDs seem to be a touch safer than acetaminophen. From 2001-2010, deaths from acetaminophen were about twice the amount of those from all other OTC pain relievers combined.
So while not without risks, I believe NSAIDs to be relatively safer than acetaminophen, especially if you only take them occasionally. But if you have any stomach or intestinal issues like ulcers, or have a high risk of cardiovascular events, they probably are not a good choice.
For chronic pain, you need to get to the root of the problem.
Frequent headaches? Get your eyesight checked.
I used to suffer from chronic headaches. When I finally got my eyes examined, I found out I had a muscular imbalance causing my eyes to strain. After getting them fixed through surgery, no more headaches!
Headaches can also be caused by deficiencies in certain nutrients, like magnesium, as well as by simple dehydration.
If you have pain due to arthritis or degenerative disc disease, you'll probably need more support than just extra vitamins and minerals (though there have been cases where certain minerals, like boron, have eased or eliminated joint pain for some people).
Though research has been mixed over the years, a new trial from the University of Maryland School of Medicine just came out showing six months of glucosamine and chondroitin supplementation reduced osteoarthritis pain just as effectively as the prescription drug Celebrex.
In another study, the natural combo was actually able to reduce cartilage loss in the knee.
However, glucosamine and chondroitin need to be taken for at least six months to notice an effect, and are best taken long-term. And the combo just doesn't seem to work for at least half the people who try it.
Food intolerances can also contribute to joint pain, which I wrote about in this article. I also wrote about some other herbs that can help provide pain relief.
Finding a good doctor that practices functional medicine can make a huge difference. Doctors that practice functional medicine are more apt to help you discover the underlying cause of your pain and the best natural treatments that work for you, rather than writing you a prescription just to mask the symptoms.
But if you're desperate for relief and really must use a drug pain reliever, I urge you to please use caution. Don't exceed the recommended dose. Use the lowest possible dose you can. Don't combine it with alcohol. Check how it might interact with other medications you are taking. And don't take it unless you really must.
Until next time,
Jasmine LeMaster
[1] Lee WM. Acetaminophen and the U.S. Acute Liver Failure Study Group: lowering the risks of hepatic failure. Hepatology. 2004 Jul;40(1):6-9.

Written By Jasmine Lemaster
Jasmine LeMaster is head of quality assurance for Laissez Faire's Living Well brand and is an integral part of their product research and development team. To hear more from Jasmine, sign up to receive Living Well Daily for free, here.
Dear Living Well Daily Reader, There is a plague of anxiety sweeping the nation. And who could blame us? Anyone with half a brain SHOULD feel anxious about the state of the world. But like any other epidemic, just because something is going around doesn't mean you should accept it. More importantly, having anxiety does...
Dear Living Well Daily Reader, If you or someone you love suffers from multiple sclerosis (MS), you already know how the disease can turn your life upside down. The stiffness and mobility problems slowly strip away your independence… and leave you in pain. Talk to your mainstream doc and he'll just shrug their shoulders –...
Dear Living Well Daily Reader, If you're a woman, chances are you have heard about the BRCA gene (BReast CAncer gene). Scientists have known for a long time that a mutation in one of two breast cancer genes, BRCA1 or BRCA2, increases the risk of getting breast cancer. But, men, listen up – just because...
Dear Living Well Daily Reader, Some people might shrug when you tell them you have knee pain… but that's only if they haven't experienced firsthand. Chronic pain from osteoarthritis is no joke— it can destroy your life. Joint pain makes moving incredibly difficult and can keep you from doing the things you love. Before you know it,...
Dear Living Well Daily Reader, Inflammation is supposed to be a normal response for your body. It's one of the key defenses protecting you. Inflammation can sometimes be our friend… when it helps fight off infections and clears away debris, that is. The problems start when inflammation blazes out of control or lasts longer than...
I have psoriasis, and I was wondering what supplements or natural treatments there are out there. –Bill from Riverside, CA Bill, As you probably know, psoriasis is a chronic autoimmune disease where the body attacks the skin as if it were a foreign invader. Psoriasis affects about two percent of the U.S. population. Normal, healthy...
Dear Living Well Daily Reader, I'm on a personal mission to rescue coffee from the hands of the nutritional puritans who think that anything fun is not good for you. Despite what the mainstream would have you believe, the news on coffee has improved in recent years. Researchers have pinpointed many powerful plant nutrients, like...
Dear Living Well Daily Reader, Some suggest pretty complicated ways to keep your brain healthy as you age. Going back to college… doing complicated puzzles… taking what feels like 30 bottles of pills a day… It can make you feel like giving up before you've even started! But what if there was something MUCH easier...
Dear Living Well Daily Reader, If you're tired constantly refilling pain prescriptions, you're not alone. And if you're even MORE tired of the side effects that come with them, who could blame you? For far too long, Big Pharma has held arthritis patients hostage… promising relief while they rob you blind. It's time for something...
Dear Living Well Daily Reader, If you talk to the average mainstream doctor about breast cancer, he'll probably advocate for chemotherapy.***** A new study revealed that women who had chemotherapy had a much higher chance of developing hypertension (high blood pressure) and diabetes. And I'm not surprised. The article, which appeared in the Journal of...